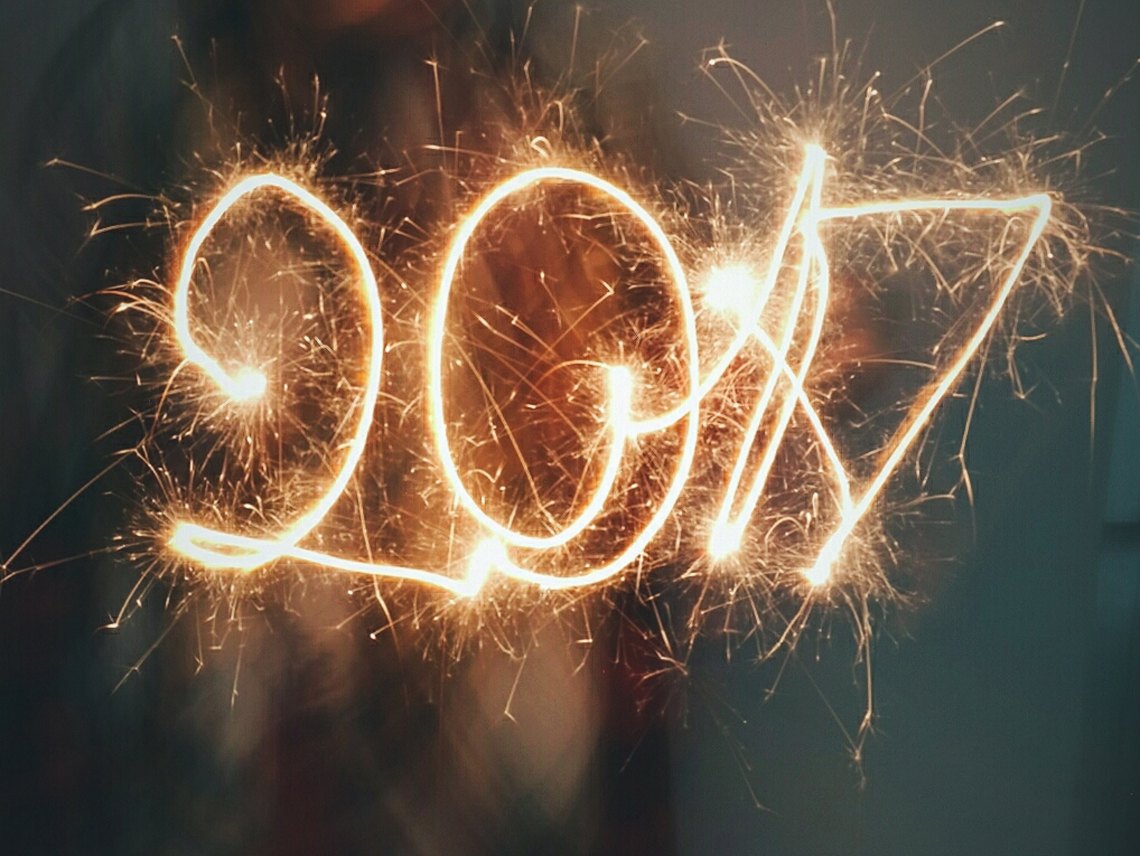 Dear 2017,
I've been inside you for 365 days. But somehow, it felt like you were the one fucking me all year long.
You were rough.
And I think I liked it.
You introduced yourself to me at the dawn of midnight exactly one year ago, amidst a fight I was having with my boyfriend at a local bar. You shamelessly flirted with me; making small banter about your favorite hobbies: breaking hearts, shedding tears and suffering from jetlag. 'Those are my favorite things, too!' I thought. We locked eyes for a little longer than we should have, sealing the deal.
'Let's get out of here,' I said. And just like that, we embarked on a hot, heavy one-year-stand.
We kicked things off with a new position called Depression I'd never tried before. It was steamy. Occasionally, we'd spice things up with a finger in the Assume-the-Worst and you'd pull my Hair-trigger Temper while giving me multiple Identity Crises. I didn't know I could even have those! Nothing like a new lover to show you new tricks.
We banged each others' brains out in January, until the inevitable happened — my boyfriend found out. He was not happy, but this was all part of your plan to show me how much pain I could take. He packed his things, moved out of my house and left for Cuba, fleeing far, far away from the anguish of seeing us together.
He was gone. And when I didn't have him anymore, our comfortable, cozy home, my rockstar career, or my impenetrable persona, something bizarre happened. I started falling for you, 2017.
You still saw me as just a fuck buddy, but I was starting to get feelings for you.
The first signs of romance came in Spring, when you started giving me gifts. Just little tokens: Tear-rings and a matching Brace-Yourself-let. They were a little tarnished and rusty, but priceless. Vintage, in fact. They must have been from my childhood. I cried. A lot. For the first time, I was given the gift of letting my tears loose to soak into the broadness of your shoulder. I didn't even know why I was crying, but I knew I needed to. I was leaning on you. I was showing you who I was. I was strong, but open. And you weren't running.
In fact, you started wanting to spend more time with me, not just during our nightly romps. You began inviting me to travel with you. I could not believe what our first adventure was — a tour of 13 different countries with none other than Vice President Al Gore. We would go on to launch the Inconvenient Sequel movie, presenting it to investors and socially conscious movers-and-shakers all over the world. I didn't see that one coming from you, but I strapped in and held on tight, eager for more of what you had up your sleeve. You were starting to impress me.
Next, you whisked us to Vegas. None of that Elvis impersonator shit, though. You were so much more creative than that. We would team up with Channing Tatum to create the first world's first "genius bar" for sexual empowerment, The Pleasure Bar, part of the wildly popular Magic Mike Live show at The Hard Rock Hotel. What a turn-on. I don't know why you thought it was a good idea to submerge me into a tank of hot, talented strippers during a breakup. But thank you. Thank you so much. I would come to learn you worked in many other mysterious ways, too.
You introduced me to my best friend. To many new friends, in fact. And, you brought me closer to everyone in my life — they noticed an extra pep in my step. A twinkle in my eye. A lightness. I became a better friend. A better person.
And suddenly at that point, what started as a meaningless (cluster)fuck of a year, turned into something more. Love.
2017, you showed me how to love myself across months of confusion, mayhem, and sorrow.
You forced me to try new things. To try new people. To take a crack at new career paths, and to let go of ones that didn't work.
You showed me how to rest. That there's productivity in stillness.
You gave me poetry. Thank god you gave me that. You helped me extract art from my struggle. You injected power back in my words.
You unlocked the creative potentiality I only knew was hiding latent in me because of the furrow in my brow. I always felt it kicking behind my eyelids. But you finally coaxed it free.
You granted me inventions. Ideas that would hum the tune of who I am to everyone around me. Businesses. Partnerships. Accolades. And humble, quiet confidence during a time I needed it most.
You held me to my word.
Some days, that involved punishment. The outline of just how severely you'd spank my habits out of me dances crisp on the surface of my skin to the very last hour of this year.
You shook me. You put me square in the middle of an earthquake in Mexico City that boiled the ground beneath my feet and rattled loose any remaining shards of self-doubt — live fully, or don't live.
You showed me how to survive. You showed me what I"m surviving for. Who I'm surviving for. And who I'm not.
You made it clear that life could be ripped from me at any moment. And that I would rather not be here than live a lifetime of half-lived days.
You stole my Patience from my hands almost every single day. I would find myself on my knees begging for you to deliver peace to the doorstep of my heart, but you were not that easy. You made me work for it. You would not barter convenience for quality.
You left nothing to the imagination. Naked was the only way you wanted me.
You took my clothes. You took my Time. You grabbed, unforgivingly, for Truth. You collected the remainder of my Innocence. You stripped me of my title, my coping mechanisms, my habits. You took all the fucks I had left to give.
You were rough, in all the best ways.
2017, you struck me with every form of pain known to man. (Donald Trump).
But more significantly, you rescued me from the existential pain of choosing a path, partner, and persona that were not serving me.
So because of that, after one unexpected, unconventional year together, 2017…you ended up stealing my heart.
I love you. And ironically, the most significant lesson you taught me this year is that sometimes, the most profound way to exhibit love is to let go.
So in that, I must now say goodbye to you, too.
Here's to another happy one-year stand.
And a Happy New Year.
But most of all, a happy now.