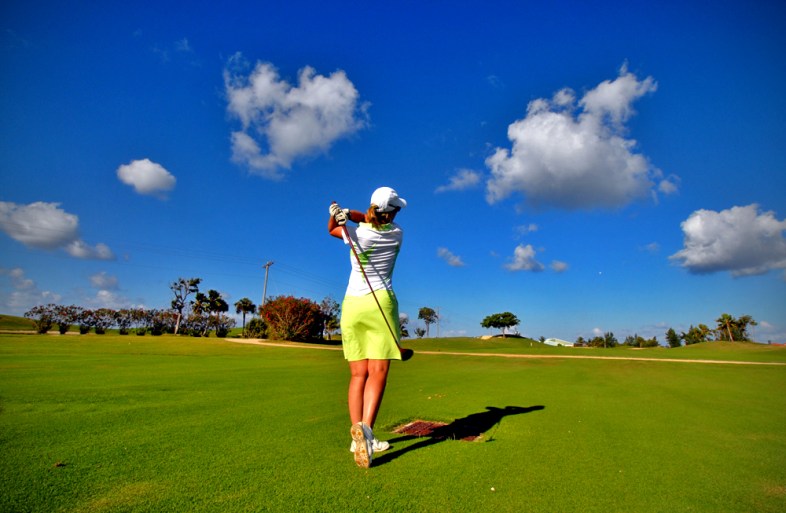 Take my advice guys because I am the girlfriend. I may not be yours, but chances are I can relate well enough to one of yours- past or present. Believe it or not, you can please your girlfriend AND get your golfing in. Sometimes you'll have to take her and sometimes you won't. Either way, you'll be a hero in her eyes and you'll get to smack the sticks. Above all, if you decide to include her, you have to plan ahead. First things first: who is she and how do you do this?
The Nagging Girlfriend
She's been bitter ever since you ditched her for the links and drinks with your buddies that first week of your relationship. She makes that face now, every time you say you're going anywhere without her and says something like, "Golfing again?"
First of all, you screwed up – blatantly making her a second choice so early on. You're going to have to take a counter-intuitive approach and go overboard with wanting to include her. She'll feel like she won control and chances are that's all she wants so she probably won't accept the invitation.
Schedule a tee-time for you, her and two other dudes. Wait until the last minute to tell her, then act surprised that she doesn't want to go. Tell her you assumed she'd want to play this time that's why you made plans for her. (Strongly emphasize having made plans so you will be regarded as thoughtful!)
Buy her a cute golf shirt and if you can, one that costs money. It might backfire that she wants to wear it and tag along with you but chances are she'll want to go show it off at the gym, yoga class or wherever she goes without you. That's when you can slip away the winner.
The I'll-Try-Anything Girlfriend
She just wants to be included, but not in a nagging way. She's enthusiastic and fun-loving but you're still hesitant. Sometimes golfing is…well a guy's thing. With this one, you're eventually going to have to bring her along.
Schedule a tee-time just you and her for nine holes at a scenic

executive course

. This will ensure that it is short and sweet and she'll love the aspect of spending quality time together.
Pack a

cooler

. Don't focus on your game too much, focus on your girl. Don't be looking all over for the snack-cart girl either. Loosen up, have a couple of drinks. Stand behind her and adjust her swing as much as possible.
The Girlfriend Who Is Better Than You
This is a rare but problematic babe. You've played with her before and she beat your socks off. You're going to have to pull out the stops to be a winner if you're faced with this situation.
Get out of town where no one will see you playing together. If you're really into this girl, consider whisking her away. She may love the game as much as you, but if you're on vacation, you can strike a balance between golfing together and golfing alone- while she goes shopping.
Schedule a long weekend somewhere in the middle of America, say, Arizona. If you don't already live there, then it'll be a desert hideout where you can play with her unseen. The weather is practically unbeatable, if you can avoid July and August. Take her to a

luxury golf

resort. Play together one day and leave her at the spa the next day.
Schedule a week in Florida. There's less of the hideout factor but your chances of not being seen by anyone you know- getting your ass kicked- are still low. If you want to level the playing field with her, play at

The Bear Trap

. As Jack Nicklaus said, "It should all be won or lost here."
If you can't compete with her on one of the most challenging courses in the world, this girl just might be a keeper. Recover from your losses, take her to Orlando where you can both lose your minds at theme parks but can still have a hell of a golf staycation.