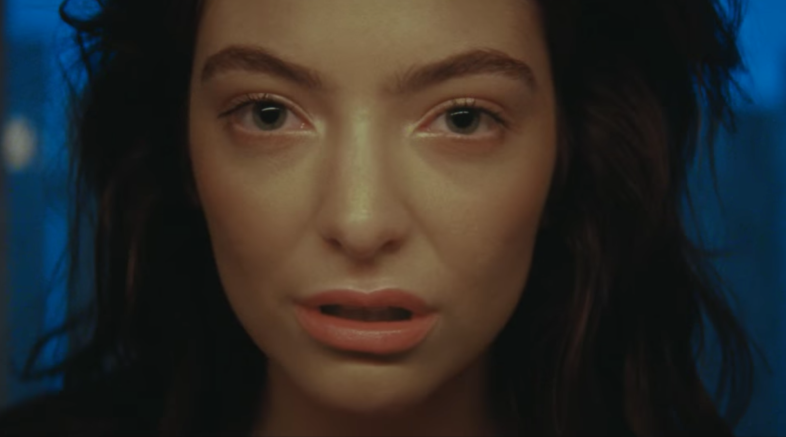 4 out of 5 stars.
Lorde is here with a green lit vengeance. The song is kind of a blow off to an ex. The Aussie breakout star is back from her Heroine trip and detoxing in the city with friends and partners, both new and old.
The song is stylized into a sexually infused New York night, but I expect the album will have us feeling as if we're waking up in a Paris morning. I guarantee the songs will have us start in a dirty, neon lit night of grime dancefloors with freedom and aggression before we're waking up with a calm stream of light and an idealized through a breezy curtain window.
Aesthetically speaking though, this song could easily have been given to a disco ingénue dying to be the disco diva of the moment (no matter what the gender identity, I'm looking at you Alex). The song alone is a hit through its lyrics and production when it's sung right. Listeners can feel the pulsing speakers and strobe lights – when Lorde breaks into the chorus lyric "I'm waiting for it, that green light". It's a pleasant surprise though to hear this type of music from Lorde. She's demure and honest in her delivery, with the same gravel in her throat we fell in love with on "Royals".
"Green Light" is refreshing in the way Lorde dedicates the song to her companion but doesn't walk listeners through the details of the break up – thus we don't know if it's one of friendship or romance. We are simultaneously taken on a walk through her grievance and departure from feeling in general. Forgive me for being poetic, but whether it's the rhythm of her heart or the rhythm of the streets – Lorde is feeling herself. Like anyone stuck in their youth, Lorde's song as an overall package is manic, and fluctuates like hormones. Plus her lyrics rarely rhyme – which is refreshing because all of these elements give honesty and truth to her message. Lorde sings the truth.
It's certain to say that with age Lorde's production has become more upbeat. This makes sense given her partnerships with Disclosure and Kanye. One can't help but think Lorde's admiration toward and interactions both Taylor Swift and David Bowie have encourage her foray into a more flamboyant music. Differing greatly from her Disclosure feature, which favored heavy handed drums to svelte lyrics and a slinky delivery over "Green Light" manic downbeats. In a funny way, one leads into the other. But "Green Light" feels closer to Lorde's images. It's a head banger, a body thrower song. Her power comes from her observations, her coy lyrical style that is both direct and indirect – all while portraying an honest girl's journey.
The video that accompanies "Green Light" certainly elevates the new song. It opens on her face – a complex mixture of sorrow, relief and aggression, conveying that Lorde may be speaking of one or many who she believes have wronged her. It's something everyone can relate to. The journey she and her ex-companion take is one reflected originally in her opening close up – relief, sorrow and aggression. The video is more reflective of a live Lorde concert – full of hair flips, manic limbs and spastic fun. The song's production expects it to be rocked out in a car with high flying hair, silently strumming to the beats on the Subway or even gyrating to the beats on the club floor. It's impressive that Lorde has kept her head about her through her rushed fame. Relatively, she keeps a low profile – when she's not hanging with the Swift Squad.



Needless to say, Lorde owns the new sound she's wielding. It makes sense that Lorde is taking this sort of musical evolution, or journey rather. Heroine was melancholy, this is Melodrama.