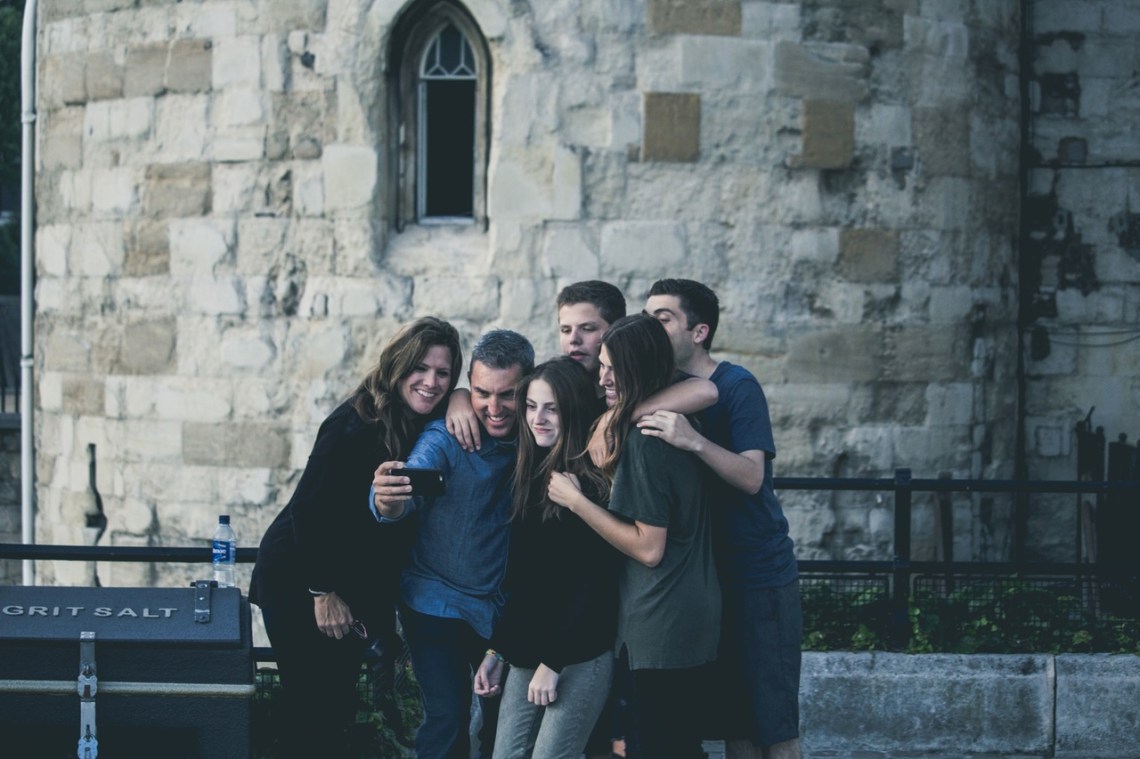 This is a message for a generation of individuals enamored with touch.
No – not physical touch. Let me try that again.
This is for the millennials who are enamored with being consistently in touch with one another and the world around them.
No, that's not right either, because being "in touch" doesn't necessarily mean actually connecting with another human being.
This is for you and this is for me – two people I bet are more often nose-down in our phones than nose-forward and addressing an individual face-to-face.
This is for us, for a group of people who pride themselves on "staying connected," but seem more fearful of true connection than ever before.
I know this may seem like a harsh accusation. I can already hear my peers insisting that they know how I celebrated my twenty-fourth birthday, where I traveled to last weekend, and how cute my niece looked as Minnie Mouse on Halloween.
But I can count on one hand how many friends actually reached out to have a conversation about one of the above, and while I've realized this about those around me, I've become even more in touch with how I'm involved in this very equation.
I'm just as guilty, if not more. I was an English and Communications double major in college. I work in entertainment and have my cell-phone and tablet accessible constantly. And yet, a text or two comes in and I bypass responding, even though I've seen it and know just how little time it would take to do so.
The truth is that I have no idea why I do it. I have no idea why I'm more likely to open a Snapchat than respond to a text, or fill in the heart on an Instagram post before calling my mom back.
But this past week, I've started asking why. I've started feeling less comfortable with "having no idea."
I want to get back in touch.
Earlier this week, an old friend of mine from college tragically passed away. I was unpacking from a blissful weekend trip with my boyfriend and his family, and received the news about my former classmate's passing – via text message from my best friend.
My heart dropped, and so did the duffle bag I was unpacking at that very moment, as I attempted to piece together what I was hearing.
I was certain that it had just happened either the night prior or even just that day. Our university hadn't even made a formal e-mail announcement yet. I texted a few friends, seeing if they'd heard, but I spent much of that Sunday night in silence.
Silence as I thought and prayed for his family. Silence as I tried to understand.
And silence – raw, agonizing silence as I tried to recall the last time I had spoken to him. I cringed as I realized it had been just about two years.
I cringed even more aggressively as I took to his Facebook wall, hoping it was all a joke, some giant misunderstanding.
I hoped to see a status like, "They got the wrong guy," "It's another John," or even just a seemingly meaningless post of a photo or a lyric that would actually mean everything.
Something, anything, was better than the silence.
But what I saw rattled me to the core. And made me realize, and really comprehend, how we can do so much better.
"We haven't spoken in a few years," someone began their post with.
"It's been a few years, but I always liked you," another shared.
"Even though we haven't caught up in awhile," an old classmate revealed before recalling a memory.
And perhaps the most poignant: "I wish I had reached out to you sooner."
I so badly wish I had too. I am just as guilty.
But where do these inclinations come from? The inclinations to ignore, to circle back, to make plans for three weeks from now that you both know will never transpire.
The desire to get lazy. To forget that the reasons we have people to Snapchat and post photos with and tweet at are because of a foundation of friendship. A foundation that needs tending to in order to survive.
It's like building a house, thinking it looks great, settling in, and then letting the shingles get beaten by a rainstorm. The window panes get jammed from rust. The paint get chipped from age.
Other than the random text or Facebook post exchanged on our birthdays, I can't really say I knew how he was doing, I mean really knew.
This realization is searing. There's no other way to put it.
I let the house get old and weathered. And now, it's irreparable. I got out of touch… and now my friend is gone.
With how little distance resides between my hand and my phone – even as I type this, it's less than a foot away – I know I can do better.
We can all do better.
We might lose "touch," but let's not forget that reaching out to get "in touch" is far easier than we're willing to accept.
We might feel like it's more enticing to open up a Snapchat before answering our friends about how our weekend was. But this behavior has to end.
It's not too late. Don't let another moment go by without sharing how you feel about someone. Share it with them. Not in a tweet. Not in a Snapchat story. Not in an Instagram post.
If I could go back in time, I would've reached out to him. Asked how he was doing. Said how proud I am that he went back to school.
But I pushed it back until later. Figured I'd circle back with him later, maybe on his birthday. I became lazy, and procrastinated giving some TLC to a battered home. I, truthfully, didn't think time was of the essence. I had time to fix it up, and I didn't.
But we don't have all the answers and we don't get any redos. We cannot predict when someone close to us, or someone who once was close to us, even if it was years ago, may leave this Earth.
All we have is the free will to let them know they aren't alone. We have the ability, right now, to ask them how they are.
That is the true purpose of the phones in our hand and tablets on our lap – to take care of something that we once spent time creating and valuing. To get back in touch and remain there. To never let something so precious get lost in the fray.
I implore you – yes, you with the sixteen new Instagram likes and twelve Snapchat stories to view – to get back in touch with someone today.
We all love touch. Let's just get back in it.