If you live long enough, you'll eventually lose someone who you love. For me, it happened over Christmas break when I was a sophomore in college.
Her name is Chase Parr. She was a close friend and and best understood as a kind of star that a generation of teenagers in Denver orbited around.
It's been seven years since the accident and I've reached a point where I feel her fading. I can't conjure her with the detail I once was able to. She's not in my dreams as much as she used to be. And every year, when it snows and the eggnog fueled rush to the holidays begins, I wonder whether she'll have faded, even more, in the year to come.
The lucid memories I have of Chase are under lock and key. Some are physical. I never returned her copy of, "On a Winters Night, a Traveler," and the senior picture she gave me is its bookmark. There's the endless collage of photos she's tagged in on Facebook. Some good AIM transcripts and emails from lilyellowducky@gmail.com.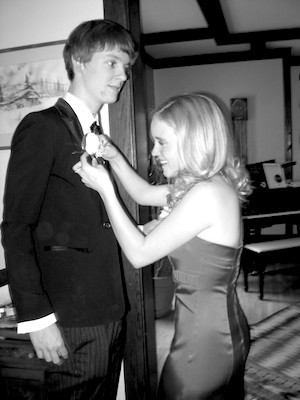 Then there are the bigger general things. I was mostly a loner when I met Chase. I thought my generation was complacent and predictable. Chase, probably without her even knowing it, showed me that I spent too much time forming judgements behind my computer screen. Her friends were amazing. She schooled me. We argued about things in cafes until we were kicked out. She was my girlfriend for a few glorious months towards the end of high school and eventually attached this to my jacket on the way to prom.
It's painful to lose someone who you love because it's something that you have to tell yourself again and again.
Chase is dead.
The news came in a text message and then a Google search. I wasn't in denial. I know terrible things can happen when you least expect them to. I know that blizzards and highways are dangerous. I know semi trucks are larger than Suburus. I want to believe that no one was at fault. That it was an accident, the kind of thing that just happens.
In the days that followed, I mostly felt numb. I had come back to Denver with a mountain of stories from my first semester in a new college and a 16mm film. All I wanted was to talk to Chase.
But Chase is dead.
I return to NY and find a thousand new ways to arrive at the same conclusion. They come from obvious triggers and not so obvious ones. I read a line that I know would make her laugh and I hear her laugh in the back of my head. I meet a person who I like and feel an overwhelming desire to introduce them.
You begin a delicate kind of neurosurgery. You learn to avoid the initial shock. You open up to new friends. You bend the origin of your associations. But you can still get blindsided.
A few years later, I'm walking through the East Village. It's twilight, the city is bustling, and all of a sudden it starts to snow for the first time that winter. I smile for a few steps, watch a few flakes drift in front of a street lamp, then proceed to fall apart on the sidewalk.
I realize that snow reminds me of Chase. As do cities and moments that feel perfect.
Chase is dead. But she's not gone.
It's been seven years. I think of Chase less often now. But I know how hard it was to get to this point. My mind is so tangled in references to Chase, and references to Chase that I've tried to bury or rearrange, that it can't be undone. The imprint she left is a living thing that's inside of me until I die too.
I don't believe in heaven. Or that Chase has found peace. When you lose someone you love, they have an afterlife, and it's the one that you wake up in every day.
Nonetheless I found myself in a church this past Christmas eve admiring the poinsettias and thinking about Chase. Our pastor skipped the usual bible verse and ended with a lyric from Leonard Cohen that's worth remembering when you're forced to tell yourself a truth you don't want to accept.
Ring the bells that still can ring.
Forgot your perfect offering.
There is a crack,
a crack in everything.
That's how the light gets in.