13-year-old Britney Mazzoncini had just broken up with her boyfriend in a very public post on Facebook in early July, which is how she became acquainted with Barry Duffin — who began texting her after. Since that summer (and maybe before) Britney became subject to harsh bullying at school, leading her to end her life by suicide.
Duffin was the last person who Britney reached out to after overdosing on prescription anti-anxiety drugs, and how he reacted is downright chilling.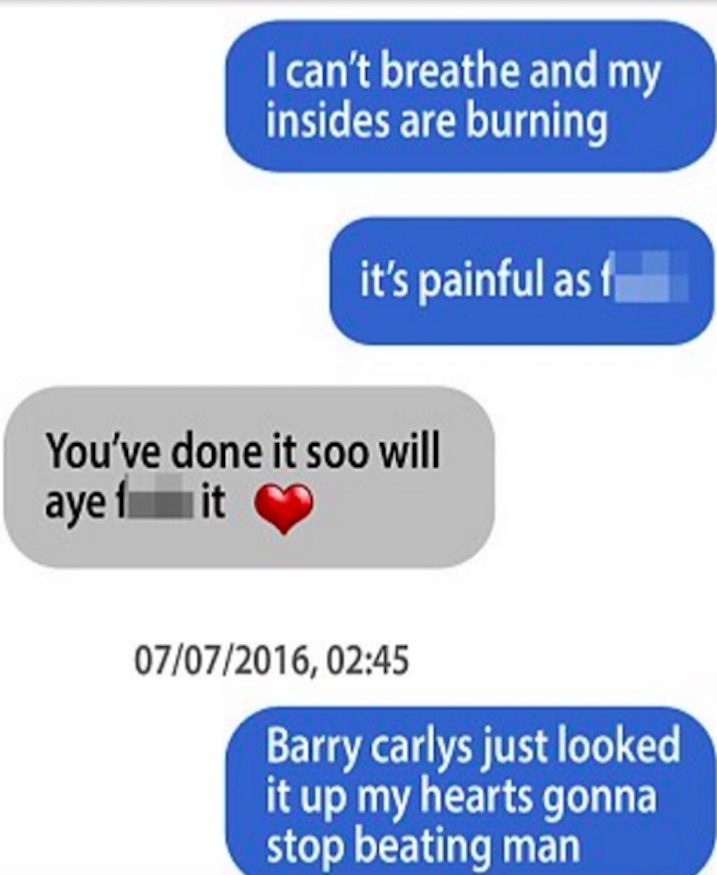 She tells him that her "insides are burning" and that it is "painful as fuck." Duffin's only response is to simply acknowledge that she killed herself by saying, "you've done it," and sending her one last heart emoji.
Duffin sent that last text to Britney at 2:45am. Her mother stumbled upon her deceased body around 3:17am — roughly thirty minutes later. Had Duffin acted, instead of saying "aye fuck it <3", medical professionals might have been able to reach the scene in time.
Britney's mother, Annette, did not know about her daughter's conversations with Duffin until after her death. Annette says that Duffin did finally start replying with some urgency — "demanding" a response from Britney around 3:00am — but it was apparently too late.
Annette goes on to explain that apparently Britney also placed a call to Duffin that went unanswered:
There were messages and a Facebook call. Britney seemed to hang up on him and came back with the message, 'I can't breathe.' She told him she had taken an overdose then said her insides were burning and she was in pain. He did nothing. (Source)
In addition to be a cold bastard, 18-year-old Duffin was recently accused of being a sexual predator by luring younger girls into having sex with him. He has been arrested for allegedly abusing 14 and 15-year-old girls by "wearing them down" until they agreed to engage in sexual intercourse.
Barry Duffin appears to be facing four years in prison, while Britney's family still visits her grave almost daily.