Cheaters are hilarious, right?
I mean, not the nasty, disgusting cheating itself. I mean the desperate, pathetic, lies they tell to try to cover it up.
Minutes after trying to hookup with this girl — while in a relationship — the guy claimed he was "hacked." His girlfriend was buying it to, until his would-be partner called him out.
Read the whole ridiculous thing: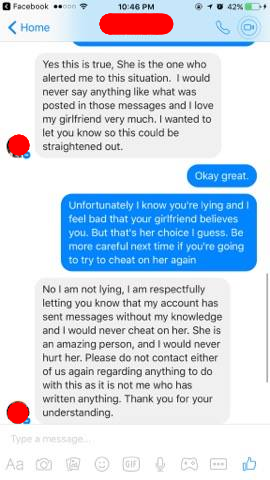 Except, actually, his story doesn't make *any* sense at all.
So this guy tried to hook up with this chick TWICE in the last two years, and is claiming to have been hacked the entire time.
Riiiiiggggghhhhtttttt. 🙄🙄
I feel so bad for his girlfriend. Hopefully she catches on soon and ditches this piece of shit.