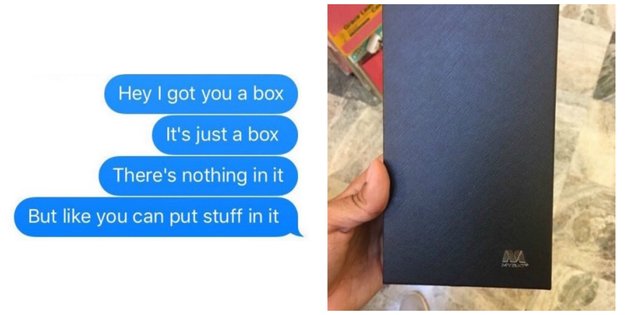 Braxton Sislo is an employee at a New Orleans cell phone shop. He is also the boyfriend of a beautiful girl named Ray.
One day at work, Braxton was handed an empty box by his boss who had just received a new phone in it. Instead of tossing the box into the trash, Braxton decided that he would keep it for his girl.
He texted Ray about the gift he had just gotten for her, and her response is everything:
Braxton might have been ready for a "thank you," but he def wasn't ready for the overwhelming excitement he got over an empty box!
Some other people tried this gift-giving tactic with their significant others and were not nearly as successful:
https://twitter.com/Devin__72/status/809880624723009536
honestly I did not expect this from my bf 😂 pic.twitter.com/Yg3PlZR67r

— Kai (@KaiRobertss) December 20, 2016
https://twitter.com/SGDsindo/status/809501629481361408
— eric le (@Ericle1030) December 17, 2016
Braxton wanted the Huffington Post to know, however, that he did get his girlfriend some real gifts — not just the box!
Braxton Sislo thinks part of the reason why the post has become so popular is because people believe he's giving Ray the box as a Christmas present. He told HuffPost that he's planning to see Ray in Canada for the holidays and has actually bought her real gifts.

"It's also [because] people want that in their relationships," he said. "They want their partner to be grateful over little things. So they see Ray reacting like that and realize, 'That's what I want in life, a person that cherishes every small thing I do.'" (Source)
Happy Holidays, friends.