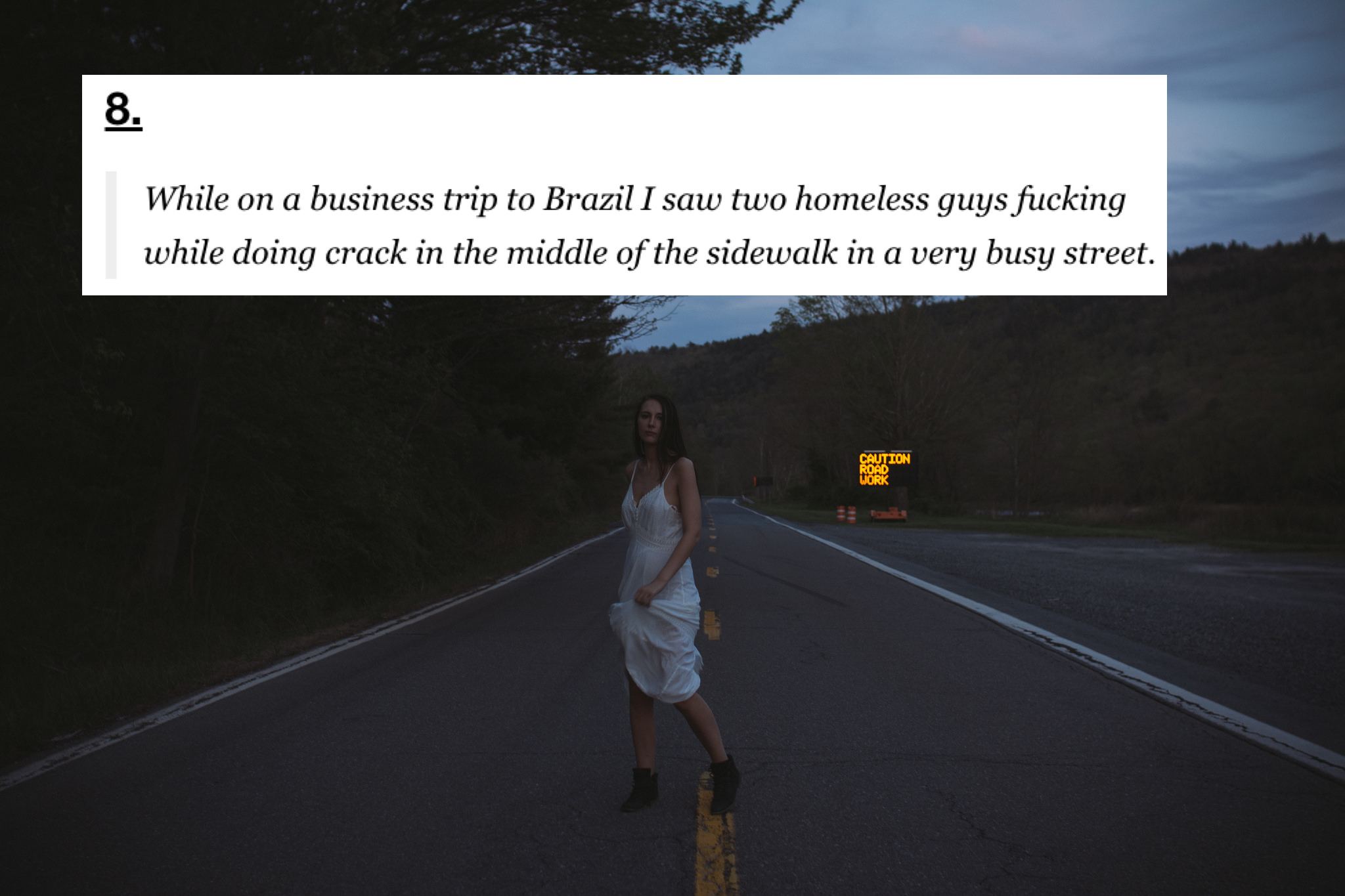 Saw a lady accidentally drop her baby face-first in the street.

The baby was not pleased.
So, lived in New Orleans for a while. Worked as a bartender on Bourbon St. I was leaving work around 6:30 am. The sun was coming up and there was a fairly decent mix of people either just starting their day, or going home. One of the strip clubs closer to Canal St. has pictures of scantily clad women on the outside of the building.

There was a homeless guy, pants around his ankles like some little kids do at urinals, straight up dick in his hand jerking it in broad daylight in the middle of the sidewalk to some of the pictures on the building. Did not make eye contact and quickly went to the other side of the street. In hindsight, the sidewalk was probably his bedroom, so…
Homeless lady spraying liquid shit all over a wall. I was walking down the street, rounded a corner, and there she was.
Mine was a Chinese tourist who didn't want to wait in line for the bathroom, not even in the washroom but right across the hall from it.
I used to live in a second floor flat with an ex girlfriend and the flat overlooked the back garden of the pub next door. One evening I'm in our bedroom and hear a load of noise coming from the pub garden.

I peer out of the window half expecting there to be a fight or at least something of an aggressive nature happening since it was a pretty dire pub. Instead I see a semicircle of people cheering on some stripper who is in the midst of losing her clothes for some guy who's sat in the middle of this semi circle and on one of the pub benches. Once she's lost all her clothes she then bends over, arse to the crowd, unzips this guy's trousers and gives him a blow job right there in the garden.

This was not the most surprising thing. What surprised me the most was while she was bent over, one of the guys watching turns to his mate with a big grin (I can't hear what anyone is saying, only the cheering)…he then walks up behind the stripper and proceeds to slide the neck of his beer bottle into her pussy and bottle fucks her with no warning whatsoever…

I expected her to immediately back up, slap him and leave. Instead she writhes around and takes it with pleasure, a lot of pleasure! At some point during this show, I'd called the ex into the room and when we proceeded to have a good ten minute show from our bedroom window. That was an entertaining evening!
This was in NJ. I remember before I got my car I would have to take the bus to work. One day it was as usual, I was just sitting about midway in the bus on the right side, next thing you know some guy comes on, pays his fare and sits down.

He proceeded to take his hat off and dry shave his head (he had a hair length of what you'd expect after no shaving for a week, not long) with a razor that looked like an old disposable. I look at him in awe as he's shaving his head bare like that and I begin to see blood just coming off the parts he shaved with the other parts just being spotted patches of hair.

By the time his stop came, he was bleeding quite a bit, and he just put his hat back on and got off. After that day I never sat down on any public transportation and have also stood up since. Never again.
When I was 11 I saw a junkie get beat to death by two guys with clubs outside of my dad's apartment.
While on a business trip to Brazil I saw two homeless guys fucking while doing crack in the middle of the sidewalk in a very busy street.
Man vomiting in a bag, grabbing the chunks of food from the vomit and eating it back again.
Another client in the long term adolescent rehab facility I was in went defiant for a few months. Lots of crazy things during this time, but the best (worst?) was out in the parking lot one day.

We'll refer to him as "D." D intentionally let wild diarrhea loose which promptly vacated the legs of his shorts and soaked the ass area. D then starts pulling it out of his pants, off of the pavement and back of his leg, and starts throwing it at us, occasionally applying a streak here and there to his own face. Staff of course came after him to subdue and sedate him, and their pursuit was met with spicy molten shitsquirts. There was something really poetic about watching social workers in christmas sweaters tackle and restrain a young man covered in his own shit. You could've put "Yakety Sax" behind the whole thing.

D later (like, 2 months later) apologized to the group. He gave weird details in his apology, including the amount of Hot Sauce he intentionally consumed with his breakfast in his cereal that day for the desired effect. The fuck.
Watched a seemingly normal older man walking his medium sized dog, dog stops, takes a dump on the sidewalk and he bends down and picks it up with a napkin and takes a big ole bite out of the turd and continues walking and eating his fresh dog log. I shit you not.
Guy was high on something and came to the factory totally out of it. Too fucked up to work the assembly line, so they had him breaking down boxes with a box knife. He put one box on his thigh, and proceeded to cut a 2 foot long cut through the box and into his inner thigh without noticing it. Well, unless you consider passing out to be noticing.
After school one day (which is close to work I guess ) which was 7th grade I saw a kid stab another kid in the stomach 3 or 4 times with a butcher knife
No nudity involved, but on an NYC subway, very crouded, rush hour, a man clearly had his hand down a womans skirt, and she was biting her lip.
Worked on a court case of a guy who's thing was filling syringes (presumably, no needle) with his semen, and squirting them on the legs of young women as they were using the escalator during rush hour.

He would just stand behind them, shoot it up their skirt, and walk off. They wouldn't necessarily know but he was caught on CCTV because he did this multiple times a day. Before that he had a record for exhibitionism (flashing) and then progressed on to this.
Not sure if it's nsfw but it was definitely weird and unexpected. A homeless man flipped me off and then put out his cigarette in his eye.
Homeless dude squatting in an alleyway having a dump so bad that he was screaming at the top of his lungs every time he pushed.
I saw this lady on the train making sexual noises into her cellphone on the train the other day.. it was disturbing. then she dared all the passengers to say something to her about it.. someone did. it was entertaining. :) gotta love DC.
Well, I was once swimming at Wreck Beach in BC and there was a gay couple float-fucking in the water a few hundred yards off the shore (that's NSFW but not the point of the story) pretending like the whole beach wasn't seeing them.

Well, the whole beach continued not to see them as they floated directly into a floating wastewater slick from a passing Chinese oceanliner.
I was at a college party in my dorm my freshman year. I was drinking with a few friends in the courtyard, which was packed with people. I walked around the corner with a buddy and there was a girl eating another girl out. There was quite a crowd forming around them.
Downtown Seattle – you see bums shitting in the street fairly often. Well one bum was mid shit, stopped, and proceeded to pop the largest syst or zit or whatever the hell this ungodly thing was, resulting in the most puss I've ever seen come out of another human.