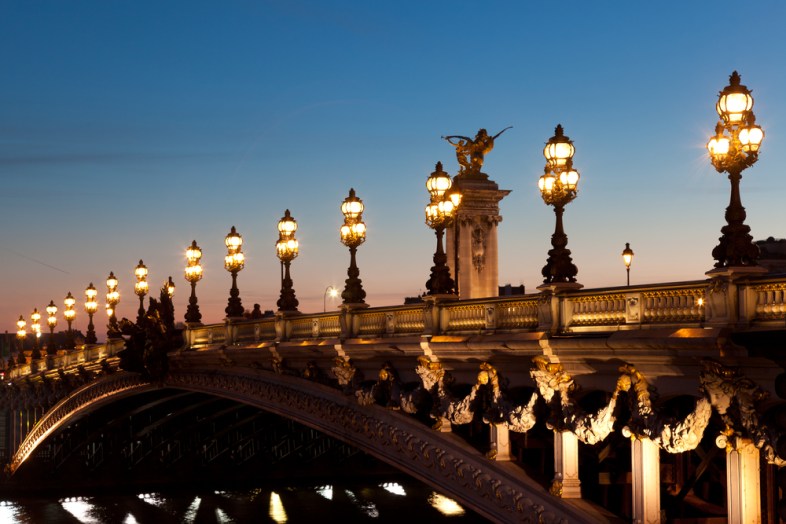 The City of Love has never been known to be cheap, but that has never drawn the crowds away since it is still one of the most visited cities in the world. Whether you find it to be extremely expensive or not, there are still hundreds of free activities to take part in while you're there, helping you drastically cut down on activity expenses. From fashion shows to a wall of love, you will be able to get an authentic take on Paris for free!
1. Take a Walking Tour:
No matter what city you go to in the world, there are almost always free walking tours that you can take to get a better feel for the rich history of the area you're in as well as scoping out any cool looking attractions to visit later. You can gain insight to the walking tours that are around you in Paris from the hotel or hostel staff, who should have brochures and know where their meeting places are. A few notable tour companies in Paris are Paris-Walks and Discover Walks.
2. Jardin du Luxemourg:
The Luxembourg Gardens is located in the 6th arrondissement of Paris and was created centuries ago in 1612 for Queen Marie de Medici. This colorful garden spans 25 hectares and is home to a geometric forest and a large pond. There are also 106 statues that are dotted around the park.
3. View a Fashion Show at Galeries Lafayette:
It's hard to think of Paris and not think of fashion among other lovely things like wine and cheese. Galeries Lafayette is a clothing store in Paris and once a week models it's clothing for completely free! They are held on most Friday's at around 3:00 PM and last around 30 minutes in total; it's also wise to show up 15 minutes early to check-in. To get your free pass to the show e-mail them, call them, or make a reservation at the welcome desk of their store.
4. Musée Carnavalet:
The Carnavalet Museum is based on the history of Paris. The museum sits in two neighboring mansions which are the Hotel Carnavet and the former Hotel Le Peletier de Saint Fargeau. This is the oldest municipal museum of the city and features an art gallery with original works. They are open from 10 Am to 6 PM, except Monday's and public holidays. Ticket office closes at 5 PM.
5. Parc de la Villette Open Air Cinema:
Each summer, the open air cinema at the Parc de la Villette, shows movies to Parisians and anyone else who wants to attend. If you're looking for a relaxing evening, claim your space with a blanket and enjoy the movie! They have a playing every evening from July 23rd to Auguest 24th. The Parc de la Villette is also a great experience in and of itself as it's the third-largest park in Paris.
6. La Promenade Plantée:
Similar to The High Line in New York City, the Promenade plantée is an elevated linear park that has been built on an old railway in the 12th arrondissement of Paris. It was created in 1993 and spans 4.7 Kilometers or 2.9 miles.
7. Relax at Parc Monceau:
This public park in the 8th arrondissement of Paris is 8.2 hectares and is a gorgeous place to relax while on your trip. It was awarded the 'Travelers' Choice 2014 Winner' by Trip Advisor and is one of the best spots to people-watch in the city. This park has been known to inspire many famous painting and was created in the 18th century for the cousin of Louis XVI's cousin Philippe Egalité.
8. Hear Live Music at 'Showcase:'
This club is located in a former boating club under the Pont Alexandre III bridge, Inside there are comfortable seating areas where you can hang out and listen to everyone from DJ's who are trying to break into the scene to big named musicians. To get free admission show up before midnight, but be warned that you may end up spending a lot on alcohol!
9. Visit the Love Wall:
In the center of the Abbesses garden at Montmartre, Paris, there is a wall that was created by two artists named Frederic Baron and Claire Kito. The wall is made up of 612 tiles and today it has the phrase "I love you" written on it over a thousand times and in over 300 different languages. It's the perfect spot to visit on a romantic date.
10. Notre Dame Cathedral:
No trip to Paris can be complete without a visit to the historic and legendary Notre Dame Cathedral. This gorgeous French Gothic cathedral was begun in 1163 and was mostly completed by 1250, which even though it seems like an extremely long time period for construction, was relatively quick for that time period. The Notre Dame is the number one monument in Paris and has 13 million visitors per year on average.
11. Marché d'Aligre:
Between Tuesdays and Sundays from 8 AM to 1 PM in the 12th arrondissement, the Marché d'Aligre is open to anyone who wants fresh and delicious food. While you do have to pay for the food, it's fun to see what the open markets are like in other countries. While you're there you can pick up ingredients for a delicious home cooked meal or for a picnic in one of the many parks in Paris.
12. Explore the Père Lachaise Cemetery:
The largest cemetery in all of Paris, it's located in the 20th arrondissement and it's open during your typical day hours. It originally opened in 1804 and now has accumulated over 70,000 tombs from the wealthy, which are all wonderfully ornate. There are many composers, poets, painters, dancers, and singers among many others who rest here.