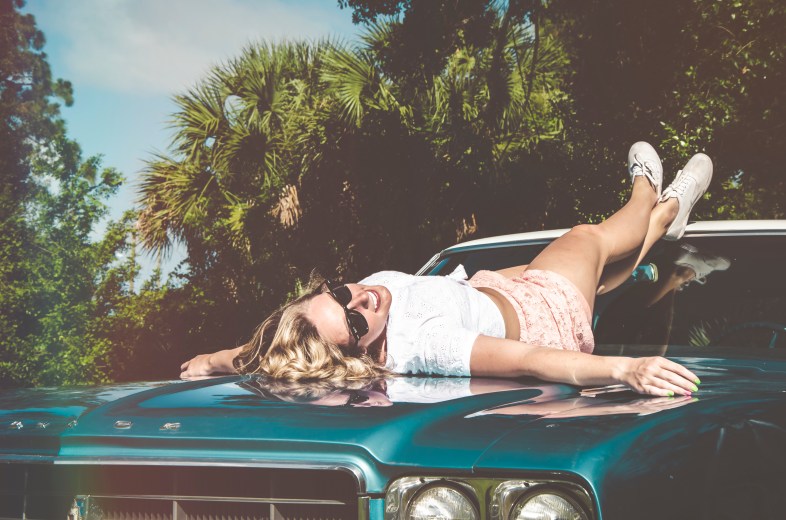 A few months ago, I wrote a piece in which I opened up about my struggles with body image and ultimately how I found peace through my yoga practice.  It's an issue many seem to grapple with, yet we don't talk about it.  I definitely felt embarrassed and ashamed about my messed up self image and food issues.
Talking about it was out of the question especially since the women around me seemed normal and sane.  That's the true result of not talking about our personal struggles: everyone else seems to be fine – at least on the outside.
When I opened up about my own journey toward body peace, I knew that at least a few people would read it.  I just didn't realize how many!  It ended up garnering quite a bit of attention both on the web and among people in my life.  I'll admit that I panicked a bit when I realized the sheer volume of readers that were privy to intimate details about my inner struggles.
I questioned whether I should have put my story out into the world at all.  As I thought about it more and had time to process, I started to realize it was the best action I could have taken for myself and other people.
In putting my own narrative into words and including raw honesty about how I'd never felt good enough, I was able to process emotions I had long ignored.  There was a lightness in my chest when I realized that the emotion surrounding my body was no longer negative or a secret.  It just was.  
The most wonderful result of taking my own leap was the outpouring of support from people around me.  Everyone has a story to share.  In publishing mine, others felt compelled to tell me theirs.
A girl from my high school who I hadn't seen in years texted me out of the blue telling me how much the article had resonated with her.  We were able to reconnect over vegan tomato soup and had the best time chatting and laughing.
My aunt who lives across the country wanted to chat on the phone after reading my piece.  It turned out she has always wanted to write and loved that I had simply made it happen.  I felt humbled indeed to have a relative find me a source of inspiration.
A guy from my university that I didn't know well at all messaged me on Facebook about his own challenges.  We had a powerful dialogue about cultural expectations surrounding appearances both for men and women.
When we give ourselves permission to open up despite being scared, amazing things happen.
Yes, it can be terrifying to allow yourself to be raw and vulnerable.  It totally was!  It helps to realize that this fear keeps us from sharing our stories and connecting authentically with those around us.  We limit ourselves from finding others like us or being a source of empowerment to someone else because we're paralyzed by the idea that someone will laugh at us.  Maybe they will, but there will be many more who are inspired and supportive.
My short piece sparked a larger conversation around me and among people who I may never meet.  People want to discuss body image and their struggles but are often too afraid to do so.
When you share your own journey, you empower others to do the same.  They continue talking about it with their own circle of humans and the cycle of authentic conversations and growth continues.  It's scary to take the leap, but you have the ability to make an impact that resonates far beyond just you.  That's true strength!
I shared my story and it resulted in a positive chain reaction I never could have imagined.  I challenge you to share yours.  What kind of impact will you have?