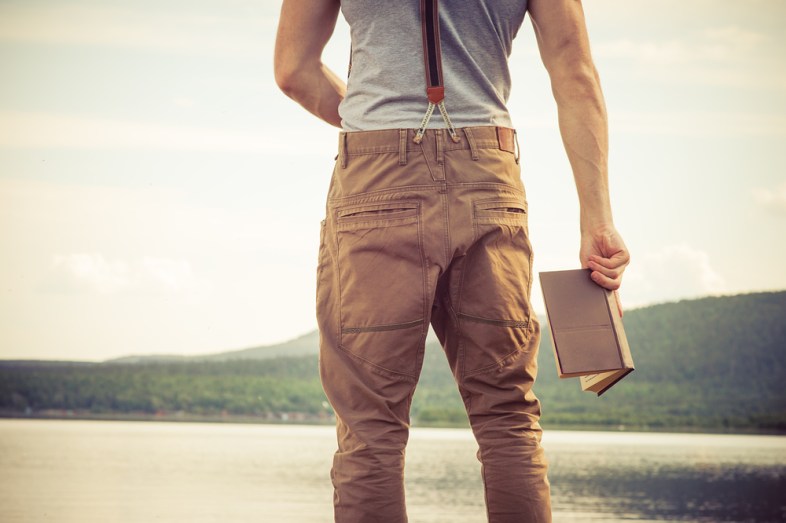 We all have to kiss a frog or two, right? But in a world of swiping left or right, it can start to feel like some pretty strong archetypes dominate the underbelly of the dating game. Here are some candidates you may or may not run in to if you're on the market, and how to handle–or avoid–each character.
1. The Stoner

The lowdown: He's always down to share, and you love eating meals together. But he's rarely around or interested in what you have to say before 10 pm.
What goes wrong: He forgets your birthday, forgets to feed his cat, forgets to feed himself, eventually dies and is found in a pool of his own drool eating a bag of chips.
How you get out: You're totally off the hook, girlfriend! He forgot you were even dating.
2. The Possibly Gay Dude

The lowdown: For all intents and purposes, this dude kind of rocks. After all, he gives you the BEST compliments on your wardrobe, lets you talk about your love for Johnny Depp without getting jealous, and really keeps it tight with all that gym-going.
What goes wrong: Honey. I think you know.
How you get out of it: Send him a text solely composed of emojis. He'll get it.
3. The tragically hip art guy

The lowdown: This guy takes you to museums, introduces you to crazy cool foreign films, and only hangs around with artists.
What goes wrong: Oh, did I say introduce you to crazy cool foreign films? I meant "make you watch all of his self-directed films that have no point." OOPS.
How you get out: Slowly fade into the background like one of the cool transition effects he learned in his film editing class.
4. The bro

The lowdown: During this stage of your life you may find yourself watching an inordinate amount of sporting events and questioning whether or not you need a pair of boat shoes. This particular male has the tendency to blackout drinking Bud Lite and tell you his father is disappointed in him for not going to law school.
What goes wrong: When introducing you to his mother, probably named Bitsy, you realize these people have entirely too much money and expect you to pop out babies and make Bundt cakes for the rest of your life. Said babies you pop out will also play Lacrosse.
How you get out of it: Counteract the bro-ness you just endured with total opposite: the wannabe badass.
5. The wannabe badass
The lowdown: This guy loves to tell you how misunderstood he is, eluding to some psychological drama from his youth, quoting Bukowski, and smoking off brand cigarettes. But he isn't obsessed with hockey so you decide to stick it out for a few months.
What goes wrong: Aside from the fact that you barely hear from him? You realize he's basically a scared little boy with some major mommy issues.
How you get out of it: Just avoid any local dive bars for the foreseeable future and block his number. Do yourself a favor–T Swift are you listening?–and stop serial dating for a while. When you give yourself time to just be YOU you'll meet a man who's comfortable just being himself, too.