Hey, y'all, recently I've been failing at my diet, which isn't anything particularly difficult to follow, other than simply: don't eat garbage multiple times a day. I realized that I don't just eat to stay alive, but I truly, thoroughly love me some food, especially the fried, greasy, sugary, salty kinds. Then, I had a thought: What if the love foodies have for their grub were treated like human love? What if we created art to entertain the masses that tells the story of a person, and the edible magnificence they use to satisfy their appetite?
Since I don't have the budget to make a romantic comedy feature film starring a cheeseburger and Will Smith, I had to settle for these faux Nicholas Sparks love story concepts, that would definitely tug at your heartstrings and make your tummy growl. Each idea is loosely based on one of good old Nicky Sparks' actual works, but I could easily write 200+ page full versions of 'em because they're obviously incredibly inspiring, moving, heartwarming, mouthwatering tales.
Inspired by A Walk to Remember
A hungry young woman, Lynn Ed, stumbles upon a small Chinese restaurant on the other side of town. From the first bite she falls in love with their Kung Pao chicken, developing a powerful taste-bud-to-food connection. When she arrives home, Lynn realizes she never made note of the restaurant's name or location, and now she must search to find this glorious establishment that makes her feel levels of gratification that no Panda Express ever could.
Inspired by Nights in Rodanthe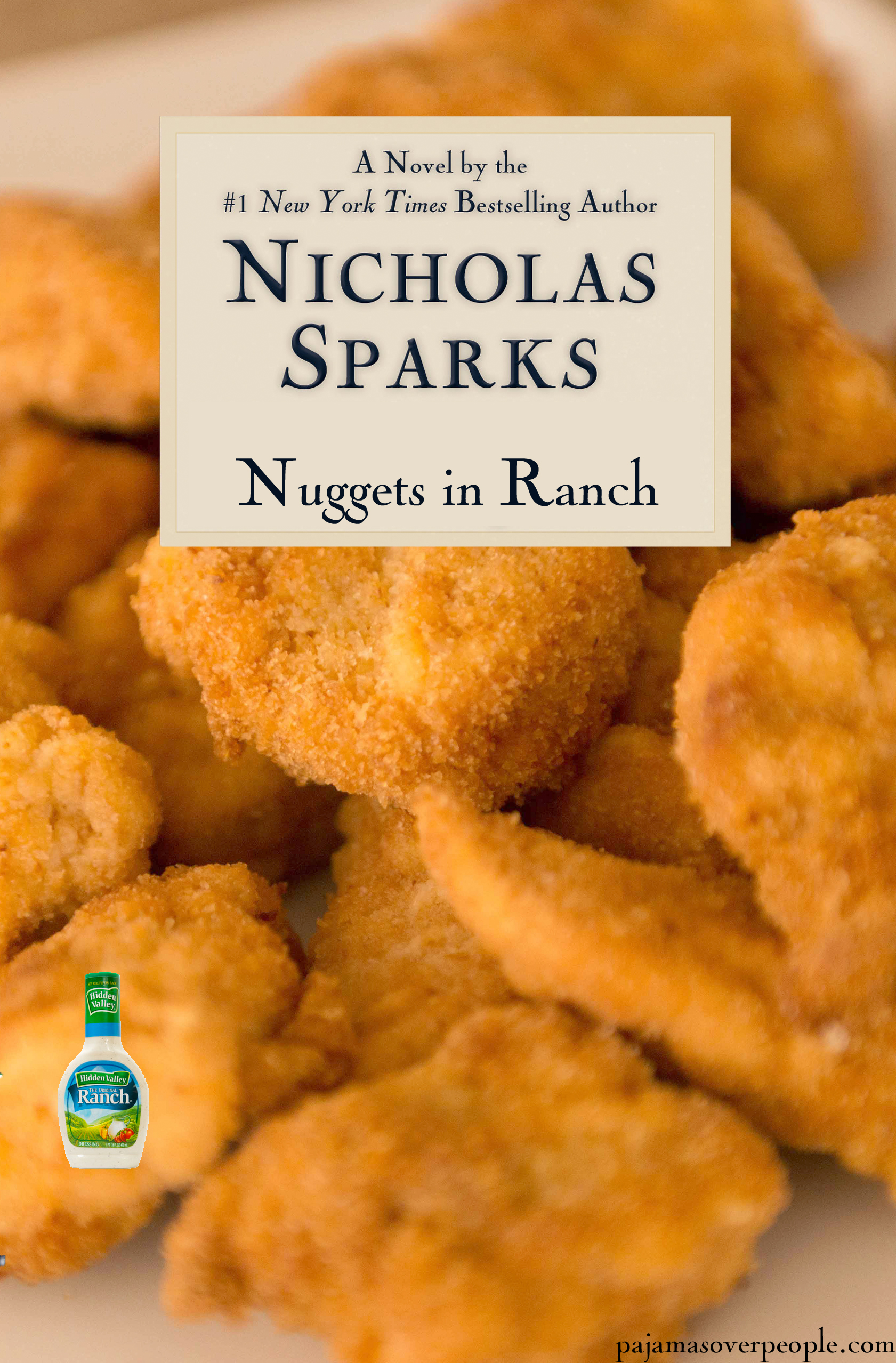 When Bailon brings home some chicken nuggets, her condiment game is in shambles. She checks the pantry and various cabinets hoping for some BBQ sauce or ketchup, to no avail. The only thing she stumbles upon is some ranch in her refrigerator, a dressing often criticized when used as a dipping sauce. As her stomach rumbles with hunger, Bailon and ranch find comfort and a chicken nugget changing combination in each other.
Inspired by The Last Song
Estranged from her father, 17-year-old Liley is annoyed when her mother sends her and her little brother to spend the summer with him. While her father uses a shared love of food to reconnect with her, Liley falls in love with the big ass four cheese slices that are only $1.99 at a nearby local pizza establishment. When it nears time to return to her mother, reality sets in and Liley's like, "Whoa, this next piece of pizza could be my last." Uncertain if she should leave, Liley is at a crossroads and the decision she makes will be tough, no matter how you slice it.
Inspired by The Lucky One
Paul returns home from the grocery store with the one thing he went there for: milk. He wants to eat his cereal, so he grabs a bowl and a spoon, preparing to satisfy his craving. He opens the box of Lucky Charms and realizes that over the past couple days, he's been picking out the marshmallows, and now there's nothing but boring oat cereal pieces left. Though Paul doesn't feel like going back to the store, his craving for a taste of The Lucky Charms is blooming by the second, giving him hope that maybe, just maybe, he can muster up the energy to drive 1 ½ miles to the nearby Albertsons, and make his dream of getting romantic with a bowl of cereal a reality.
Inspired by Message in a Bottle
After eating a bunch of Chinese food, popular social media personality Maria Ozzy finds a vague message in her fortune cookie. When she posts a picture of it on her widely beloved Instagram, she's DM'd by one of her 20,843 followers, Griffin, who works at Panda Express. As Ozzy finds herself hopelessly falling in love with Griffin, she becomes wracked with guilt over the fact that she's ashamed to date someone who only has 92 followers on Instagram, and must decide what to do next.
Inspired by The Best Of Me
Seyfriend and Richard were once high school sweethearts. They have a bittersweet reunion when they return to their hometown for the funeral of a mutual, beloved friend. Seeing each other again after 20 years apart reignites the love they'd never forgotten, but Seyfriend soon learns that Richard is a vegetarian, but she loves burgers, bacon, steaks and chicken. They realize that they originally broke up over something petty in the past, and wonder if this much more threatening "I don't eat meat" fiasco, will drive them apart today.
Inspired by The Longest Ride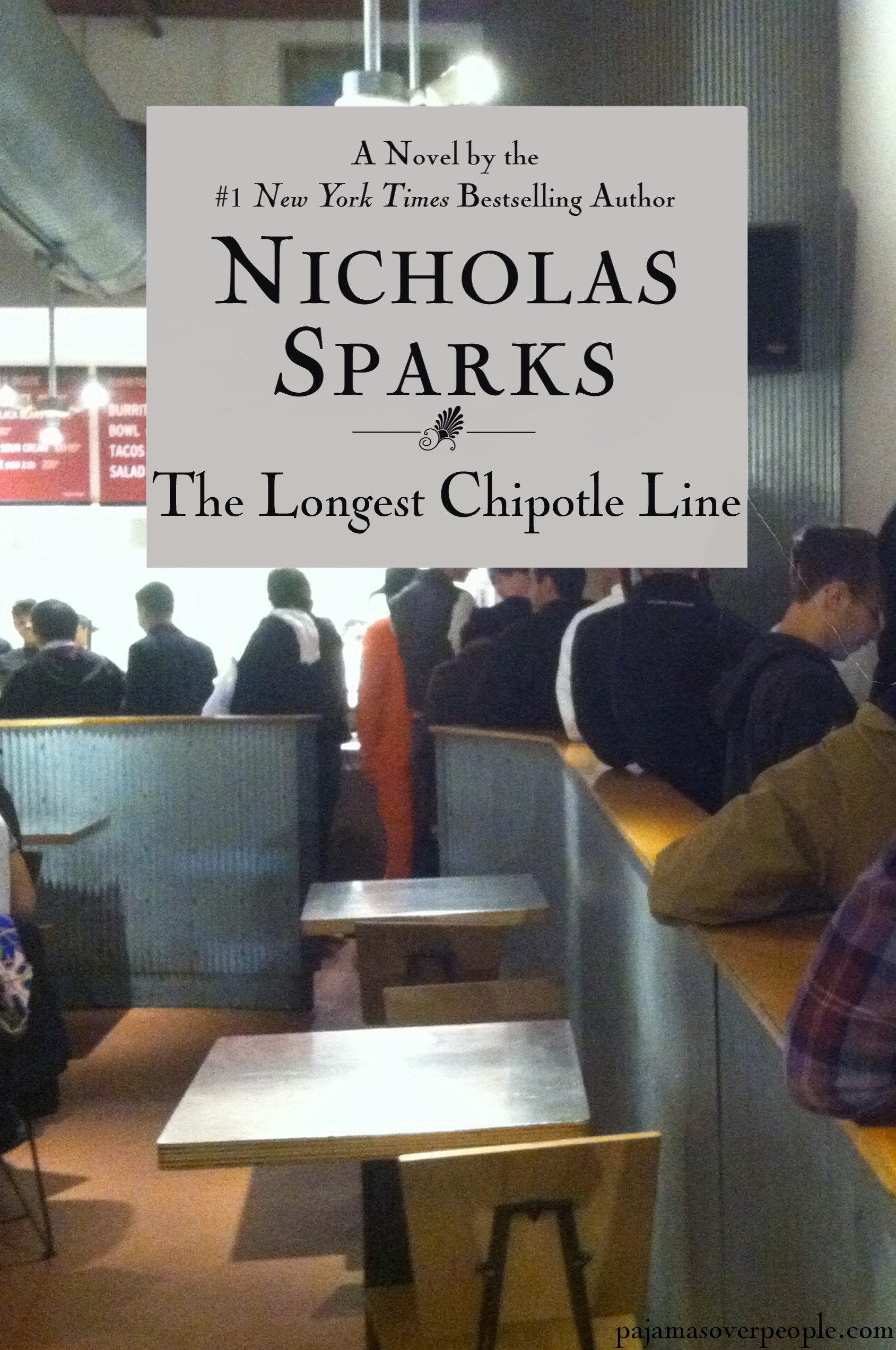 Bryan wants Chipotle but it's 5:30pm and the line is really, really, really, really, really, really, really, really, really, really, really, really, really, really, really, really, really, really, really, really, really, really, really, really, really, really, really, really, really, really, really, really, really, really, really, really, really, really long. As he wonders if he should wait or just go to a nearby Jack in the Box drive-thru, he finds inspiration in a bedraggled teenager who exits Chipotle, claiming to have waited 45+ minutes for his burrito bowl, a desire and love for double meat, fajita peppers, and guacamole that withstood the test of time.
Inspired by The Choice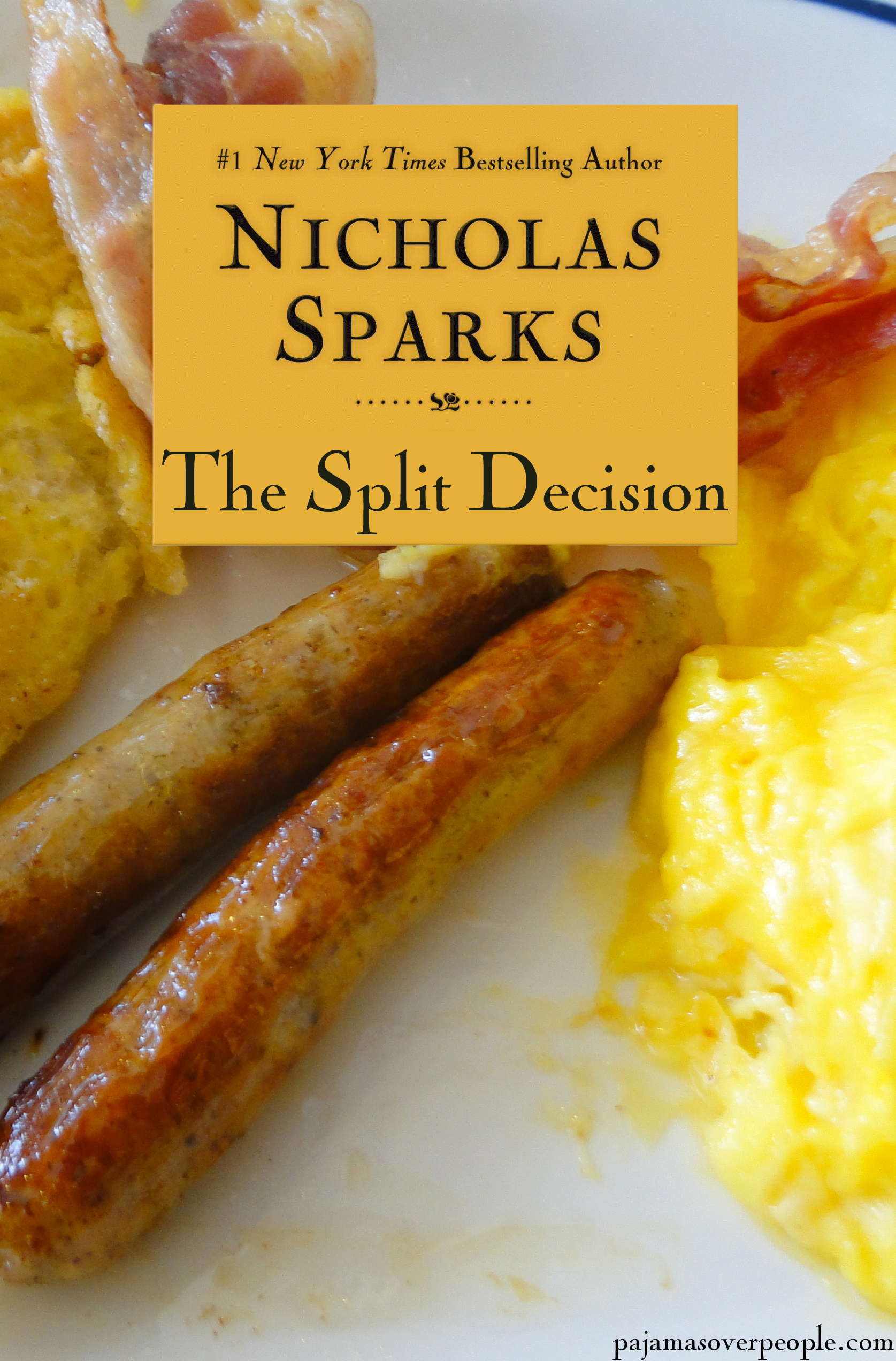 Barker craves pancakes and French toast equally; unable to decide which one he wants more. However, when he sees that IHOP's menu offers the 'Split Decision Breakfast', a hearty combo that comes with two eggs, two crispy bacon strips, two pork sausage links, two French toast triangles and two buttermilk pancakes, he realizes that THIS IS A MOTHERLUVIN GAME CHANGER.
Inspired by Safe Haven
Couric takes the bus to a quiet city in California, determined to find new favorite places to dine after having a mysterious, traumatizing experience with food poisoning in LA. She avoids popular food chains like Applebee's or Benihana, and is soon won over by the relaxing vibes and cheap happy hours of local restaurants, especially Trebek's Sushi. With the help of a 'buy 2 rolls get 1 free' coupon she received in the mail, Couric learns to love and trust again at Trebek's Sushi. But when a mysterious former patron on Yelp claims to have seen a worm in the sushi, Couric's dark past and fear of unsafe food threatens to reclaim her. (Spoiler alert: The Yelp reviewer complaining about the worm was a ghost, or something?)
Inspired by The Notebook
A poor and passionate young man, Joakim Jim, craves a burrito from a pricey, authentic establishment, El Burrito Cuaderno, but his bank account doesn't approve. When Joakim goes to Taco Bell for affordable "Mexican food," it seems to mark the end of his desire for a high quality burrito. But when Joakim returns home and finds a $20 bill, it becomes clear that his quest for El Burrito Cuaderno is anything but over.
Inspired by Dear John
When a tasty medium-hot Dijon mustard is put on Elton David's sub at Guthrie's Sandwiches, it's the beginning of a strong new love connection. Over the next seven tumultuous years, separated after Elton moves to a city 100 miles away, the two stay in touch via Elton following Guthrie's Sandwiches on Twitter, tweeting at them semi-regularly, and driving to eat there on rare occasions. However, when a Subway is built nearby and poses a threat to put them out of business, John & Guthrie's Sandwiches' long distance correspondence experiences struggles that neither side could foresee.