In 2000 Dr. Toni Bertolet was a 38-year-old successful doctor who had finally met the love of her life — an entrepreneur named Harold Henthorn. The two met online through a Christian matchmaking service and married that year. They had a daughter, Hayley, in 2005. Both Toni and Harold had been married before — Toni had gotten divorced and Harold's wife died in a tragic car accident. Toni taught Sunday school and sang in her church choir and the couple had plenty of friends who thought they were good neighbors.
But slowly, Toni's friends and family began to see Harold differently. Harold intercepted every phone call that came to their home. He moved her from her hometown of Jackson, MS to Denver, CO. Her family noticed that Toni's confidence was plummeting and Toni told them that if they upset Harold, "I'll suffer the consequences".
When Toni had a near death experience in 2011, her family didn't hear about it until months later even though the accident had been serious and resulted in a broken vertebrae and a loss of sensation in her fingertips. When her brother, Barry Bertolet, finally learned of the accident, it was on speakerphone while Harold listened in. Even the support staff at Toni's eye practice noticed that Harold liked to insert himself into her life in order to control her.
Tammi Abbruscato, Toni's office manager, was asked by Harold to help him plan a secret trip to Rocky Mountain National Park in order to celebrate the couple's 12th anniversary. Tammi thought Harold was creepy but she was happy to help because she thought it was nice that he was planning something for his wife. Tammi blocked off Toni's schedule and even filmed the reveal when Harold came into the office to whisk her away to Estes Park, Colorado.
On September 29, 2012 Toni and Harold set out for a hike in the Rocky Mountains. Harold led Toni off of the trail and to a scenic overlook where the two took turns taking photos of each other — Harold went first showing Toni it was safe to be near the edge — and a couple selfie. It would be the last photos of Toni Bertolet Henthorn. While posing for a photo, Harold says Toni slipped and fell 140 feet. Harold called 911 and waited for hours for help to arrive to the remote location he'd taken Toni to. He also texted Toni's brother updates while he waited: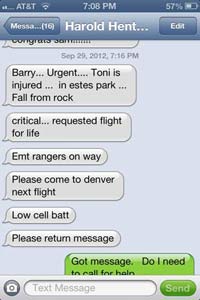 Thankfully, Toni had family and friends who knew Harold's story wasn't right. At first, Harold said Toni was lagging behind and he didn't notice her near the edge of a cliff. Later, his story changed to the couple taking photos at the overlook, which matched up with photos taken on their camera. Not only was Harold's story changing, Toni's family was suspicious of the arduous hike in the first place as Toni had had three knee surgeries and wouldn't have wanted to do something like that. They also noted that Toni's funeral seemed to have been planned in advance, not by a shocked and bereaved husband, Barry Bertolet said, "Not even 48 hours after his wife has died, he has a video made … he's got the songs picked out. He's already contacted the people that are gonna sing the songs. … It's too well planned." Harold also cremated Toni against the wishes of her family.
In all, police received 16 requests to investigate Harold as possibly being responsible for Toni's deadly fall.
Immediately, investigators found a map in the Henthorn's vehicle with an 'X' marking the spot where Toni fell. It turns out, Harold had taken 9 scouting trips to the exact same place where Toni died in the previous six weeks as shown by his cell phone records. On closer inspection the photos from the couple's trip also gave sinister clues to police about Harold's plan. First, a selfie of the couple. Then, a photo of Harold close to the ledge, holding onto a tree for support. It looks like he was demonstrating to Toni exactly how he wanted her to stand. Once she was in position, all it would take is a push. Eventually police noticed a bootprint matching Harold's shoes on Toni's back.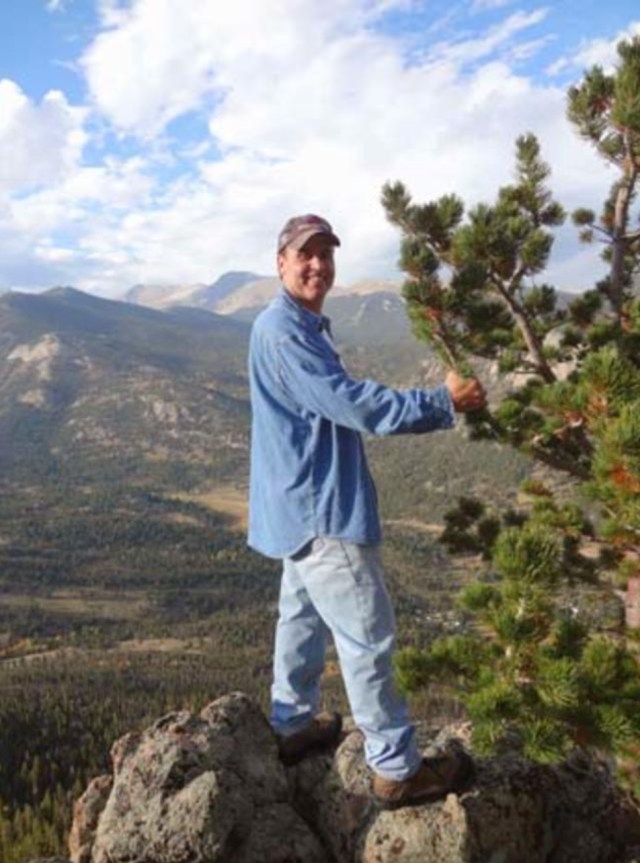 Then, a local reporter was given a tip to look into the death of Harold's first wife in 1995. It turns out that the "tragic car accident" really meant that she was crushed underneath the couple's Jeep during a drive to a remote location Harold took her on. Harold's story is that she dropped a lug nut and went under the vehicle to retrieve it while Harold threw the flat tire in the trunk — causing the Jeep to move off of the jack and crush her. Like with Toni, his wife's family and friends noticed that Harold's story kept changing, but they figured he was upset and grieving so they left it alone.
Both Harold's first wife and Toni had large insurance policies taken out on them… by Harold. He would have inherited $4.7 million from Toni's death alone. He had taken the couple's daughter, Hayley, off of the insurance policy as a beneficiary, leaving only himself. Investigators also believe that Harold hiked down to where Toni's body was and removed the $30,000 diamond from her wedding ring while he waited for help.
The investigation into Toni's death also revealed something that shocked everyone who knew the couple — successful "entrepreneur" Harold hadn't actually worked in decades. The man had no income. Harold controlled the family money and Toni's family believes she was unaware of his employment status. They also started to wonder about her previous near death "accident", the details of which sound like a botched murder in retrospect. Harold says he asked Toni to help him clear some debris and while she was under their deck, a piece of lumber "fell" off and hit her in the head.
Toni's brother, himself a prominent cardiologist, called her "the smartest person I've ever met". She graduated Magna Cum Laude from medical school and the year after she had her daughter she was named one of America's Top Ophthalmologists by the Consumer Research Council. Even an intelligent and wealthy woman like Toni with a lot of friends and family can be tricked by a predator intent on hiding who he really is. Consider how many women without those resources are killed with no one around to ask police or journalists to investigate.
In 2015 a jury found Harold Henthorn guilty of first-degree murder and he was sentenced to life in prison without the possibility of parole.