Lindsay Buziak was a 24-year-old Canadian real estate agent living and working in a suburb of Victoria, British Columbia when she was murdered while showing a house to a potential client.
Lindsay had many family and friends in the area. People described her as happy and friendly. She was dating Jason Zailo, who was also in the real estate business and came from a wealthy family in the area.
In January of 2008, Lindsay received a call at work from a new client. The woman on the phone said she had gotten Lindsay's name and number from one of her old clients and was looking for a new home with a budget of one million dollars. The woman specified that she would only like to be shown homes that were new or vacant.
Lindsay had a bad feeling about the phone call.
She thought it was suspicious that such a good client would fall into her lap. She also thought the woman on the phone was acting strangely and perhaps faking a Spanish accent. Lindsay called the client the woman said she'd gotten Lindsay's name from but did not get a hold of them. She then told her boyfriend, Jason Zailo, that the call worried her. Zailo encouraged her to take the job so that she would not lose out on the big commission that comes with a million dollar budget.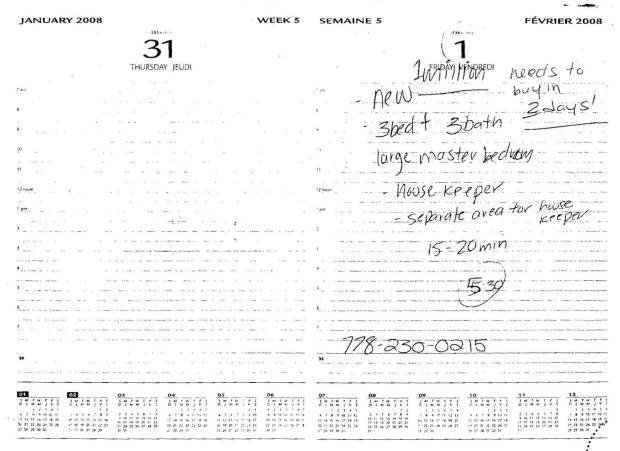 Lindsay found a potential home for the client and set an appointment for 1702 De Sousa Place at 5:30 p.m. on Saturday, February 2, 2008. Jason Zailo volunteered to accompany Lindsay to the appointment to ensure her safety.
On the day of the showing, Lindsay and Jason ate a late lunch and left separately at 4:24pm. Jason went to an auto shop to give a ride to a friend and was late meeting Lindsay at the house. CCTV footage shows Jason leaving the auto shop with his friend at 5:30pm. During this time Lindsay and Jason were texting, Lindsay knew Jason would be late meeting her and decided to start the appointment with her clients.
Two neighbors saw a couple arrive at the home on De Sousa Place at 5:30pm and shake hands with Lindsay before entering the house. The neighbors described the couple as a 6ft tall caucasian man and a blonde woman who appeared to be age 35-45. They said it appeared the couple were strangers to Lindsay.
Jason Zailo got to the home at 5:40pm with his friend in the passenger seat. Both men saw a couple leave the house and then renter upon seeing them parked in the driveway. The two waited in Jason's car for 10 minutes They then moved the car and waited another 10 minutes. After 20 minutes, Jason went to go inside and check on Lindsay but found the front door locked. Since he could see Lindsay's shoes through the glass but no one was answering the door, Jason called 911.
While Jason was on the phone with 911, his friend found a gap in the fence and was able to see the house's back patio door was open. He yelled at Jason who told the 911 operator they were entering the house and hung up. Jason's friend let Jason in through the front door and together they found Lindsay's body in the master bedroom. Jason called 911 again.
Investigators found that Lindsay had likely been stabbed from behind. She was not robbed or sexually assaulted.
Lindsay's boyfriend Jason Zailo and the friend who had been with him were both investigated by the police. CCTV footage confirmed their alibi at the auto shop. Jason Zailo has cooperated with police and passed a polygraph.
One theory is that Lindsay Buziak's murder was a professional hit ordered by a drug cartel a friend of Lindsay's ex-boyfriend was a part of. The idea is that the cartel thought Lindsay was a police informant.
This theory came about because of the lack of DNA and evidence at the crime scene and because when police tracked down the phone that was used to make the appointment with Lindsay, they discovered that it was purchased months earlier and disconnected right after the murder. It was only used for calls to Lindsay. Both of these things read to investigators like the actions of professionals.
Others think that Lindsay's murder was too "brutal" and sloppy to have been carried out by professionals. They point the finger at people who knew Lindsay at work who would have been able to organize Lindsay's presence alone in the home.
https://www.youtube.com/watch?v=6lTr1NhaRQM
Lindsay's father, Jeff Buziak, runs a charity walk in her honor every year. There is still a reward for information leading to the arrest of the murderer(s).