50 years ago the Zodiac killer terrorized the bay area in California. He murdered five people during his reign of terror, mostly couples parked at lover's lanes. The Zodiac himself communicated with the press and claims his kill count is much, much higher. One of the ways he communicated with the press was through cyphers, one of which has just been solved after 51 years of mystery.
Like many serial killers, Zodiac lived for attention and would send messages to the San Francisco Chronicle, Vallejo Times Herald, and The San Francisco Examiner. Zodiac sent each paper 1/3 of a cryptogram and threatened: "If you do not print this cipher by the afternoon of Fry.1st of Aug 69, I will go on a kill ram-Page Fry. night. I will cruse around all weekend killing lone people in the night then move on to kill again, until I end up with a dozen people over the weekend"." A California couple solved this 408-symbol cryptogram which the Zodiac claimed contained his identity. What it actually said was:
"I like killing people because it is so much fun – it is more fun than killing wild game in the forest because man is the most dangerous animal of all – to kill something gives me the most thrilling experience – it is even better than getting your rocks off with a girl – the best part of it is that when I die I will be reborn in paradise and all the (lone or stray people) I have killed will become my slaves – I will not give you my name because you will try to slow down or stop my collecting of slaves for my afterlife."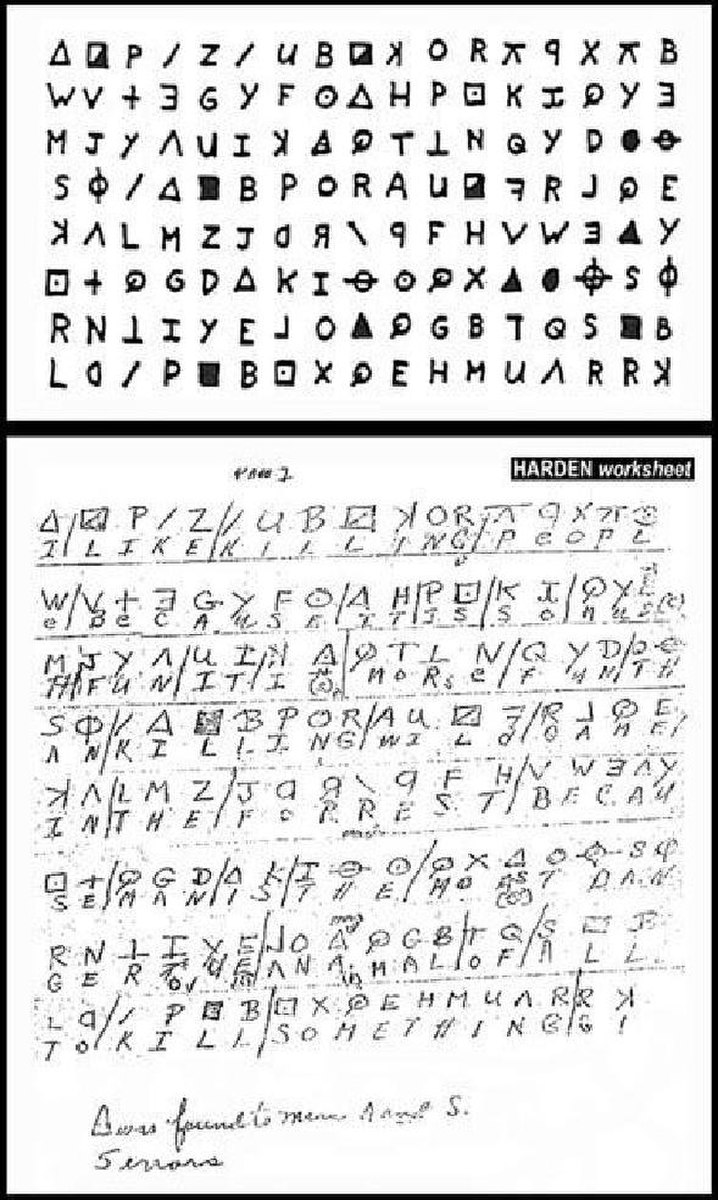 Another letter from the Zodiac contained a 340 character cypher which has just been solved. A team of a software developer, a mathematician, and a computer programmer worked together to break the code. David Oranchak, Jarl Van Eycke, and Sam Blake have been working for over a decade and were finally able to translate the cypher. They announced the feat on December 11, 2020. The newly solved cypher reads:
"I HOPE YOU ARE HAVING LOTS OF FUN IN TRYING TO CATCH ME
THAT WASNT ME ON THE TV SHOW
WHICH BRINGS UP A POINT ABOUT ME
I AM NOT AFRAID OF THE GAS CHAMBER
BECAUSE IT WILL SEND ME TO PARADICE ALL THE SOONER
BECAUSE I NOW HAVE ENOUGH SLAVES TO WORK FOR ME
WHERE EVERYONE ELSE HAS NOTHING WHEN THEY REACH PARADICE
SO THEY ARE AFRAID OF DEATH
I AM NOT AFRAID BECAUSE I KNOW THAT MY NEW LIFE IS
LIFE WILL BE AN EASY ONE IN PARADICE DEATH"
The group immediately took their findings to the FBI who says that their investigation is ongoing:
#Breaking – Our statement regarding the #Zodiac cipher: pic.twitter.com/cJCtlDEbMw

— FBI SanFrancisco (@FBISanFrancisco) December 11, 2020
We hope this is a big break in the case. We know anything can happen as last year the Golden State Killer was finally identified, arrested, and brought to justice after terrorizing California for more than 50 years. In the meantime, here are some theories about who the Zodiac killer may be.