Hey all you creepy cats and (haunted) kittens,
Welcome to your weekend horror watch guide, a new weekly newsletter from Creepy Catalog. (If you're not already subscribed, you can sign up here). Every week we'll be highlighting the best horror movies and tv shows that are available anywhere. We'll try to include as many "free" options from the big platforms (Netflix, Prime) as possible. 
Each week you'll get our personalized recommendations, whatever news is going on in the spooky world of horror, and perhaps a scary story or two. 👻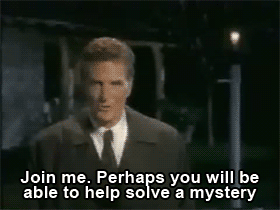 Horror movies to stream the weekend of 7/10:
Unsolved Mysteries (Netflix).

If you haven't had a chance to check out Netflix's reboot of the 90's classic,

Unsolved Mysteries

get thee to thy couch!!! The six episode release is really well produced and creepy as hell. There's no Robert Stack (RIP) but the original theme song plays and and the cases chosen will send you into a k hole of internet research. The first episode,

Mystery on the Rooftop,

follows the mysterious death of Rey Rivera is one of the most perplexing cases I've heard of. 
Streaming on: Netflix 
2. Villains (Hulu). A younger, less adept version of Bonnie and Clyde, a couple breaks into a country mansion hoping to steal a car and continue their life on the run. However, they picked the wrong house. They find the house occupied by a couple who might be even more sinister than they are. A cute, funny, creepy, engrossing look at the classic horror movie quandary: what happens when one "bad guy" meets another?
Streaming on: Hulu
I See You (Prime).

This horror movie is full of twists and turns and introduces you to a real life phenomenon you'll think about indefinitely whenever you're home alone. I won't name the phenomena due to it being a spoiler but it's pretty fun to google creepy stories about after you're done watching. It's a slight twist on the classic home invasion horror movie. 
Streaming on: Prime (free for Amazon Prime members)
—
In other horror news, it was announced this week that the latest installment of the Jamie Lee Curtis-led

Halloween

revival will be delayed until 2021 due to Covid-19.

We're getting a Wolf Creek 3.
The next season of Netflix's Chilling Adventures of Sabrina will be its last.
If you're looking for a deeper dive into horror recommendations, here's a few of Creepy Catalog's themed guides:
Best Home Invasion Movies: The Definitive List
25+ Best Isolation Horror Movies
Best Sci Fi Horror Movies (List)
From all of us at Creepy Catalog, stay spooky and happy streaming!
P.S. if you're in the mood for a good scare, have you browsed the catalog of scary stories on our Instagram?