First of all, we were freaking LIED to last week by the Bachelor producers who convinced us Chris has sex with someone on the camping date setting off a chain reaction of ugly crying and hyena cries throughout the pack of remaining contestants.
This did not happen.
Yes, Ashley I. snuck into Chris' tent while they were camping, but it was just to have one of many obnoxious conversations about her virginity. DIAF, Ashley I. DIAF Bachelor producers who convinced me this was the pivotal moment of the season. And also, DIAF me for putting myself through this season after season.
To recap, here are a few things the Bachelor producers have lead us to believe will happen in this episode:
Chris bones one of the constestants in his tent (did NOT remotely happen)
The girl who wins the Cinderella date gets sent home (did not happen)
Ashley I. cries into a corn on the cob (happened)
Lots of ugly crying abounds (okay, technically that still happened)
If you are seething as much as I am, pause to LOL and improve your mood with this (very good) spoof of our beloved Bachelor from SNL last week:
[youtube=http://www.youtube.com/watch?v=i9AdeNSiy0w&w=560&h=315]
Secondly, as far as the title question goes — the ugliest crier on this season is, of course, Ashley I. She wins not only because of the ugliness of her cries, but because of the frequency and duration of them. Congrats Ashley, at least you win something this season: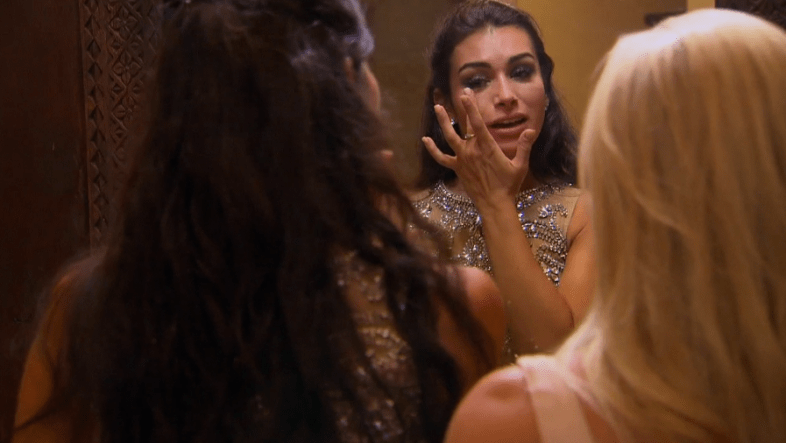 Here's how the rest of the girls did this week:
Dark Knight Alert
This week two dark knights emerged as major contenders in the show. Both of them were previously pretty much fading into the background, but after this episode I'm convinced either could go the distance.
Jade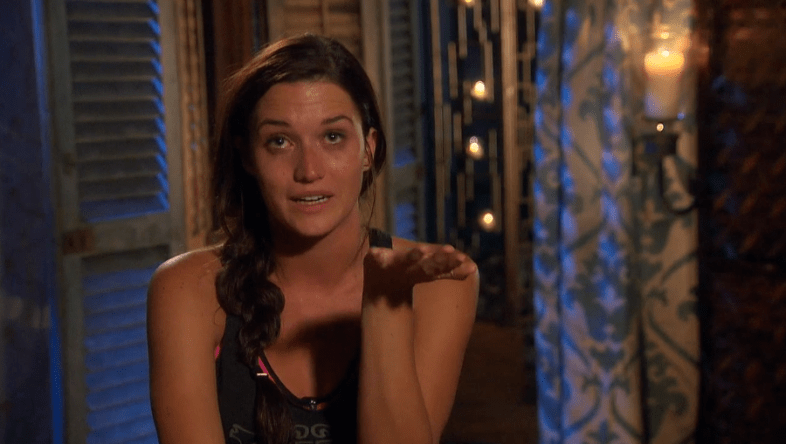 Jade wows Chris' sisters with how sweet and humble and authentic she is and they gift her with a Cinderella one-on-one date. (Side note: Chris' sisters are all so poised and nice and beautiful!!!) She seems very feminine and loving and small-town-eque, which (I think) is exactly what Chris is looking for, so she is my new front runner.
BTW Jade modeled for Playboy and WOW.
Becca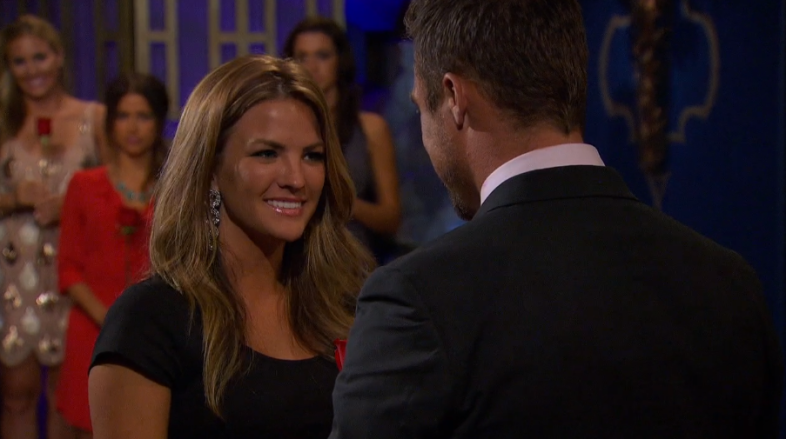 This week we learned that not only is Becca a virgin, but unlike Ashley I. she also has the tact and self-awareness to realize this isn't bait to lob at Chris over and over again. She is emerging as a strong competitor who might be able to make it to the end.
Still (somehow) in the running
Kelsey
Kelsey is a terrible person. Kelsey is the kind of person who steams a dress before she goes on a camping date. Kelsey is the kind of person who calls women who aren't like her "bimbos" and talks about how she has "dignity" and "self-respect." Kelsey is the kind of person who is given the gift of a fun afternoon at the lake and spends the whole time complaining and calling it a "hell hole." Kelsey is the kind of girl who makes this facial expression a lot: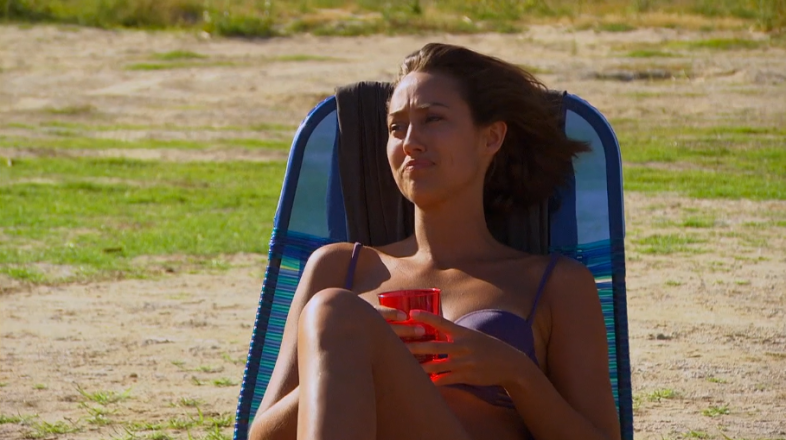 Later at the bonfire the girls are talking about how blessed they are as a group to be on such a fun outing. Debbie Downer responds, "really?"
Kelsey is a bitch and a bad person and must be stopped.
Kaitlyn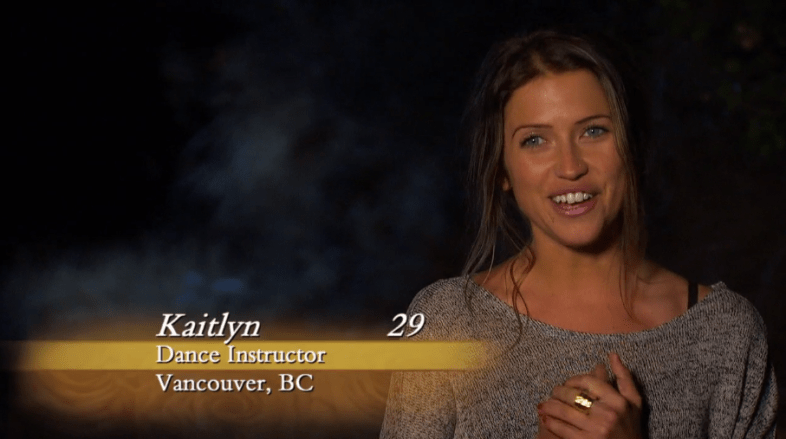 Kaitlyn strips on the group camping date while Kelsey judges her. #teamkaitlyn for life.
During her one-on-one time by the fire Kaitlyn asks the perfect first date question that I am going to steal for future dates, "what let's you know someone cares about you?" Chris answers with "touch" but Kaitlyn doesn't seize the opportunity to get her hands on him.
Ashley I.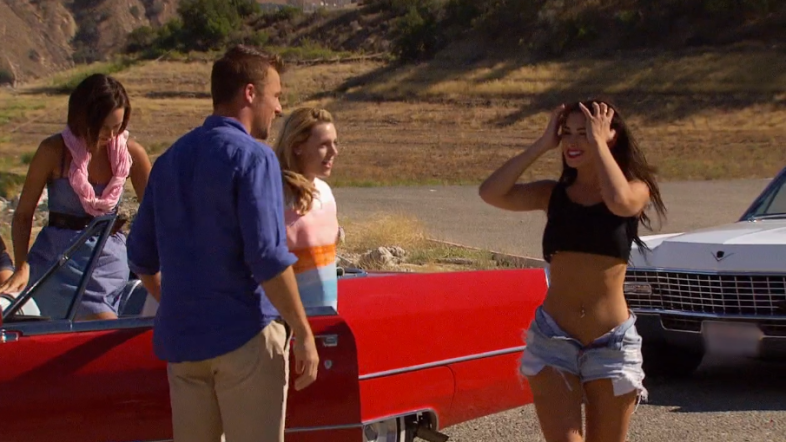 The only thing Ashley I ever talks about is being a virgin. Which I don't understand. There's nothing wrong with being a virgin, but she is trying to prop it up as something so amazing that it makes up for her having no other personality. And if it was really that amazing or special to her, she wouldn't be dressing slutty or putting her tongue down Chris' throat at every opportunity. There's nothing wrong with those things — for instance, they seem awesome when Kaitlyn does them, because that's who she is — but there's something so aggressively misguided about Ashley I., it's hard to watch.
Here she is "breaking out of her shyness" by stripping on national TV: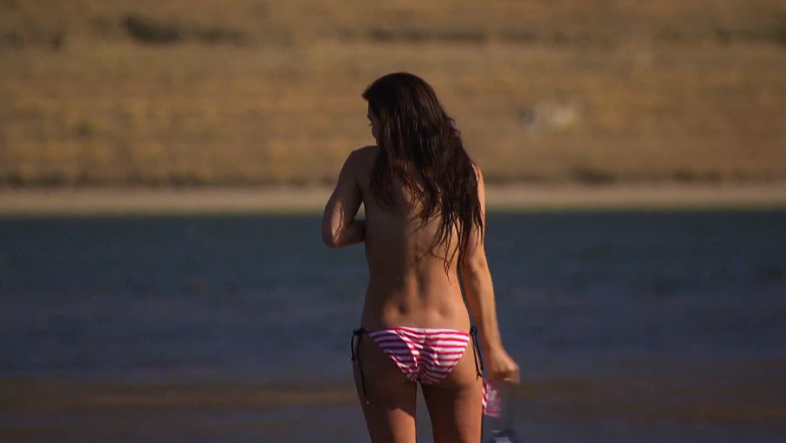 On the camping date she talks about how sitting on a lawn chair outside next to a warm fire, with coolers filled with food and drink surrounding her is "going beyond all her comfort zones." So… I'm not sure what she thinks she has in common with a farmer from Iowa or why she is attracted to her.
She is just very, very immature and not self-aware. Also she walks around with a straw in her cocktail class like she's a hobo or something: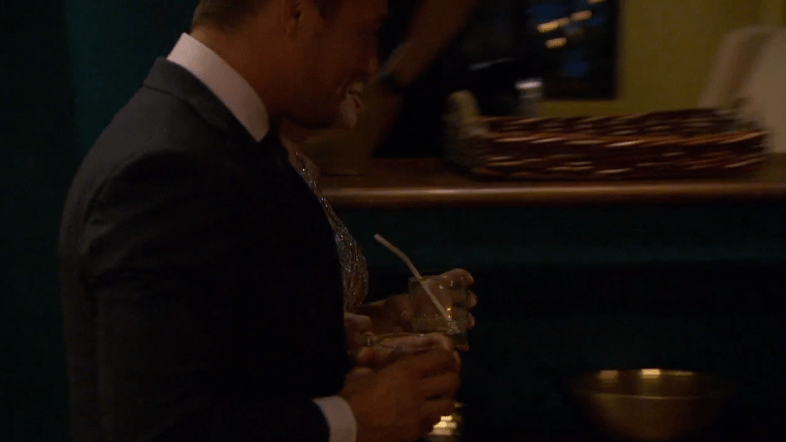 Whitney
I actually didn't mind Whitney this week. I think she won me over when she read the date card and announced that Jade won a one-on-one date with Chris and she seemed so genuinely happy for her.
Britt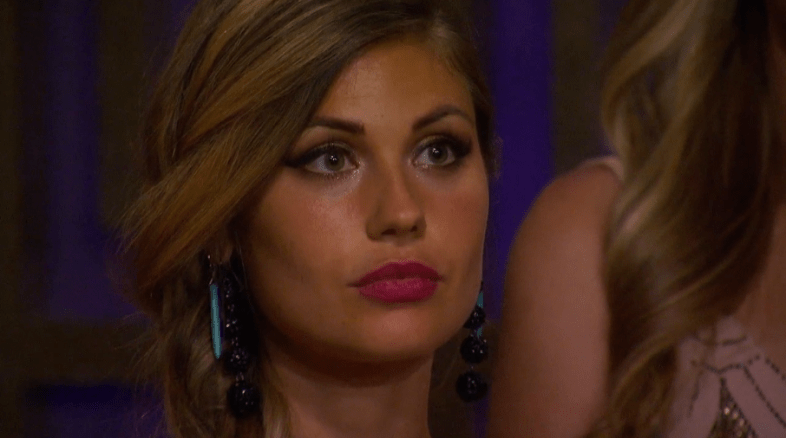 Britt falls a little this week. She brags to the sisters that she feels "super-confident" and sucks up to them in a disingenuous way and then makes the classic Bachelor mistake of assuming that because she was the early front-runner that she can start to be a bitch and tell Chris what he can and can't do with the other women. Like a teacher talking down to a classroom of students, Britt demands of Chris, "I just want to know why those behavoirs are being validated." AKA "why did you give a rose to a girl you had a good time with that isn't me?" Chris gets up abruptly from the conversation and then makes a speech to the group about anyone who questions his good intentions is welcome to go home. Your move, Britt Britt.
Girl does look pretty hot on the wedding dress group date though: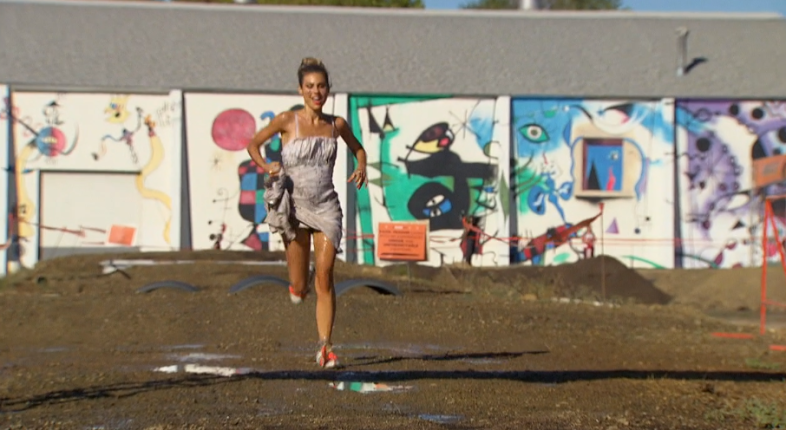 Samantha
Samantha blesses us with her voice for the first time this week and it's actually really cool and gritty, not at all how I pictured a fashion girl from LA speaking. She gets a rose even though most of us still don't even know who she is.
Kenzie
Here's a photo of Kenzie wearing a t-shirt to a cocktail party:
That's about all she did this week, except for asking the other girls about aliens at the bonfire.
Carly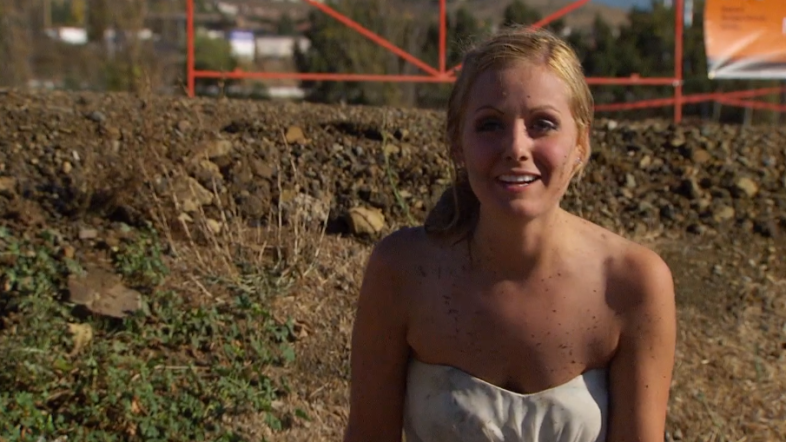 Carly makes some weird homophobic comments about Jillian being a dude with a bigger penis than Chris because of her athleticism. So, there's that.
Megan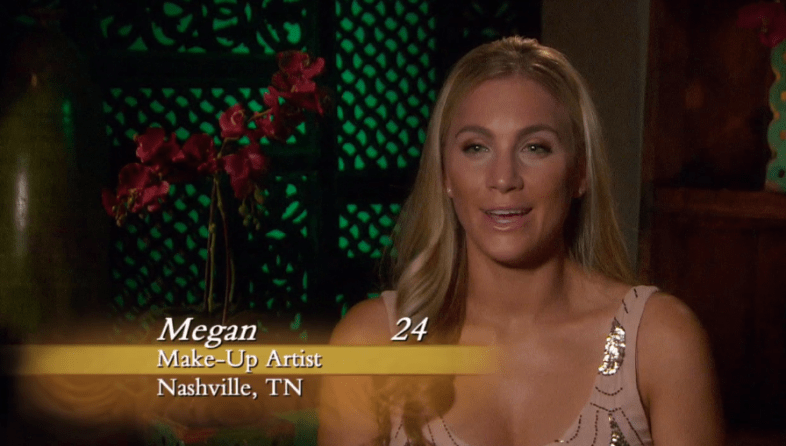 Megan fades into the background this week. At the cocktail party she finally gets to talk to Chris and she blindfolds him and feeds him fruit fondue. Not really sure how this goes over:
limo ride of shame
Jillian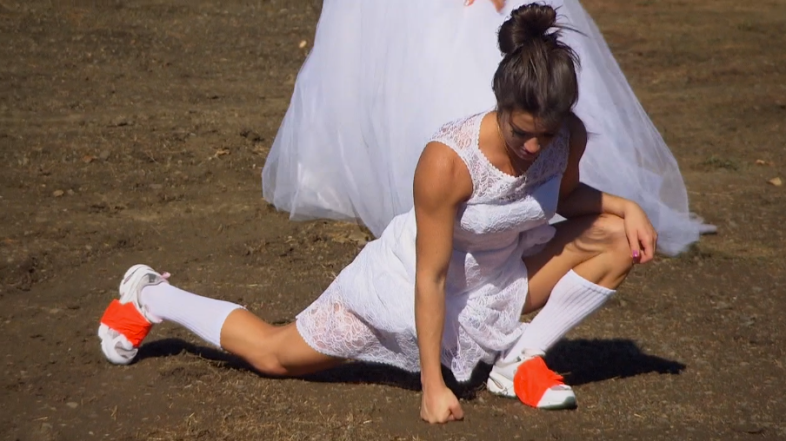 Honestly, I'm not sure why they bothered doing a physical challenge for one-on-one time on a date Jillian was a participant in. She dominated the challenge and won easily. However, she wasn't so skilled at winning Chris over because he saw what everyone else sees: badass, successful, city girl Jillian is awesome, but she's just not a match for him.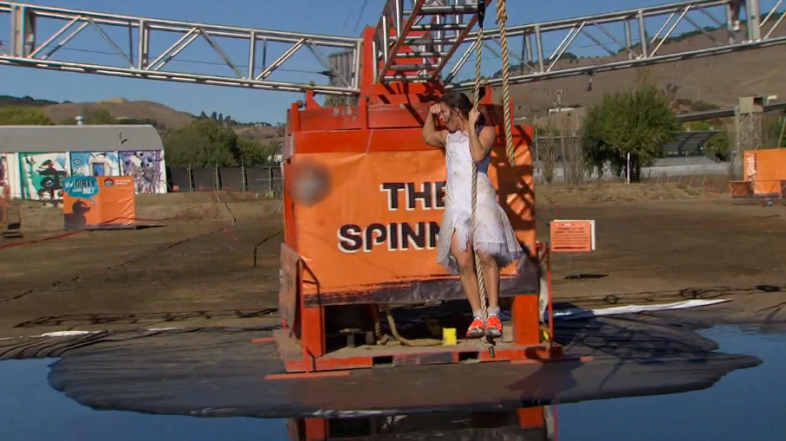 Ashley S.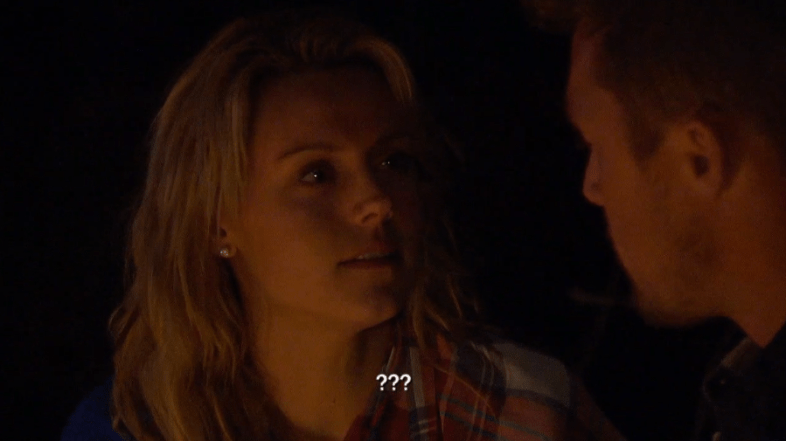 Ashley S. does a truly insane song and dance at the fire on the group date and then gets eliminated. There's only room for one crazy Ashley on this show!
Nikki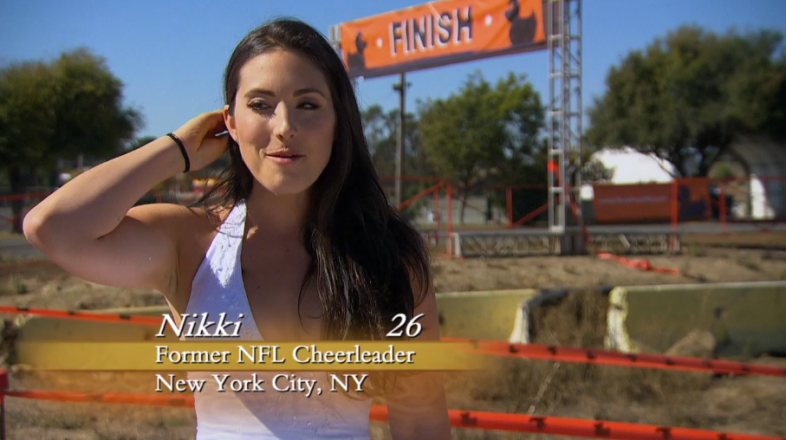 Honestly, did anyone think she was getting a rose?
Juelia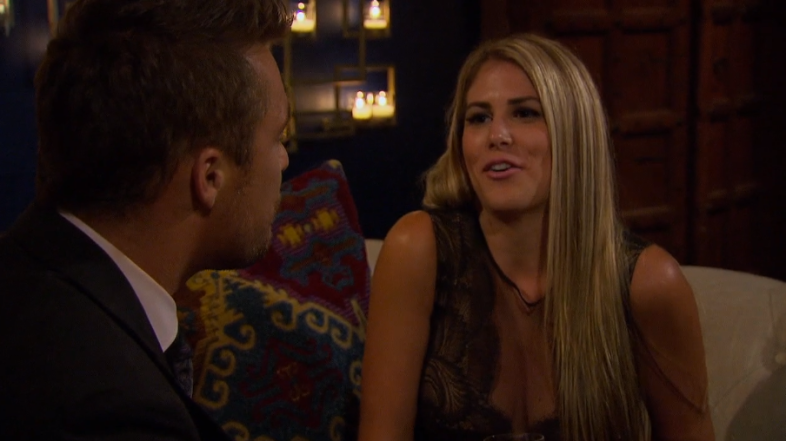 As everyone who saw her cry her eyes out at the pool party last week predicted, Juelia wasn't given a rose this week. She seems like a sweet person, just not really ready to compete with girls who don't cry at pool parties.
Burning questions for next week's episode
What will Ashley I. cry about this episode?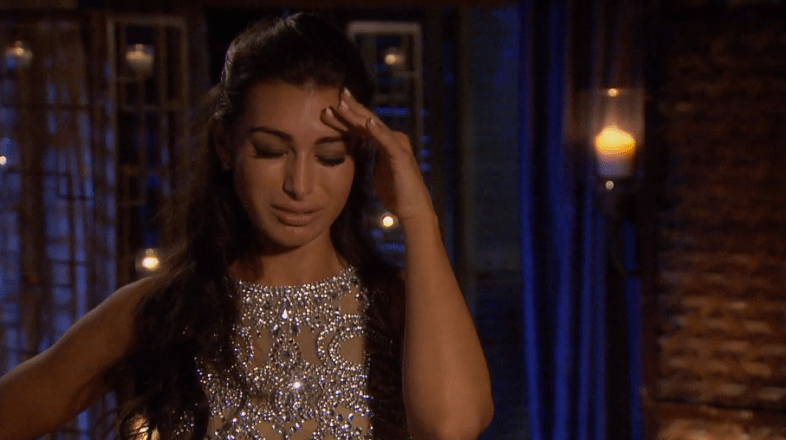 Is Carly having some kind of make-out orgasm here?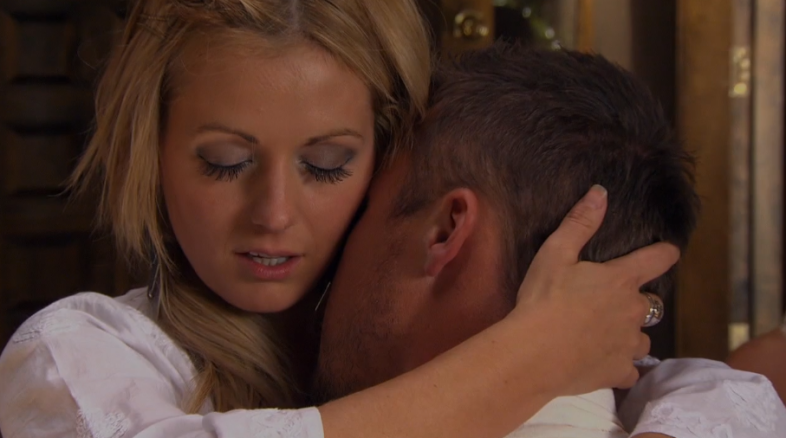 Is this Carly removing Chris' shirt during their make out?!?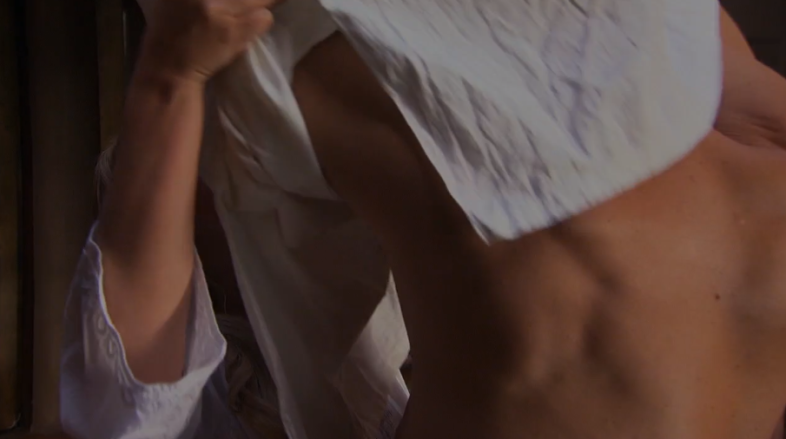 AND PANTS?!?!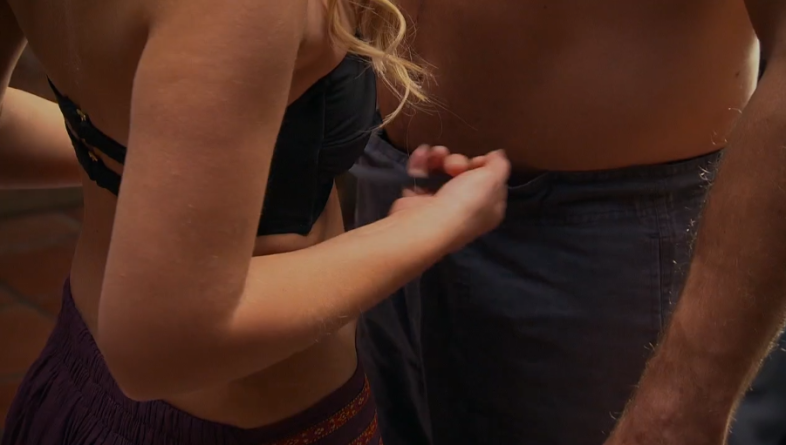 Can Chris please, PLEASE eliminate Kelsey?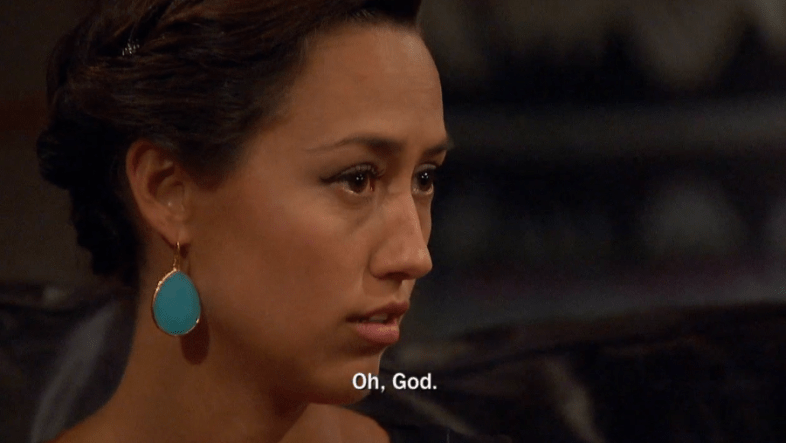 Afterwards, does Kelsey throw herself down a flight of stairs for attention?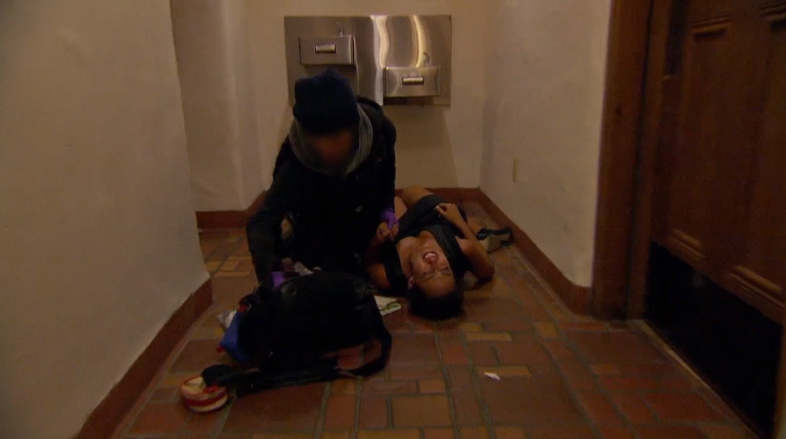 See you here next week!