Now that much of the clutter (extra girls) is gone, we can focus on figuring out which of the girls remaining on The Bachelor stand a chance to make it to the end and win Chris' heart. This week's recap is going to be creepily detailed because there are two important mysteries we need to solve:
1) Who is the mystery slutty girl we see in the previews for next week's episode sneaking into Chris' tent on a group camping date? The preview leads us to believe that Chris has sex with this girl and MANY, MANY, MANY tears are shed by the other girls and then Chris apologizes (and probably eliminates Mystery Slutty Girl) and the girls tearfully give him a second chance.
Here is a photo of Mystery Slutty Girl: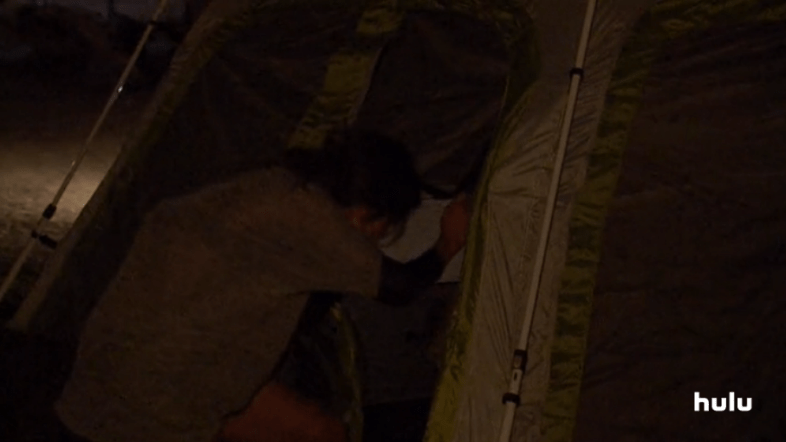 WHO IS SHE?!?!?
All we know for sure is that she is a brunette and she is NOT Kaitlyn, Kenzie, or Juelia because they're pictured on the date as well (and not in Chris' tent).
2) In the season trailer, it seems like there are five women who are the real contenders in this season: Britt, Carly, Kelsey, Becca, and another brunette who appears to make it to Chris' hometown visit. Here is some evidence I have gathered to back up this claim:
This looks like Carly in Chris' hometown:
This looks like Britt in Chris' hometown: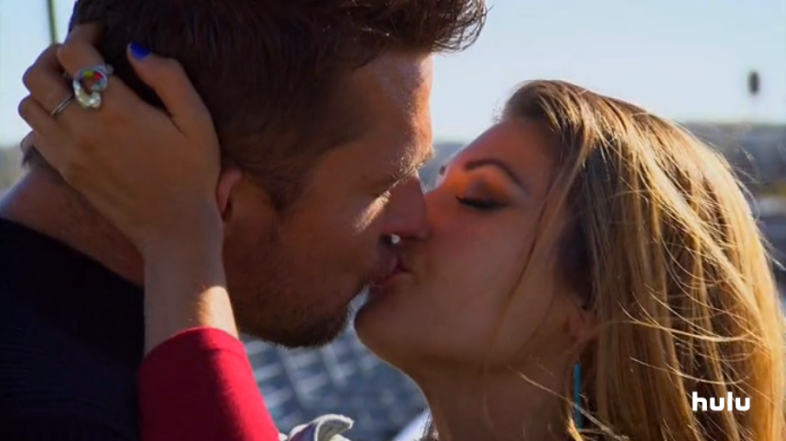 This looks like Becca in Chris' hometown:
There is also a brunette that makes it to Chris' hometown: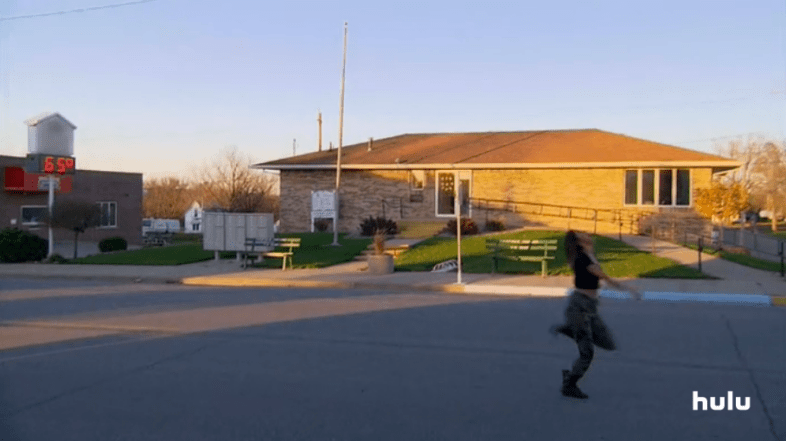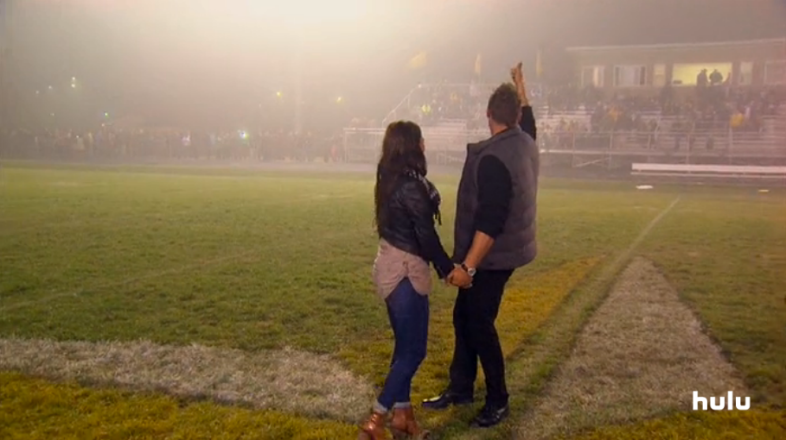 This looks like Jillian's ass.
This might be a photo of the mystery brunette's face, or it's a very similar date that takes place earlier in the season: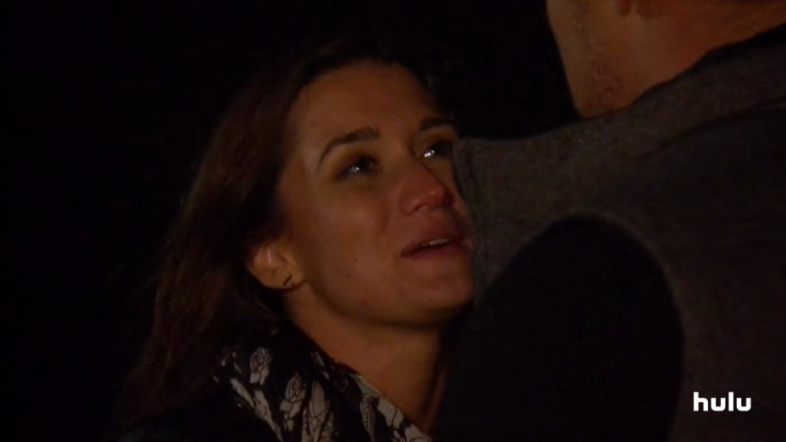 Unfortunately so many of the girls look similar that I can't tell if this is Kaitlyn, Jillian, Nikki, Samantha or Jade. It could also be Kelsey who looks like she makes it far: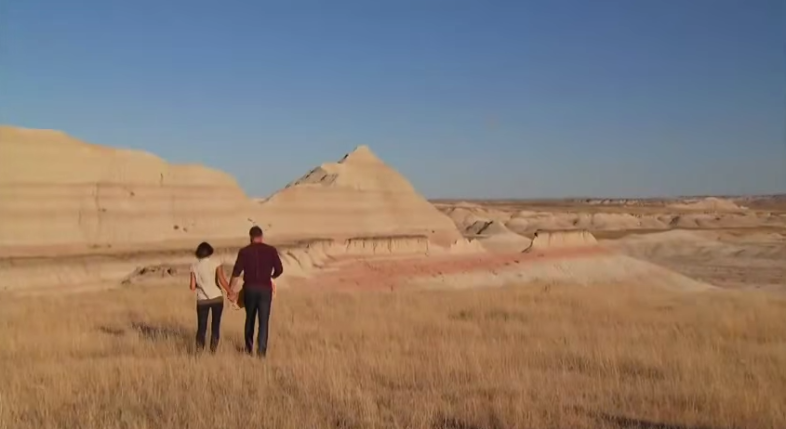 ---
Here's how the girls did this week
---
Ranked in order of how long I think they'll be around.
Britt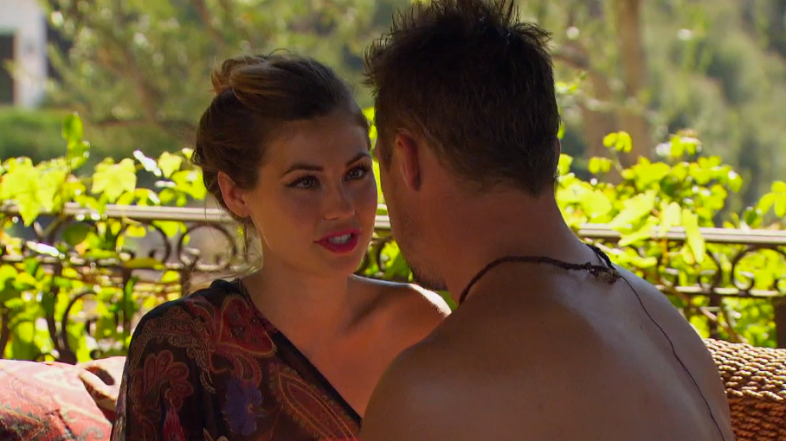 Britt pulls Chris aside at the pool party and expertly rubs his neck while he speaks. Soon they are making out while the sad other girls watch from a distance, their hearts now burdened with the cruel fickleness of the bachelor's interest.
Carly
This week Carly mimes giving a handjob for an agonizingly long time while she does an interview with the cameras on the group farm date. She also drinks warm, unpasteurized goat's milk like a champion, which I for one admire.
Here is her victory dance:
Becca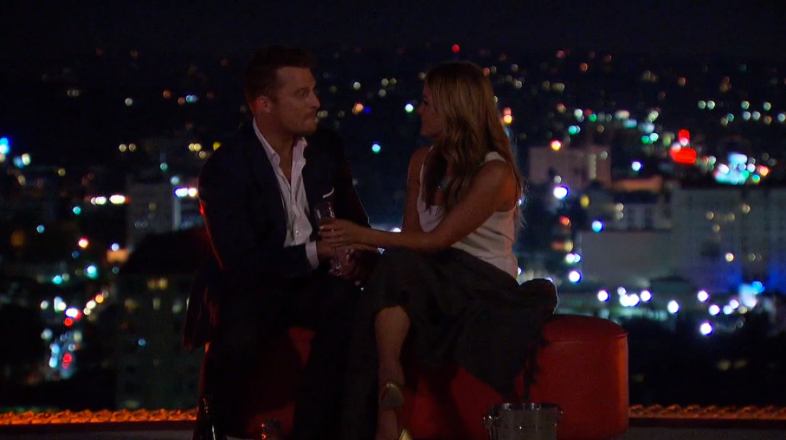 Becca hasn't had any lines yet this season, so it's her big moment when the producer's finally show her having one-on-one time with Chris during the group date. Chris seemed standoffish which I would take as a bad sign if I hadn't re-watched the trailer for this season about fifteen times today and seen that she definitely makes it at least to the trip stage of the competition. She wins the group date rose.
Jade
Jade grows some balls this episode and asks Chris for a tour of his house. They get a bunch of alone time and end up making out half-naked on his bed. Good girl.
Also, look at this adorable outfit she wears to the rose ceremony. Blair Waldorf would approve: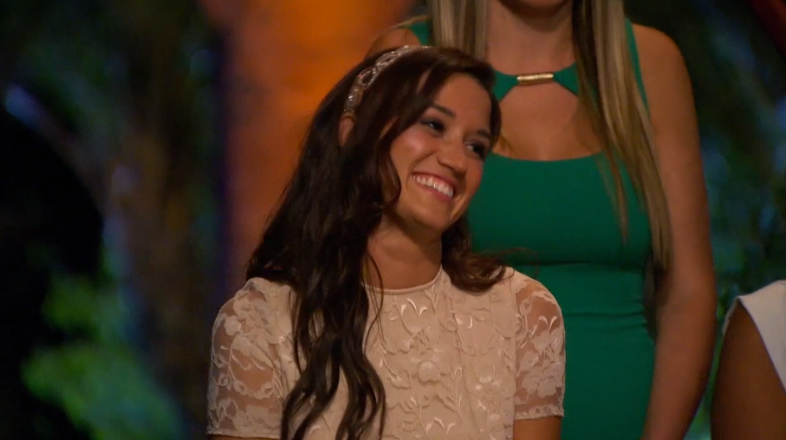 Jillian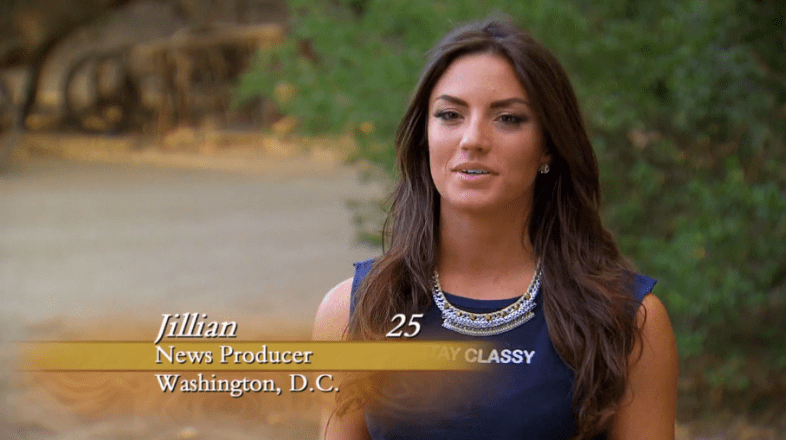 This week Jillian's ass needs to be censored out of the show AGAIN. Though, to be completely honest, if I worked out as much as Jillian and my ass was that awesome, I sincerely doubt I'd ever want to cover it up either. Get it girl.
Also, how insanely badass was this moment:
#rolemodel.
Kelsey
Kelsey has a terrible, terrible mom haircut, is a guidance counselor, and makes facial expressions like this:
SOMEHOW she makes it far in the show. She might even win. God help us all.
Kaitlyn
Kaitlyn gets to go on a romantic one-on-one date to Costco. Honestly, I have the time of my life when I go to Costco with other people so this is a pretty cool date, but it might put Kaitlyn in the friend-zone because they are goofing off and partnering up instead of doing something romantic and sexual and making googly eyes across the table.
My big issue with Kaitlyn is that she is trying so, so, SO hard to come across as "the cool, chill girl." For instance, look at this "outfit":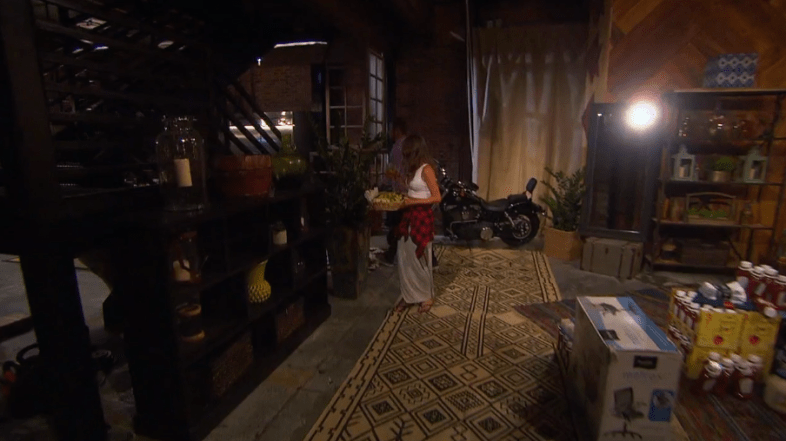 Could she be the mystery slutty girl? I don't think so.
We seem to have good evidence when Jimmy Kimmel asks her if she's jealous of Future Chris potentially going to the fantasy suite with other girls and she answers "no, you have to test drive a car before you buy it." But in the preview we see her making a shocked face with the other girls on the camping date, so it doesn't look like she is also in the tent — unless ABC is intentionally tricking us.
Whitney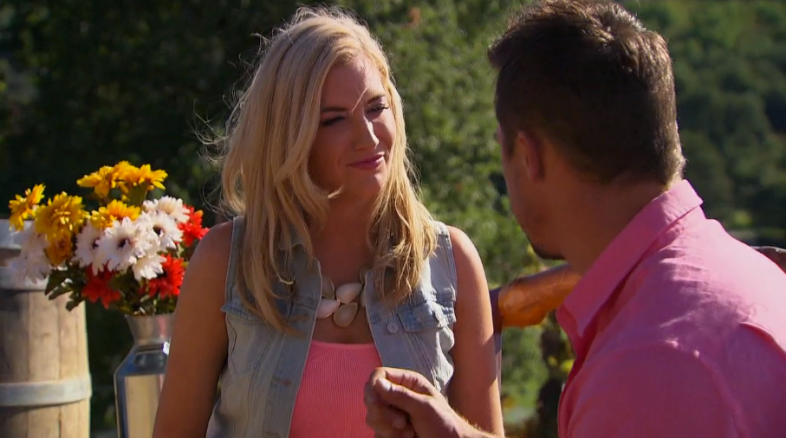 Whitney and her teeny tiny baby voice are gifted a one-on-one date this week. Whitney and her jean jacket vest (?) go to a winery with Chris where they see a wedding taking place. In a totally spontaneous and not-at-all-planned-by-the-producers moment, they decide to crash the wedding.
Chris says he likes a woman who can walk up and talk to anyone so Whitney spends the night being the girl who can walk up and talk to anyone. They dance and seem to have a genuinely good time.
I also got this hot gossip from a reader that Whitney really does talk like that in real life: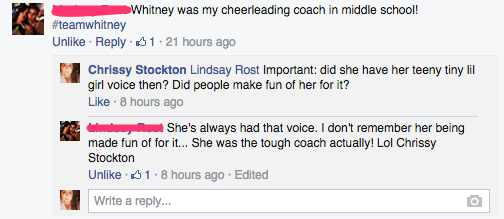 Juelia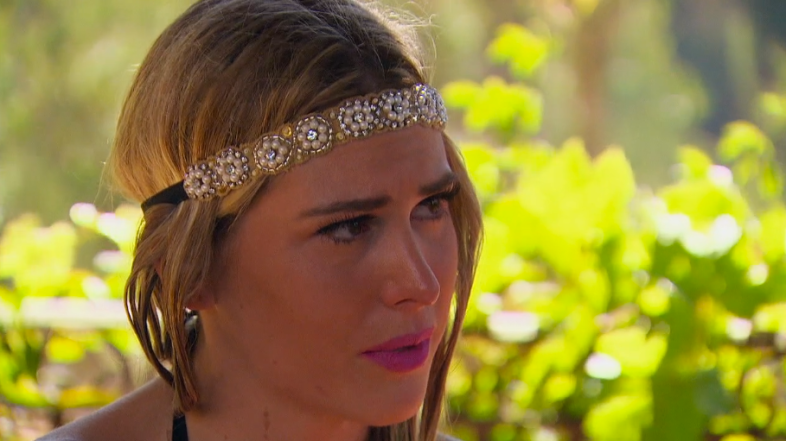 Juelia has no social skills. It's very, very sad that her husband killed himself and definitely something she should talk about with someone she's dating because it is a big part of her life. HOWEVER, the middle of a sunny pool party where everyone is having fun is not the time or the place. I just can't see her sticking around that long.
Kenzie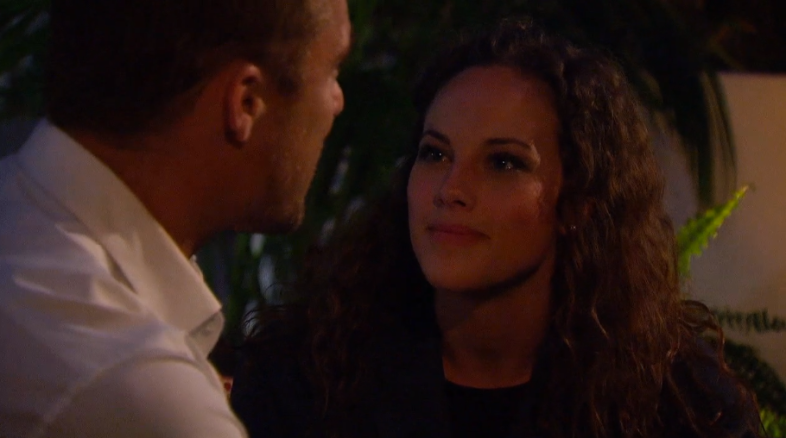 Ever the genius, Kenzie pulls Chris aside on the group date and uses her precious alone time with him to nag him and make him uncomfortable. She demands an explanation as to why Chris is kissing girls besides her. Apparently this is Kenzie's first time watching The Bachelor (or having a conversation).
Ashley I.
Ashley I, The Alleged Virgin and Kardashian Kry Baby, cries into the mirror because "she was really excited to do her Kardashian makeup." She then does the trademark immature thing of crying because someone didn't read her mind (Jillian) instead of asking for what she wants. Finally, she cries again because she demanded that Chris call her out earlier in the rose ceremony than he ended up doing.
Megan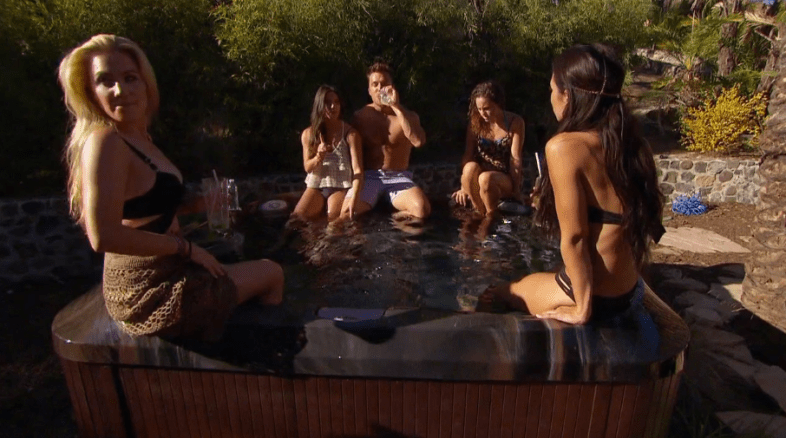 This photo of Megan perching on the edge of the hot tub with three other girls seems like the closest she gets to Chris this week. Outlook: bleak.
Samantha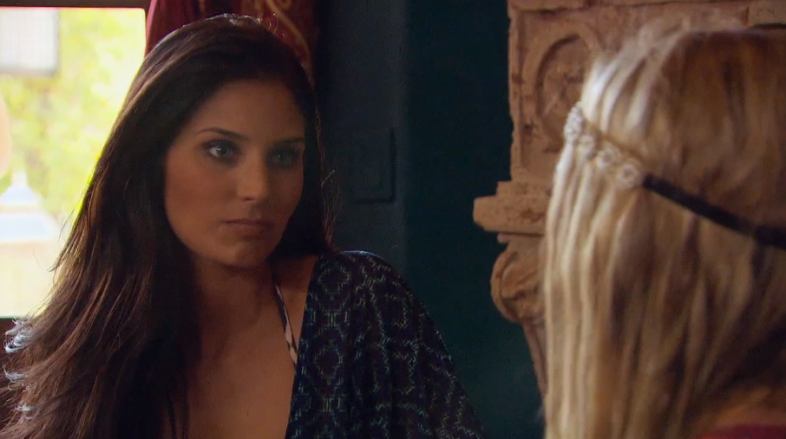 Once again Samantha is a non-factor in the episode. She can't be staying around long.
Ashley S
Ashley S. strangely is not featured in this episode at all, except to collect her rose. Maybe she went back on her medication and was just boring after that? Anyways, LOL at Ashley I.'s reaction to her getting a rose: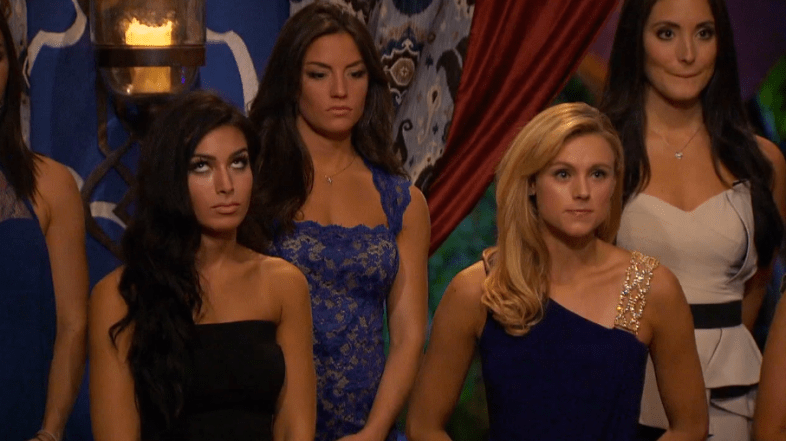 Nikki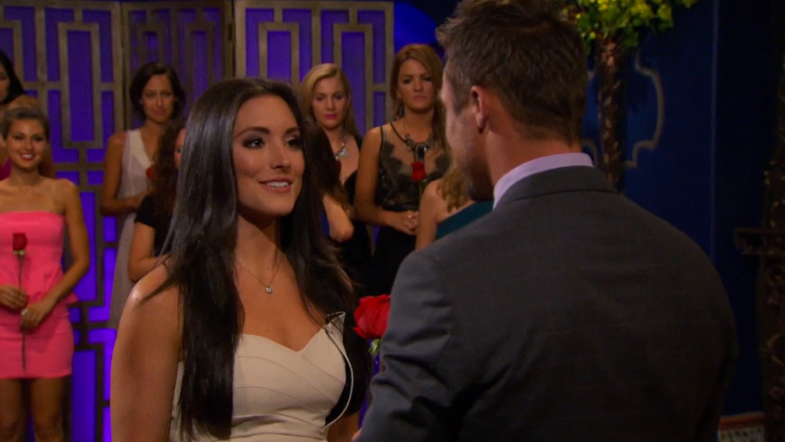 I still don't even know who this person is. It looks like there is a fancy one-on-one date next week where the girl who goes gets eliminated. My guess is this person is Nikki.
---
Here are the girls who took the limo ride of shame
---
Tracey (eliminated)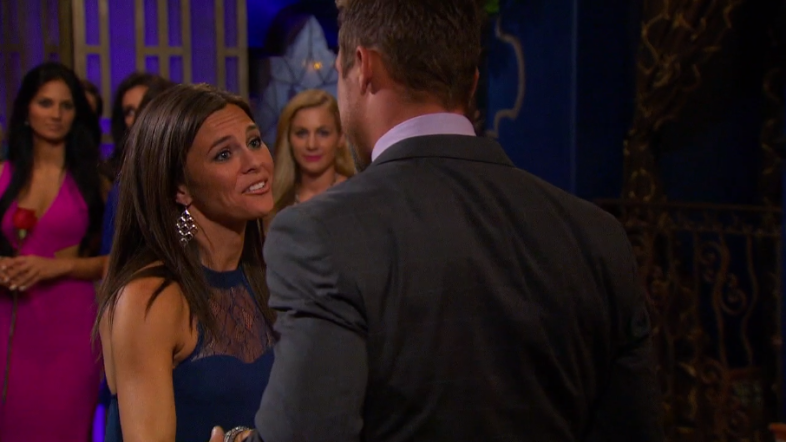 It's no surprise Tracey was eliminated as she hasn't spoken on camera once this whole season.
Amber (eliminated)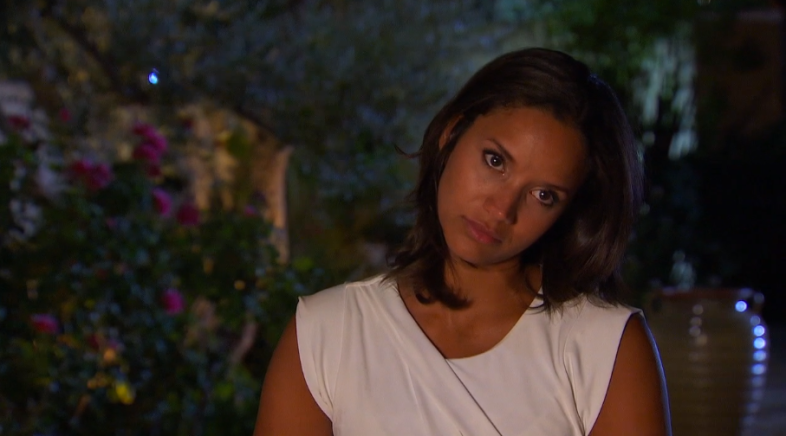 There was never any hope for Amber, on day one they didn't even show her getting out of the limo. Amber's consolation prize is that she is extremely gorgeous and can probably pull a better guy than Chris any day.
Trina (eliminated)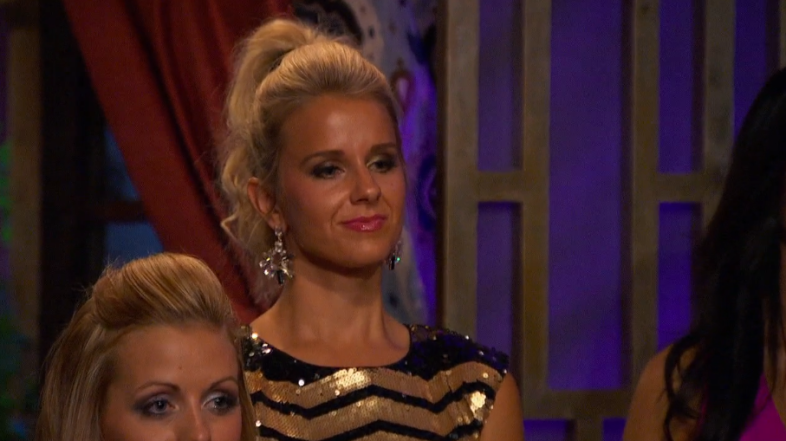 If you listen carefully, you can hear Trina crying in a honkey tonk right now.
Jimmy Kimmel (eliminated)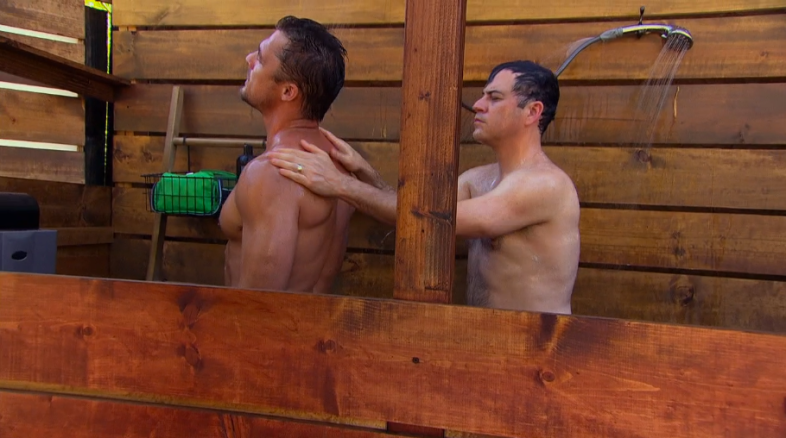 Although Jimmy makes a good effort by showering with Farmer Chris, he does not receive a rose at the rose ceremony.
---
Burning questions next week's episode will answer
---
Why is Ashley I. crying this week?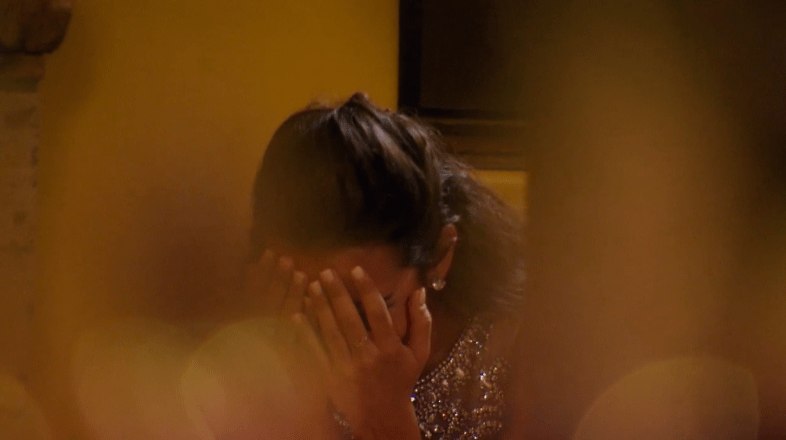 Did eating corn on the cob cheer her up?
Why are all the women in wedding dresses?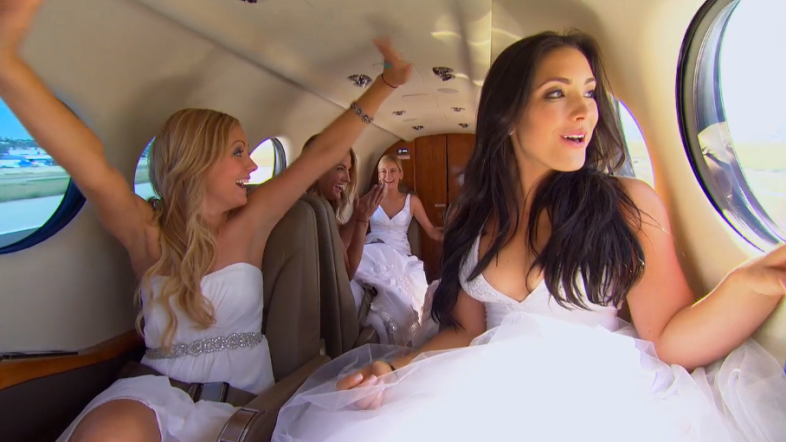 Who is the SECOND virgin on this season?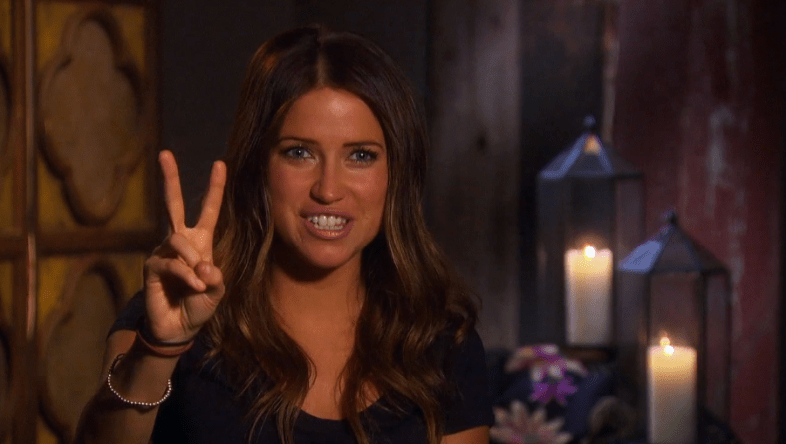 Will Kelsey ever stop being mom-ish and judgmental?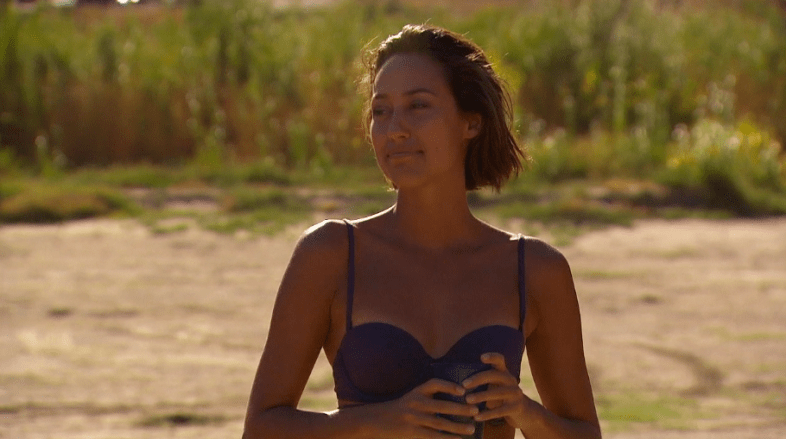 Who is the girl who takes her bikini bottoms off?
(We're all collectively guessing Kaitlyn or known butt-revealer Jillian, right?)
And the big one — what is the super scandalous thing that happens on the camping group date?!?!?
If you're as hopelessly addicted to this beautiful trailer park of a TV show, you're just as tragic as I am and I'll keep you in my thoughts and prayers. We'll get through this together. Stay strong.