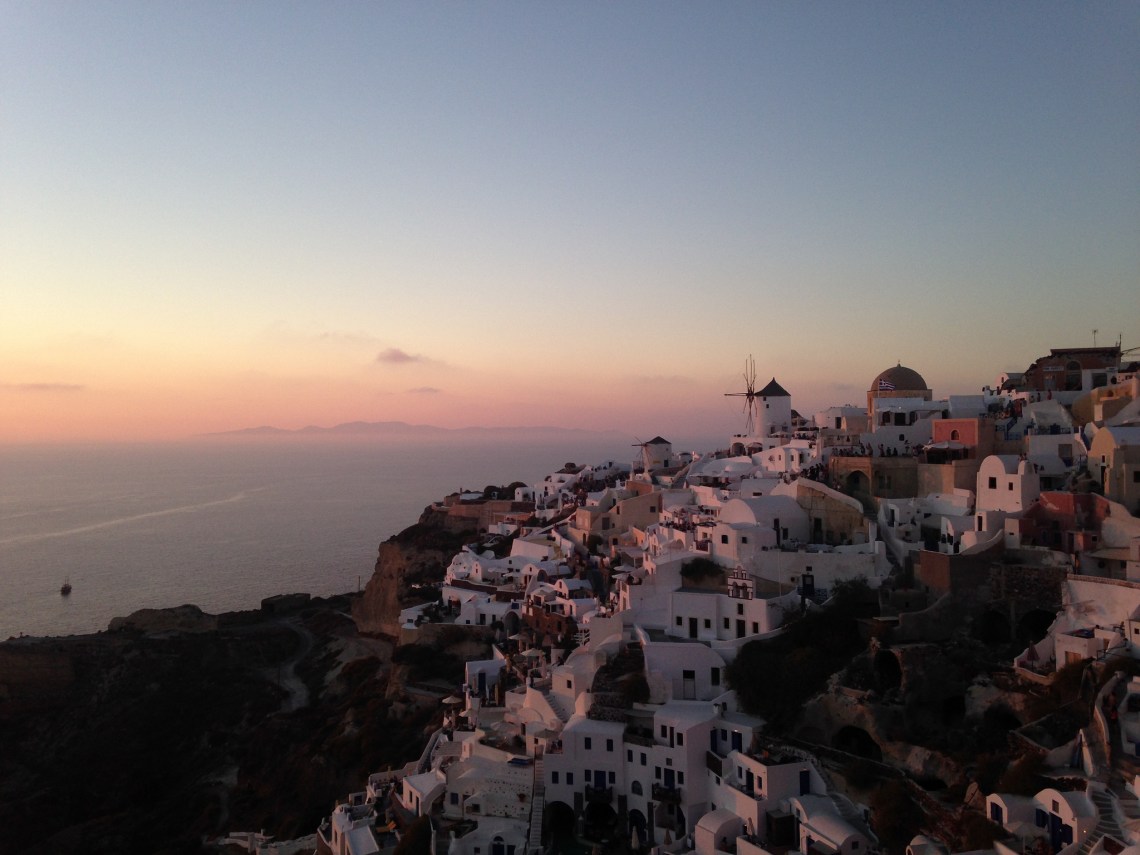 1. The people.
Not only are they as tan and gorgeous as one would assume, they're equally as friendly and inviting. Traveling solo does have many perks, but going to bars and restaurants solo isn't one of my favorite aspects. However, in every bar I went to, I was met with endless conversation that flowed with ease from both the staff and its patrons. One of my favorite nights there was an unexpected adventure. On the walk back to my hostel a group of people pulled over and invited me to dinner with them. Yes, I've heard of Taken, and no, I wasn't on a mission to get kidnapped. However, you learn to trust your instincts when it comes to people during your travels, and I'm so glad I did. I was whisked away to the most amazing restaurant, with equally outstanding company. If you ever make your way to Santorini, make sure to stop by Seaside. Even though the sight of a full fish on my plate (face with the mouth open and all) was an unexpected shock, it was worth it for the taste-mouthwatering to say the least. Apologies to all my vegan/vegetarians out there.
2. The beaches.
So many to see. So little time to do it. Despite Santorini being such a small island, there are a wide array of beaches to see and all are a bit different from the next. Red Beach took me by surprise, the landscape and sand looked like something straight out of the desert. The colors were like nothing I've ever seen before on a beach, and it's a definite must see. Though Perissa was a bit crowded, I'm biased and loved this beach simply due to the fact that I got to visit almost every day during my stay. With the mixture of black sand, blue sea, beautiful weather, what more could I ask for?
3. The shops.
Yup, I'm a girl, and I love to shop. Surprise, surprise. Once you start traveling though, a lot of the shops start to seem the same, selling the same kitschy souvenirs. Santorini was different. Sure, they had the usual tourist attractions in shops, but you also saw the unique Greek authenticity and style in many places. From the abundance of white dresses, to handmade shoes, to paintings and other art works, it was all so…Greek. I loved the fact that you could see and feel the love they have for their culture in everything. You can't help but want to bring a memento of that home.
4. The hike.
The one everyone needs to do if they're making their way over to Santorini-the hike from Fira to Oia. Not only do you get the most amazing views of the entire island, you get a full view of the caldera (some very Instagram worthy photos to be taken for sure). Though, I highly recommend starting the trek early in the day. I didn't take this comment seriously, decided to leave at noon, and wanted to pass out from heat exhaustion about halfway through. Do yourself a favor and don't repeat my mistakes. All in all, not a horribly rigorous hike, and you get breathtaking views the entire way. Win-win.
5. The sunset.
You know the one. You've seen it in countless photos. Anyone who travels here will tell you how amazing the sunset is, but trust me you have no idea just how amazing until you see it with your own eyes. Photos don't do this one justice. If I could only give you one reason to visit, this would be it.