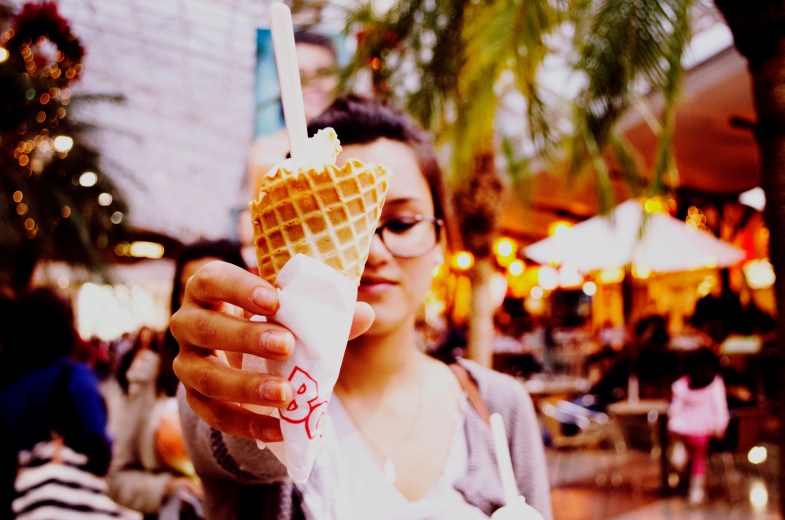 The second worst holiday for single people (New Year's Eve being numero uno) is right around the corner. Instead of doing the usual eye-rolling of all the Facebook and Instagram posts about how great my friends' boyfriends are, I'm going to do something different.
In fact, last year was the best Valentine's Day I think I've ever had (aside from my teaching days when I was showered with chocolates and cute notes). I invited my mom, sisters, and aunt over for a Galentine's Day dinner party. I decorated my place with red and white balloons and roses. We walked on the beach before dinner to watch the sunset, and after dinner, ate macarons like the sophisticated French ladies we strived to be.
Here are 15 ideas for you to do this February 14. Do all of them, or just one. Do them alone, or with a friend or two. Either way, make this year the year couples will wish they were single.

1. Pamper yourself.
This is probably the single girl's most popular thing to do. Valentine's Day is on a Sunday this year, so you get to be lazy and stay in your PJs all day if you want. You can paint your nails, put on a face mask, take a bubble bath, practice that trendy new hairstyle that the magazines make look so easy. If you want to get out of your cocoon, schedule a massage, or go to a nail salon for a mani pedi. (And yes, today, you do want the extra massage for $5.)
2. Host a brunch or dinner.
Create a fun Valentine's Day-themed menu with drinks, watch cheesy rom-coms (50 Shades is on DVD), and drool over yummy food and even yummier celebrities.
3. Buy yourself gifts.
Do you remember when Cher in Clueless sent herself flowers and chocolates? Do the same. That tennis bracelet you've been eyeing? Buy it.
4. Hunt.
Grab some friends and create a city scavenger hunt. Things on the list can include finding a couple that's been married at least 20 years, looking for a heart-shaped leaf, or those silly random things that used to be on those lists as a kid, like asking a stranger for a paperclip.
5. Reach out.
Find a friend's little sister, or a lonely neighbor, grab ice cream or bake cookies together.
6. Get dolled up.
So what if you don't have a date? Replicate Adele's stellar winged eye liner, rock a red lippie, put on a fancy dress, and drink champagne. Even if you're just sitting on your couch, you'll feel fabulous.
7. Send valentines.
Remember how awesome it felt to get all of the (mandatory) valentines with the candy hearts in elementary school (before holidays like these were considered nonsecular)? They still sell these at your local drug store. Buy some, or make your own, and send them to the people you love the most.
8. Read.
Go to a local cafe with a collection of love poems, or short stories, or hey, if you really want, find some historical pieces about Saint Valentine and reconsider why you feel bad about being single on a day like today.
9. Explore.
Go for a walk around your neighborhood, or go on a hike. Look for people who are expressing love in different ways— holding hands, sharing a laugh, or just being okay with being alone. Take photographs of the moments that you find lovely and turn them into an album.
10. Write.
Create your own short story, poem, or write about your favorite memory about feeling loved (or your worst/best/funniest Valentine's Day).
11. Call.
Do you remember when cell phones were used for just calling people?! Yeah, me neither. But I guess there's unlimited minutes these days (because no one is using them anymore duhhhh), so call people you love (like your mother).
12. Exercise.
Like Elle Woods said, exercise gives you endorphins and endorphins make you happy. (And happy people don't kill the couple showing off with gratuitous PDA.) Go for a jog outside (or if you live in NYC and it's freezing so hard your face is colder than an ice cube, go to the gym). Or find a local event like a bike ride or 5k and join other active people in the community.
13. Listen.
Search for an audiobook that you've been meaning to listen to (related to love or not). Find a lovie-dovie station on Spotify or Songza. Dance in your socks (at home or in the streets). Sing like the Beyonce you are.
14. Volunteer.
There's always someone better off, and someone worse off, than you. The point is to not compare yourself, but to be grateful for the things we have right now, not in the future. Seek out a local children's hospital, read to the blind, go to an assisted living facility and share your hidden piano-playing talent with a grateful audience.
15. Clean.
Can't find what you're looking for on your laptop or in your dresser? Take today to express your love to all the crap you own by organizing it. Do laundry, fold that pile of clothes that's been scrunched up in the corner of your room for the past 3 weeks, create computer files so that when you do get in a relationship, you can find this article quickly and be reminded why you loved being single.