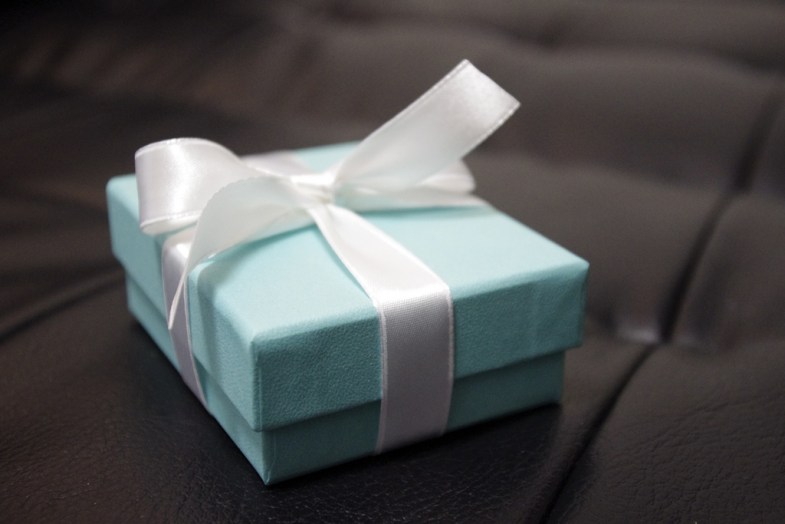 I come from a family that's never had much money. I got upset when my mother bought me a space heater for Christmas, a pillow for my birthday. In retrospect, these were very practical things that I needed, and this was her way of showing that she cared for me and my well being.
But at the time, I complained. My family accused me of being materialistic, of having too high expectations for a family of struggling artists. What I think got lost in translation was this: I wanted someone to GET me. I wanted a gift to be thoughtful, to show that they knew me, that they went out of their way to think about me, and picture my reaction as I opened the gift. It could have been a simple handmade paper cut out of a heart or something. I just wanted to know that they didn't forget and have to do a last-minute run to CVS to grab a gift card and scribble my name in the card right below a "HBD!"
So here's my PSA to people who struggle with being a caring Gifter. For whatever occasion— birthday, anniversary, the holidays, or Someone's Day (Boss's/ Mother's/Father's/ Valentine's)— here's your excuse for never giving a gift card again. (But use your discretion here: If someone doesn't drink alcohol, don't buy them a wine subscription. This isn't a one-size-fits-all pair of mittens.)

1. Boxes.
This trend of curated boxes is pretty neat. You can get practically everything from snacks to beauty products handpicked each month. Check out places like naturebox.com, birchbox.com, or trytheworld.com.
2. Staples.
Not actual staples for a stapler. But things that they will always need, but something that's a bit nicer then they might already have but won't buy for themselves. Think towels, sheets, home decor pieces that you know they will like (only do this if you know them really well; there's nothing worse than getting a painting that you know you'll have to put up every time your friend drops by).
3. Classes.
Has your mom been trying to navigate her way through Twitter, or been wanting to try yoga? Search for classes near them through recreation centers, community colleges, the library, nearby boutique workout studios, or online courses that pique their interest.
4. Vacation.
I'm not talking about sending someone on a cruise (though if you have that money laying around, anyone without sea sickness would be happy to go). It can be a day trip to a vineyard, a day spa, or a place to hike. It can be with you, an extra ticket for them to choose who to go with, or a solo trip.
5. Experiences.
Find a local event to go to, like a classical music performance, a rooftop movie screening, an art opening, or take a long drive to somewhere random. These memories will become some of the best gifts because it doesn't take up any room in their tiny apartment, and they'll have happy moments banked up which is worth more than any 401k plan.
6. Food.
They say the way to someone's heart is through their stomach. If you live close, invite them over and make their favorite foods for dinner. If not, bake something nice and mail it. You can also check out eatwith.com to find local chefs creating gourmet experiences in their own homes. It's kind of the same thing as you cooking your famous mac n cheese, right?
7. Clothes.
This one is probably a bit tricky. You can go with something that doesn't expose your lack of size knowledge like a unique tie, socks, or scarf, or find something at a holiday market that you would know they'd like. There's also places where they can borrow something for a nice occasion like renttherunway.com.
8. Stationary.
This might be a thing of the past, but who doesn't love a good old fashioned letter in their mailbox? Take it a step further and create a correspondence kit: get them some personalized stationary, a fancy fountain pen, limited edition postage stamps, and envelope seals.
9. Subscription.
Nearly everything now can be accessed from someone's iPad or iPhone. Give them the gift of books, movies, magazines (including trade magazines), music, or news. Try sites like audible.com, spotify.com, or netflix.com.
10. Photos.
Print photos of you together and frame it, or if you have a longer relationship, create a photobook (this is great for milestone birthdays like the big 3-0), or a collage, slideshow, or card of your favorite moments together.
11. Health.
Everyone could use time to refocus on their health, relax, and indulge in some pampering. Find a spa near the Giftee for a facial or mani-pedi, or a cheap foot massage place, and get a gift card for a 30-minute session. Or create a gift basket full of things for them to make their own health drink: mini blender, supplements, and other good-for-you stuff. You can also get a mason jar and layer it with all of the dry ingredients to make a healthier version of their favorite cookie.
12. Baskets.
If you're in a pinch and squeezed for time, you can always buy something from something like 800 Flowers or Edible Arrangements. But a more thoughtful take on that is to collect small things throughout the year that you know the Giftee will love— their favorite candies, DVDs, Target Dollar Bin finds. Mail it to them in a care package, or hand-deliver it in a cute basket they can use again for all of the picnics you can go on together.
13. Time.
One of the things that money can't buy can turn out to be one of the best gifts you can give someone. If you live far away, surprise them with a trip to spend the weekend together. Or offer to babysit the kiddos, or pet/housesit, while the Giftee goes away for the night or weekend. You can also create a scavenger hunt of things that only the two of you would know about, and go explore and solve it together. Just being together and giving them all of your undivided attention (no Instagram or Twitter, #youcandoit) is better than a space heater, no matter how cold it might get in the winter.