Check out a sampling of these albums on
Spotify
.
The internet has ruined many things: newspaper careers, pre-pubescent boys' sexuality, any hopes for civility in our society, etc. But, this whole internet thing has probably hit one group harder than any other: the barroom know-it-alls, they that trumpeted their superior knowledge to strangers, scoffing and using spectacular blends of volume and over-confidence to make up for the speciousness of their claims. Today people can just expose the know-it-all's misinformation with a handheld device. Devices they're just holding in their hands, guys!
And so it's hard times for the know-it-alls. The youth of today can settle arguments about who played Venus Fly Trap on WKRP in Cincinnati within seconds, without ever having to make a never-to-be-settled five dollar bet with some drunken loudmouth (I'm pretty sure that's what the kids are arguing about).
But it's not just drunken bullshit that's in jeopardy; the value of actual obscure knowledge has plummeted in our bars and pubs. Who cares if you know what year Abbey Road came out? You can just look it up on the Wikipedia or the Google and get an answer without all that grandstanding and condescension (1969 by the way, in case you're some kind of idiot). And this is sad for my people: the assholes, the Irish raconteurs, and especially my unique group: the music blowhards.
In an attempt to keep alive what I see as a dying breed, I've come up with a list of the top ten albums needed to be a "popular" music blowhard/snob. Facts can be accessed in seconds but taste still needs to be cultivated through experience. In an age where trivial and obscure knowledge are no longer impressive, proper taste is now maybe the most important weapon in the blowhard arsenal. It is now the blowhard's job to act as curator for the ocean of information available on this stupid internet thing. I mean you may be able to find anything, but that doesn't mean you know what to look for.
The elitist art snob is a more difficult posture to adapt than it may seem at first glance, though. You must simultaneously evince a proletariat-style disdain for oppressive aristocratic authority while at the same time presenting your picks in a prescriptive, authoritarian way that no one should dare question. You are obviously better than the idiot masses, but you also need people to think you have a liberal compassion for all people, an openness to all cultures. It would be a lot easier if the snobs could just distance themselves from liberalism, but in the political culture wars the left got art, so you, the would-be blowhard, are now stuck with this paradox. You can do it, though. You are better than other people.
Now let's set aside the irony of me offering a taste shortcut list via the internet to the presumably uninitiated, and just pretend I'm a cool older brother or like that senior kid who you carpooled with your freshman year in high school. In fact it's probably best to have some kind of backstory like this at the ready in case people question your blowhard origins.
I also realize that top ten lists ranking art are mostly a function of capitalist society's need to commoditize and sell us things, and that such a list would contradict the pretentious lefty worldview of the persona we are hoping to cultivate here. Our music snob persona hates top ten lists involving art and always rolls her eyes when other people bring them up. So make sure to acknowledge how lame what you are about to do is to your listeners before you start listing your picks (tell them it's just a sampling in random order, certainly not a ranking), and then condescend away. It's what any good snob would do.
This list is in no way meant to be exhaustive (always have further examples of your superior knowledge and taste on hand). This is merely a sampling. And the order is entirely random.
1. Fugazi, Repeater
The DIY gods of Washington D.C.'s first official album. Angular, ferocious, and somehow a little funky, this is a post-hardcore staple that speaks to art school kids and your working class slam dancers alike (although don't try that at a show — Ian will yell at you).
Fugazi is a fair pick for any music snob, but I used it since I'm from DC (I'm actually from just across the river in Alexandria, VA, but when blowharding just say DC or Philly or New York or whatever — not your suburb). Fierce regionalism is a bit of a necessity for any music snob, obviously tailor it to your specific history or else feel free to just say you're from DC as I do. Also see how I referenced lead singer Ian Mackaye by first name like we are maybe friends (We're not, despite the time in high school when I spotted and then followed him around a mall). You'll want to be making subtle "I'm with the band" language moves wherever possible.
Possible alternatives: Minor Threat, Minor Threat EP; Bad Brains, Bad Brains
2. Modern Lovers, Modern Lovers
Jonathan Richman's 1972 masterpiece foreshadows the New York late 70s punk takeover with its simple conversational lyrics and stripped down three-chord (for the most part) garage rock. The band line-up itself is a kind of post-punk portent with Jerry Harrison, eventual Talking Heads keyboardist, and future Cars drummer David Robinson backing the non-poet who just wishes he had a girlfren[sic].
This pick is of medium-level obscurity and is generally in any punker or rock & roll aesthete's collection. Decent blowhard pick, fair amount of coolness cache, shows you're well versed in the origins of post 60s art rock, especially strong pick for anyone from New England or anywhere near Boston (although just say Boston if anyone asks).
Possible alternatives: Richard Hell and the Voidoids, Blank Generation; Television, Marquee Moon (Both actually late 70s New York bands, but serve roughly the same function in communicating coolness and knowledge of medium-level obscurity.)
3. Can, Tago Mago
A little bit of krautrock experimentalism. These fucking weirdos studied under Stockhausen before getting into rock. Then they picked up a Japanese street performer (or monk or something) on lead after their first singer had a psychotic break. Tago Mago is where they hit their stride with its bizarre hypnotic funk collages.
Can is a standard for any music snob. Make sure to mention that you only like the early albums with a preference for the Damo Suzuki years over the Malcolm Mooney days, and obviously after they signed to Virgin they became too commercial. Disdain for major labels, the man, and selling out is an indispensable attitude posture for aesthetic snobbery.
Possible alternatives: Neu!, Neu! '75; Amon Duul, Yeti (If you're not into krautrock feel free to substitute some kind of Japanese noise band here like C.C.C.C., serves pretty much the same function in terms of showing off knowledge of experimental music, although I'm pretty sure no one actually likes that static avant-noise shit, but showing off your good taste has nothing to do with what you actually like.)
4. Funkadelic, Maggot Brain
Funkadelic's third album combines the fervor of Detroit contemporaries the MC5 with Sly Stone's bass centric funk. And yet its lengthy surreal drones and psychedelic guitar solos make it completely its own thing, a thing that sowed the seeds for the new wave and dance music scenes of the next couple decades.
George Clinton discovered LSD and unto the snobs, he bestowed interplanetary funk. You have to keep in mind you're not just a rock junkie, an obvious faux pas for snobs. Your bullshit liberalism opens you up to all cultures and sounds, bro. While a number of Parliament/Funkadelic records could also display the breadth of your music taste, this album wins hands down due to weirdness. The weirder, the better for blowhards, I say.
Possible alternatives: Herbie Hancock, Head Hunters; Gil Scott Heron, Small Talk at 125th and Lenox (Gil Scott Heron is maybe a better snob pick, with its angry freeform poetry railing against a white hegemony — a popular posture with lefty snobs — but the militant black power stances may be difficult for the 2012 era blowhard of privilege to pull off without seeming condescending.)
5. Springsteen, The Wild, the Innocent, & the E Street Shuffle
Bruce's second record still has that raw Jersey boardwalk/ garage sound and lyrically functions like a coming of age tale about leaving it all behind for the big city across the Hudson, scrapping 60s psychedelia and idealism for gritty 1970s Manhattan realities. Despite that shift, the record still manages to ooze a Rock & Roll Romanticism that makes you think music still might just save you.
Now an obvious objection here might be that Springsteen's about as mainstream and un-snobby as it gets. Even though you didn't pick Born to Run, it's still the Boss. This is a sophisticated music snob move, the reclaiming of mainstream acts, shows that, hey you're not just some snob, you like the classics, as long as they're fucking awesome, dude. Although talking about Born in the USA could maybe blow your whole cover here, so be careful. Keep it to the lesser-known stuff. "…But have you ever really heard his early albums?"
Possible alternatives: Pink Floyd, Atom Heart Mother; Rolling Stones, Exile on Main St.
6. David Byrne and Brian Eno, My Life in the Bush of Ghosts
Originally conceived as field recordings for some fictitious aboriginal tribe. The two masters of art rock took a break from Talking Heads sessions in '79 to explore trance-inducing electronic textures combined with North African tribal music, also samples of Arabic singers and Southern American radio preachers (they liked the juxtaposition of their orgiastic delivery and puritanical message).
There's no way for a music snob to escape a Brian Eno-influenced pick. He worked with all the snob favorites from Bowie and Iggy to Devo and Laurie Anderson, not to mention his documentation of the New York No Wave scene. I decided to run at him head on, cleverly doubling down on coolness and art cred by using this Byrne collaboration. Besides the influential sampling and mixing innovations, there are also some good multi-cultural liberal overtones with this pick. "I mostly appreciate its diversity, the way they explore third world sounds. It's just really refreshing."
Possible alternatives: David Bowie, Low; Talking Heads, Remain in Light (Just in case you like your Eno to sneak in through the back door as a producer, which may well be a defensible blowhard position, if what you need is more multicultural-ness, go for Os Mutantes or maybe like one of those Cambodian garage rock compilations.)
7. Public Enemy, Fear of a Black Planet
Public Enemy grew up on their third record, at least sonically. This album's multilayered sampling was basically unparalleled in hip-hop upon its release, back in the simpler days when people still got away with not clearing their samples. With hits like "Fight the Power," this sound pastiche and its attendant controversy made Public Enemy a household name, although sadly maybe not as much as their hype man's later reality TV exploits.
I'm talking out of my ass on this one. I needed a hip-hop pick for diversity, though and this one seemed both innovative and scary to the bourgeoisie, so… I haven't really listened to this album much since I was in high school, but I'm pretty sure all the above is true. Obviously though, truth is less important than being able to convince others of your claims. I skimmed the Wikipedia page to make sure I was thinking of the right album, seemed correct. Be careful with internet resources like Wikipedia, Allmusic, and Pitchfork — while invaluable to the snob in a moment of doubt, overt plagiarism could undermine all your authority. The last thing you want is some one to snidely claim, "yeah I read that Pitchfork review too." This would be a crippling blow to any blowhard.
Possible Alternatives: Digable Planets, Blowout Comb; Eric B. and Rakim, Paid in Full (Paid in Full can easily be defended as a classic and innovative hip-hop standard. Digable Planets maybe less so, but I love that record and can easily make-up bullshit arguments for its relevance, so it works for me. This is kind of an advanced snob move though; don't go out on this limb until you're ready.)
8. Harry Nilsson, Pussy Cats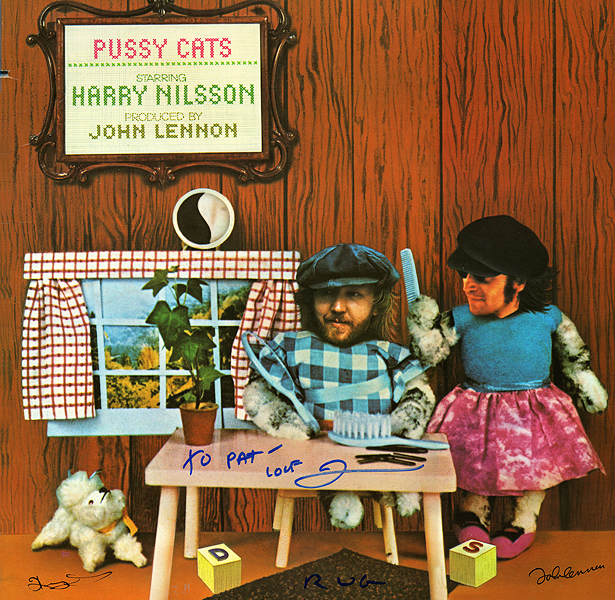 Harry Nilsson and John Lennon went on an 18-month bender and along the way managed to produce a prescient back to basics rock record that is at least ten years ahead of its time. Nilsson's usually flawless vocal instrument is in trouble here (he was secretly coughing up blood during the sessions), which creates a vulnerable and wounded sound that is equal parts compelling and heartrending.
This record is too good not to include in your blowhard catalogue, but be careful: it is susceptible to what could be termed The Walkmen Objection. The Walkmen covered this record in its entirety in 2006, which potentially calls into question your organic knowledge of this record's inherent badassness. See also the Wes Anderson Objection.
Possible alternatives: The Band, Music from Big Pink; Gram Parsons, GP
9. Tom Waits, Closing Time
Before Tom Waits started singing like a demonic shaman of some imaginary by-gone 19th century American musical period, he was just writing fantastic country/ jazz/ rock songs, songs unfortunately then made famous by the corporate mellow merchants such as the Eagles. If winter is coming on and you're feeling a little lonely, play this record. You'll be glad you did.
Any Tom Waits record will work as a top snob pick, which is why I'm getting away using his least avant-sounding effort here. If you're backed into a snob corner you can always go Tom Waits, and of course hatred of the Eagles is requisite. Use of the term 'record' is encouraged. Even if the closest you've been to a vinyl collection is inside the basement of an Urban Outfitters, this is still the language of the music snob.
Possible alternatives: Elvis Costello, My Aim is True; Captain Beefheart, Trout Mask Replica (Both perennial snob favorites, Beefheart obviously more so, because he never became a new wave top 40 smash. You may be tempted to pick Frank Zappa, but be careful — although he technically qualifies, this might project the image of music nerd rather than snobby blowhard.)
10. T Rex, Electric Warrior
Blah Blah Blah, ridiculous string of erudite adjectives followed by vibrant and de-familiarizing metaphor. Pretentious claims about the influences of said recording in the falsely elevated cannon of the recorded pop music of the last fifty years employing obscure genre constructions with prefixes such as proto or post.
Possible alternatives: Slade, Slade Alive!; New York Dolls, New York Dolls
Nothing post-1994 has been included in this list; this is by design. A sly trick of the music snob is to compress all potentially important recordings into a tiny slice of time, roughly 1950-1995 here, so that you can more or less master it. There's just too much new music to keep up with, so you must act as if nothing new could possibly be relevant or else your sphere of authority will start to crumble. Good luck.