First, I just want to note how hard it was for me not to do "You are perfect" for Ginger Spice, and "You are wrong" for everyone else, because… come on. Ginger was the best. But I know that, as with all great works of art, the Spice Girls are subjective. My taste may very well not be yours. So here, what your choice as both an 8-year-old and an adult — because I know your favorite Spice Girl has stayed the same — says about you.
Baby Spice
The Baby Spice lovers were cute, of course, and their full embrace of all things girly and sweet — which looks much more sensible on a 10-year-old than a 23-year-old, it should be said — made them the girl that everyone secretly envies. It's probably safe to assume that if you loved Baby Spice, you had a good amount of clothing from Limited Too, and your room featured everything from the inflatable glitter furniture, to the clear plastic pillows with feathers inside of them, to a full collection of American Girl dolls. Something tells me that today, you're more about the JCrew, Lilly Pulitzer, and creating flawless inspiration boards, but your perfectly feminine adorability has not ebbed. And you still love chupa chups.
Scary Spice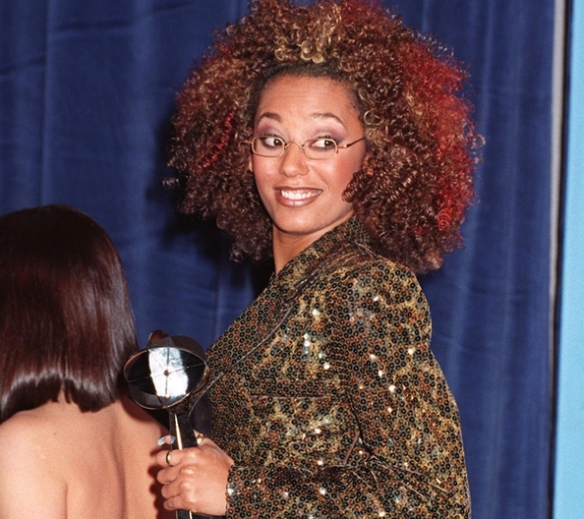 If you loved Scary Spice, your "favorite store arc" probably looked like this: The craziest thing your parents would let you buy at Macy's, Hot Topic, Urban Outfitters. You have always been into that corporate-sanctioned wild look, and may have even had a strong "not like other girls" phase in mid-adolescence. Scary is by far the Spice Girl you would most want to go out drinking with, and I imagine the same is true of her fans. When they were 12, they threw the most bumpin slumber parties where truth or dare devolved into spin the bottle, and at 25, they turn a Tuesday happy hour into the kind of night where you have to talk your way out of being arrested.
Posh Spice
It is my personal belief that all the girls who loved Posh growing up are the same kind of girls who would end up with a guy like David Beckham. Posh's total disdain for such things as complicated dance moves, festive outfits, or learning how to sing all signified a girl who knew she was destined for things greater than a girl band. She knew that she would net the scoops-of-butter-pecan-ice-cream-assed King of England, it was just a matter of time. If you love Posh, you are too good for this shit, whatever this shit happens to be. You are not chipping your manicure for this.
Ginger Spice
Oh, Ginger. The perfect combination of bawdy, in-your-face revolutionary and Marilyn Monroe-esque pinup. She was the Spice Girl who seemed to have an almost Joan Harris-level weariness about her, like she had seen some shit and was now back to tell about it while wearing a dress with a slit that went up to her crotch. Her fans were the kind of girls you would call "broads," even at the ripe old age of 10. Ginger Spice fans are attracted to all things sexy, campy, tacky, and over-the-top, and much like Geri, when we went through our buttoned-up blonde phase, it never quite fit. Also, you might have just been a redhead, because all little redhead girls were legally required to identify with Ginger.
Sporty Spice
Let's be honest, any girl who really identified with sporty was a sporty gal herself. It's just not possible to get down with Sporty's gold-toothed, nose-ringed, tearaway-pantsed realness unless you are a bit rough-and-tumble yourself. Sporty always seemed like the girl they picked up from some working-class northern English town, who did a back-handspring onto to tour bus and just kind of stayed around because her tobacco-chewing family would have one of them killed if they didn't accept her. (Also, she was the best singer by far, but that wasn't exactly a cutthroat competition.) In any case, you respect her scrappiness, and you are the tomboy who may know who to hang out with the girly girls, but you certainly aren't going to be waddling around in platform boots with the Union Jack on them just to fit in.