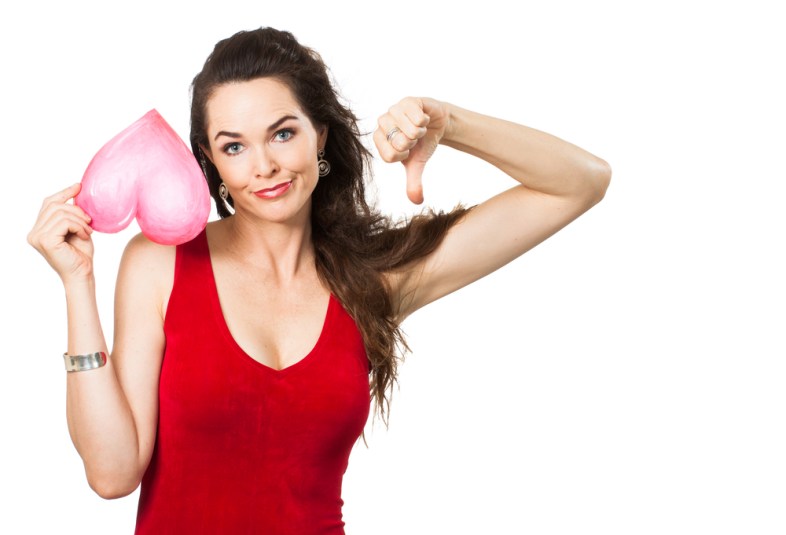 1. The person with dirty nails/chipped nail polish.
Would you have (unprotected) sex with a guy/girl who has visible signs of genital herpes? Hells no. Well, dirty nails are the genital herpes of the hands. If this person can't take care of their hands, something so visible to the human eye, you can only imagine how he/she doesn't take care of parts regularly hidden. And, if a girl consistently has chipped/gross-looking nails and she's not in grad school or has a child, she obviously also has dirty underwear—and we all know what dirty underwear means.
2. The person who spits on the street.
First of all, they're disgusting. Second of all, they're rude and immature and have issues understanding the repercussions of their actions on the lives of others because they don't mind if a stranger unfortunately steps into their clump of nasty DNA unknowingly. Individuals who spit on the ground really DGAF about what other people think. This normally is a good thing because I'm a firm believer in the fact that what other people think of you is none of your business anyway, BUT a little caring leads to possessing basic human decency, which is a great thing to have and they clearly don't have any.
3. The person who's rude to servers.
Servers naturally hate their lives because their job is to wait on customers, most of whom are pricks. If your new boo is in any way disrespectful to the person bringing you your food, they do not have any home training and will eventually start disrespecting you as well. Also, they're an asshole. Don't date assholes.
4. The person who doesn't floss.
Anyone who doesn't care about their dental hygiene is a disgustingly dangerous person because it means they don't care about life at all, and a person who doesn't care about life won't care about you either. Ergo, a person who doesn't floss doesn't care about you, so why would you date someone who doesn't care about you? Not to mention every time you make out you'll taste what they had for dinner three nights ago, and that's not cute. Neither is gingivitis or plaque or bad breath or swollen gums.
5. The person who outright says they're an asshole/psycho.
The biggest sign that someone isn't worthy of your time is when he or she actually tells you that they're a(n) asshole/jerk/cray cray. If the conversation ever goes down the path of "Yeah, I'm pretty chill, I'm an excellent cook, I like to read, and I'm kind of a jerk lol" that should be the last conversation you have with this person. Ever. In life. They're basically telling you that they are an awful person, and when people tell you that they're awful, BELIEVE THEM.
6. The person who constantly lies about little things.
Lying is a no-no in any relationship, platonic or romantic. Obviously some lies are more of a big deal than others. For example: lying about your favorite color isn't as bad as lying about your STI results. But once you catch someone lying about something so trivial, it may seriously make you question everything they've ever told you. I once dated a guy who lied about his natural hair color…HIS.HAIR.COLOR. Who lies about that? The same type of person who lies about their favorite color: a sociopath. Don't date sociopaths either.
7. The person you deem a "fixer-upper."
We've all been there, ladies, amirite? Thinking that dating that one dude who's kind of rude/jerky/lazy/uninspired will miraculously turn into the perfect boyfriend that we've been looking for after we've invested so much time and energy into fixing them. Well, let me save you three wasted years and thousands of text messages between you and your BFF complaining about how you just don't understand why you aren't reaping your rewards yet by spoiling the ending for you: you never will. Don't bother with them and just focus on a person who actually already has their life at least semi-together because they'll 100% appreciate you more.
8. The person who always texts "Sorry, I was busy…"
There's nothing I hate more than an inconsiderate person, and replying to a text message after the grace period is hella inconsiderate and I may begin to question if we were ever friends—partly because I'm neurotic, but mostly because no one in this world is too busy to reply to a text. If the person you're dating constantly takes six hours to reply to your "hey" message, it's time to send them a "bye" message. If open-heart surgeons and Beyoncé can find the time during their hectic days to text their families, this person can text you back. The only person exempt from this is Olivia Pope, and that's simply because she's Olivia Pope. The person you're dating is not Olivia Pope.