Ditching town for the weekend and tired of your ratty old suitcase? These carry-ons boast some great features and are perfect for a wide range of traveler personality types. Best of all, they won't bust your budget, so you'll have money left over to actually… play!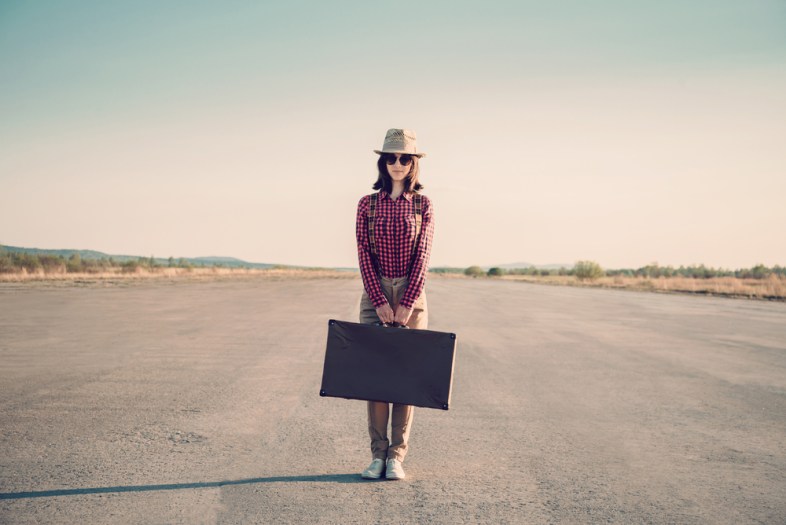 If you've mastered the art of packing light, the Patagonia Transport might be your suitcase dream come true. It's got enough space for a couple days of clothing, plus a compartment for your laptop and a front zipper for valuables. So tidy. One reviewer said the bag was just the right size to qualify as his "personal item," so that's a big benefit. While you're crammed in your seat, waiting for take-off, wearing a few layers of clothes (so savvy), you can mumble, "Suck it, Budget Airline! No baggage charges for me!"
Price: $119.
Voted one of the best bags by Fodor's in 2014, Lipault's 19" Carry-On is ideal for the discerning traveler who wants it all. There are multiple zippered pockets to separate clothes, shoes, and cosmetics, plus an attached ID tag. And, besides coming in standard black or brown, you can choose sexy aqua or purple. (If you happen to check your bag, you won't have trouble finding it on the baggage carousel.) Perhaps best of all, if you're in need of just a bit more space, you can buy a coordinating satchel or tote.
Cost: $169.
If you're going on a multi-faceted getaway and need to pack a little bit of everything, REI's Sport Beast has got you covered. (This bag is also perfect for the hapless over-packer.) The main compartment opens up nicely into two halves, so you can easily separate, say, your going-out clothes and your sports gear. This carry-on has some unique features, like a kickstand and a discreet ID tag, and reviewers love its easy rolling simplicity. One guy even said he fit 10 days of clothing into this one piece of luggage. Make that your next challenge.
Price: $179
Going on an adventurous getaway and need luggage to match? The Seal Line Wide Mouth Waterproof Duffle will keep your belongings cozy and dry. Depending on how much space you need, you can buy the small or large size, and both provide a solid dry seal. This bag can handle a short dunk in the water and will float if dropped in a lake. So yeah, go ahead: Rough it up a little — tie it on top of your car or drag it through the mud — and you'll find it can easily hack it.
Price: $90 – $110.
Samsonite has been making high-quality luggage for decades, so if you're looking for a carry-on that will travel with you around the world, or simply on a series of business trips, the Winfield 2 Hardside Spinner might be your bestie. It's made of durable, ultra-light polycarbonate, has nicely lined compartments, and even offers a TSA-approved combo lock. Plus, it's got spinner wheels, so it rolls easily, in every direction.
Price: $140, (currently on sale for $110.)