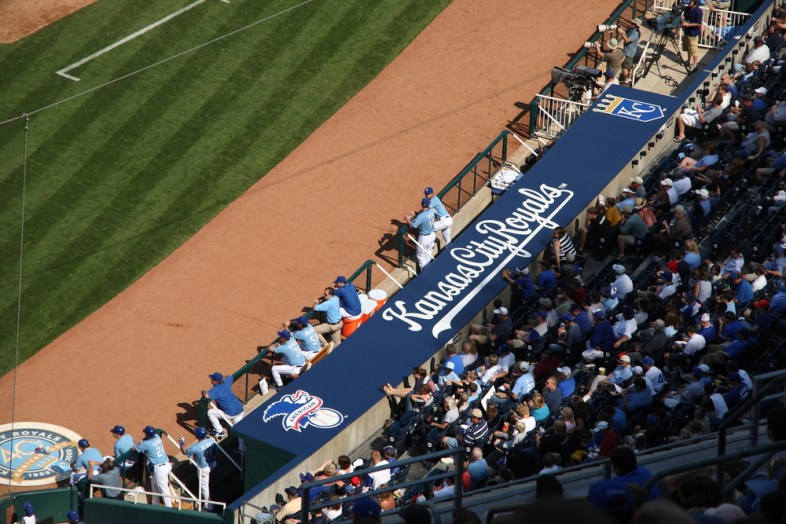 Last night, I was particularly exhausted – both mentally and physically. I was trying to figure out why I was feeling so down, when it hit me. I'm right where I need to be, after everything my heart and I have been through in the past month. I'm in the place I should be after the breakup of a relationship that I really enjoyed, but that I also knew was probably not meant to last: happy it happened and looking forward to the future, but still solidly in a mourning period. I'm not ready to move on just yet.
I need to take a minute to talk about heartbreak.
I've been feeling it lately, in the worst possible way. I've cried on the subway. I've been listening to all my sad-song-playlists. Things I see remind me of the love I've lost; Halloween has been particularly hard, with everyone wearing so much orange…
The 2014 Kansas City Royals took their fans on the emotional roller coaster of a lifetime this October. I'm talking Nicholas Sparks-style ups and downs. All of us fell in love with the Boys in Blue again and again this year, and I, for one, felt like I had finally found the love I'd been waiting for literally my entire life.
I thought we could make this long-distance relationship work. We were old childhood friends – some of my earliest memories are set at Kauffman Stadium. I visited them when they were in New York; we spent a lovely warm September afternoon up in the Bronx. We talked on a regular basis. We celebrated together their wins and mourned their (very few) losses. I was falling, hard. I was head-over-heels, stomach-butterflies, constant-flow-of-uncontrollable-endorphins in love with this team. I was convinced they were going to win it all, in the best possible way, and make me the happiest girl in the world.
On Wednesday night, with the tying runner on third base, two outs in the bottom of the ninth inning, on our home field, Salvador Perez popped up a fly. As the opposing team's third baseman stood below the ball, glove raised, I had a feeling it was about to end. I also had that irrationally hopeful thought that all lovers have when they know the relationship is doomed, but can't imagine life without their love type of thought, "He'll drop it, we'll go in to extra innings and we can still win!" Like most who are crazy in love like that, I was wrong. The silence that descended on the Royals bar where I was watching with 300 of my closest misplaced Kansas City friends was deafening. It was over. Gone. Finished. I made my way home dejectedly.
Now, I am a logical person. As much heartache as I was feeling, October with the Royals was one of the best months of my life thus far. I know I will eventually move out of the "cry because it's over" phase and into the "smile because it happened" one. But right now, I am hurting and hurting bad.
I've found some coping mechanisms: listening to Christmas music early (because it brings me a weird kind of comfort), and I have a feeling I've already found my rebound relationship. The Chiefs are still showing promise for this season. I'll probably stick with them for a couple more months, but let's be honest, they're not really going to be able to give me what I want.
I might try a little casual dating, maybe hockey or something like that, but I don't think tennis or professional curling or whatever could ever get me, the way the Royals do, you know?
Knowing myself, at some point, I will definitely get drunk and hook up with that old troublemaker, Marquette Basketball. Then I'll realize what a toxic relationship that's always been and swear off them for good (again). I'm assuming that will be sometime in early March.
And there's always the Brooklyn Nets. I don't mind a date with an NBA team here and there. They're cool and hip and exciting. They're just not the type of long-term relationship I'm looking for, though.
I do hold out hope for the Royals. It may be a while before I can think of them fondly again, but experience has shown me that time will eventually come. We've known each other a long time, you just can't completely let go of a connection like that. It may even take years before we can get back to that euphoric playoff type of relationship again, if it ever happens. Hell, it might happen next year (obviously what this star-crossed lover wants), I like to keep a spark of optimism alive. I hear that all is fair in love and baseball. I'm not going to throw out that box full of old baseball caps and ticket stubs just yet.