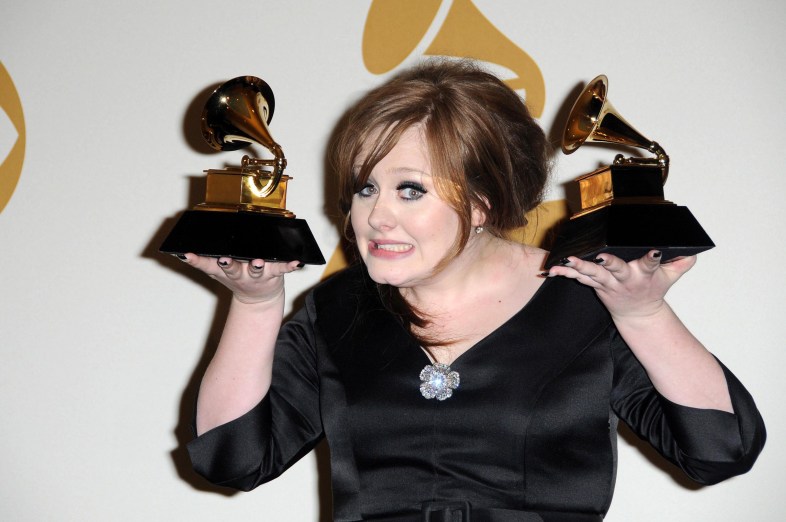 "I think I remind people of themselves," Adele says in her biography, Someone Like Adele.
The 27-year-old queen of "heartbroken soul" is not mistaken. She knows that the key to a successful album is producing something that is honest and empathetic – lyrics that will tug at the heartstrings of anyone who has ever been 19, or 21, or 25. Adele is the real deal, evident in the fact that she cries to her music, too. Phew. It's not just us.
And how could she not cry, bellowing one beautiful hit after the next? It's become socially acceptable – practically a twenty-something pastime – to blast Adele and drink red wine and cry. The opening lines of "Hello", which kicks off her new album 25, will have you pounding Pinot Noir.
"Hello, it's me
I was wondering if after all these years you'd like to meet
To go over everything
They say that time's supposed to heal ya, but I ain't done much healing"
Adele is telling her own story, but also millions of other stories. Universal stories. That's the quality that can be attributed to the overwhelming popularity of Adele's music – its universal truth. And therefore, it's relatability. It's empathy. We find comfort in what we understand.
Strung together, Adele's three albums express an intimate narrative of her life from ages 19 to 25, that delicate transitional period of post-adolescence into adulthood, when emotions are eggshell-fragile and more is at stake than we want to admit.
It's the invocation of the painstakingly real that has touched so many hearts – Adele songs don't deal with trivial concepts like crushes or sex appeal – they're about the more monumental love-related issues that affect our 20s. Everybody remembers what it's like the fall for someone; everyone recalls the mind-numbing pain of a broken heart. There are certain things you don't forget, even as life goes on and becomes bigger and richer and vastly more complex, and what once seemed like the end of the world dwindles into a distant memory. In retrospect it was something you learned from, something you were made better by, but at the time, the experience was fresh and excruciating. We're all human; we get over it, but we still remember.
Let's backtrack to the beginning. Adele released her debut album in 2008, 19, which she named to reflect her age at the time. The album won a Grammy and set the stage for Adele's complete narrative, beginning with the portrayal a 19-year-old's struggles. In 19 we hear a younger, teenage Adele, whose lyrics relay a wide mix of emotions: resentment, boredom, passion, naïveté, and the overly optimistic outlook that becomes more apparent and cynical with age. The songs are a little naïve, a little angsty. This is a teenager's album, apparent in lyrics such as "like the meaner you treat me the more eager I am" ("Best For Last"); "It's better when something is wrong – but at least when you're at your worst you know how to feel things" ("Right As Rain").
If 19 was innocence, 21 is experience – in her second album Adele takes us on a emotional rollercoaster ride through her breakup. Her ex-boyfriend's identity remains anonymous, but she later summarized their relationship: "He made me an adult. He put me on the road that I'm travelling on." In 21 Adele's songs are injected with a greater dose of reality and perspective, which is probably what made the album such a massive success. She told The New York Times: "In order for me to feel confident with one of my songs it has to really move me. That's how I know that I've written a good song for myself — it's when I start crying. It's when I just break out in [expletive] tears in the vocal booth or in the studio, and I'll need a moment to myself."
21 is the ultimate break-up album, with hits including "Rolling in the Deep", "Turning Tables", "Don't You Remember", and of course "Someone Like You" – the unforgettable, heart-wrenching finale. 21 is an age full of contradictions – you are stuck between wanting responsibility and running from it; embracing the freedoms of adulthood while not feeling quite ready for them; believing you have all the answers one day, and zero the next. Relationships are tough because everyone is so desperately trying to find themselves – and how can you be there for another person when you're still figuring out how to be there for yourself? Selfishness is inevitable at 21, and we indulge in the belief that our drama is worse than anyone else's, and that what's happening to us has surely never happened to anyone before.
But Adele ends 21 on a mature note with "Someone Like You." It's a song about acceptance and understanding and letting go – not necessarily in the context of a love relationship. To me this song is about moving on from someone or something – be it a relationship, a friendship, a time period, a place, or a younger version of yourself. It's just about embracing change because you have to, because it's part of life, even when it's the last thing in the world you want to do. Sometimes listening to "Someone Like You" makes me sadder than I want to be – but it is the best kind of sad.
The age gap between 21 and 25 seems monumental in retrospect, more like ten years than four, and I understand why Adele needed to take a "sabbatical" before she could release another album. She wanted 25 to be just as honest as 21, and it certainly is. From the album's first song "Hello", it's clear that Adele has crossed that invisible barrier to "the other side" – the emotional place where her past relationship is no longer under her skin. We all know what she means – "the other side" is a liberating place, one where you finally see things more clearly and you know that you're seeing things more clearly. "Hello" is Adele's call to the past, an attempt to readdress her relationship and see if there is still a chance for the closure she never had, to remember her ex from a place of clarity and close that chapter once and for all.
The New York Times explained it well: "'Hello' doesn't just introduce 25; in many ways, it sums up the album. On 25, the rage and heartache of 21 are replaced by longing: for connection, for youth, for reconciliation and for lifelong bonds. Like other songs on the album, 'Hello' is filled with thoughts of distance and the irrevocable passage of time, of apologies and coming to terms with the past."
The Adele in 25 is no longer a heartbroken avenger. Instead she can look at the past from a place of distance and peace, as heard in "Million Years Ago" and "When We Were Young". She reminisces on her heartbreak with big, piano-led ballads, introspective and mournful, but she is no longer angry or pining. The Guardian writes: "There's none of the tight-jawed break-up analysis Adele has become known for. Where 21 sounded as if it was written while cradling an open wound, 25 comes over more like the study of interesting scars." The album deals with the inevitable reflection we're faced with during our mid-twenties: accepting the past, forgiving the past, cherishing memories, and honing a sense of gratitude for all that has brought you to wherever you are. There's less blind hope at age 25, but thank god, there's also less delusion.
In an interview about her new album Adele told The Guardian,"I can finally reach out a hand to the ex. Let him know I'm over it."
If only we could all produce history-making, chart-topping albums to get over our exes. But I guess listening to Adele's will have to suffice.