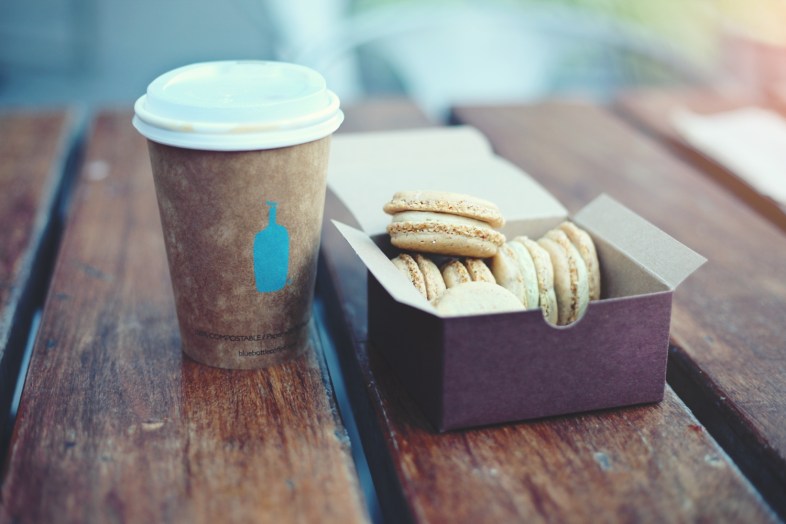 1. New (To Me) Clothes
I used to think thrift shopping meant spending hours sifting through unorganized racks of old, worn-out items at Goodwill only to (probably) walk away empty-handed. While there's nothing wrong with that, it's not for me, so I found more efficient ways to thrift shop. I now visit a local store that sells high-quality, like-new items organized in much the same way items in a department store are organized – by category, color, and size. I also order from ThredUp, an online retailer. ThredUp is easy to search, provides pictures and quality descriptions (like new, gently used, etc.) of every item, and has a generous return policy. I've heard good things about Poshmark and other used online retailers, but haven't tried them myself. Through thrift shopping, I've easily been able to buy name-brand (J Crew, Madewell, Cole Haan, etc.) staples that look brand new without the (for me, prohibitively) expensive new price tag.
2. Big Bar Tabs
I'm not Carrie Bradshaw. Unlike her, I can't afford a downtown loft or a closet full of designer clothes on a budget, nor can I afford near-nightly cocktails. So I've learned to like beer and regularly order it in place of a cocktail when drinking at a bar or restaurant. It's much cheaper and goes down more slowly, so I'm not left holding an empty glass as often. It's also be more filling, so I tend to drink fewer. I always heard beer was an acquired taste. I've found that that's true, one that my wallet has thanked me for acquiring. Well drinks are also a good option. They're usually just as good, and much cheaper, than cocktails, and they tend to be on special.
3. My Gym Membership
I've never belonged to an expensive gym with a million amenities. But even though saunas and smoothies weren't part of my post-workout routine, my membership was setting me back about $400/year. Since canceling my membership, I've found creative ways to work out. I follow along with free, online versions of programs like Bikini Body by Kayla Itsines. I track my runs using the RunKeeper app. And utilize YouTube tutorials for targeted workouts and yoga sessions. Still, sometimes I miss working out with others in barre or Pilates, so when I get the urge to take a class, I search Groupon where gyms and studios often offer class packages at deeply discounted rates.
4. Monthly Subscriptions
Between curated collections (like Ipsy and Stitch Fix) and electronic memberships (like Hulu and Apple Music) I was paying way too much for way too many monthly subscriptions. I never thought twice about signing up for them, because individually $10 or $20 a month didn't sound too bad, but collectively these subscriptions were costing me about $100 every month. In trying to stick to a budget, I had to evaluate whether these were really worth what I was paying, and for most of them, the answer was no. You can get many of these services without a long-term commitment, so canceling didn't feel like I was giving them up for good. I still pay for a month of Hulu and order a Fix every now and then, but in general I try to keep the recurring monthly payments to a minimum.
5. Cable
I like reality shows and reruns of Friends as much as the next girl, but I decided that being able to turn them on whenever I wanted wasn't worth the $75/month I was paying for cable. Now between Netflix, HBOGo (everyone know SOMEONE whose password they can use to watch Game of Thrones), Amazon, and YouTube, I'm able to watch everything I truly want to watch and I'm not tempted to waste my time watching other stuff simply because it's on.
6. Lunch Out
I used to wait anxiously for noon, when I could trade my tiny desk for a tiny table at a nearby restaurant. I convinced myself it was the salad or sandwich I was looking forward to, but the truth was, I simply relished the break in my day. So when I began really trying to stick to a budget, I continued saying goodbye to my desk every day at noon, but instead of heading for a restaurant and spending (at least) $10 on a meal, I headed pretty much anywhere else and ate a packed lunch. I've continued this practice in law school, when sticking to a budget has been even more important, and it has saved me about $120/month. So I don't get bored (and, consequently, tempted to eat out) I typically alternate between packing leftovers and homemade versions of my favorite sandwiches and salads. I also keep a couple of frozen meals on hand for days when I'm too busy, or lazy, to pack something better.
7. Buying Books
This one is really for students. As a law student, I no longer buy my textbooks. My school library, like most, keeps copies of every textbook assigned by every professor available for check-out. I gather them all every Friday and scan my reading for the following week using the library scanner. I then read the scanned PDFs on my laptop like I would a textbook. Even if you like hard copies, this option is more economical because printing off every assignment is still far cheaper than buying even one textbook. This takes some patience and preparation, but it's worth the $2,000/year it saves me.
8. Driving to Work/School
I spend the majority of my hour-long commute on the train. While it isn't free, choosing to take the train instead of driving downtown every day saves me about $1,000/year in gas and parking fees. And I can read, or otherwise be more productive on the train that I could stuck in traffic. This might seem unworkable for people who don't live in or near major cities, and for some it is, but many less populated areas have solid and underutilized public transit systems. I started taking public transit when I lived in Durham, North Carolina. Durham is no metropolitan hub, but I was easily able to take the bus to work there, and saved a significant amount of money by doing so.
9. Mani/Pedis
I was spending at least $100 every month getting my nails done. Now I've found cheaper ways to keep my nails looking good. I still prefer polish, so I frequently do my nails at home. This has required me to purchase a few tools (buffer, cuticle clipper, etc.), but the cost of these was minuscule compared to even one visit to the salon. I still go to the salon every now and then, but I just ask for a polish change rather than a full manicure or pedicure when I do.