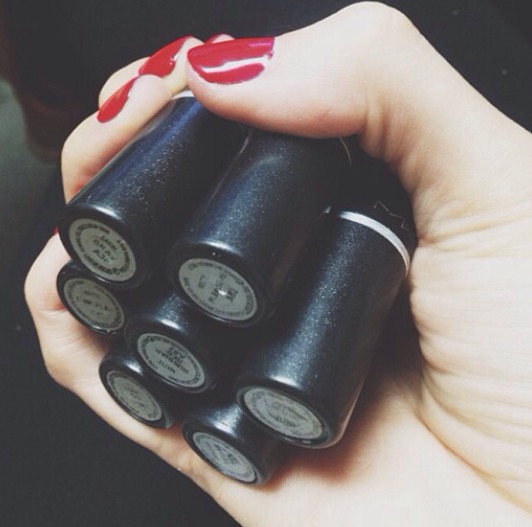 Alright ladies, listen closely. There are two types of women in this world: Those who wear lipstick and those who do not.
I highly recommended the first. I'm not even a makeup whore but I can get down with some lipstick.
With names like: Pink Plaid, Up the Amp, Rebel, Lady Danger, Velvet Teddy and Snob, the appeal factor goes without saying. Obvs.
(Side note: Whoever is granted the outright honor and thrill of naming the so-called fun tubes, can I just say, serious job envy!)
Say what you want about MAC, but you simply can't argue. They know what they are doing when it comes to the pout.
I personally own well over fifteen and my collection just keeps growing for no valid reason. None at all. Aside from it being my favorite thing to blow money on while I heedfully watch my collection grow with pride. It's a sickness, I know.
For a reason unbeknownst to me, there is something so ridiculously confidence boosting about swiping a bold color on your kisser and instantly feeling like a different person or at least a sassier version of yourself.
What I have come to realize is that by choosing which lip color I'm going to wear for the day/night, I'm also concurrently choosing my personality. Down to the name, MAC lipsticks have a mind of their own. They have a magical way of transforming me into a confident flirt, a sun kissed goddess or a modern day Marilyn (if only).
Lipstick should be embraced and honored by all. Like a good push up bra or a killer yoga pant, they do wonders in the confidence department.
There's a reason Elizabeth Taylor was quoted saying, "Pour yourself a drink, put on some lipstick and pull yourself together." Solid advice from a classy lady.
Accordingly, here are 7 of the cult favorites and their alter egos.
1. Russian Red = "B*tch in charge." AKA BIC
There's just something about the assurance of wearing the color red that is unrivaled. Basically the Regina George of your friends, rocking red lips in general is bossy and means business.
I hold a very firm belief that red lipstick can cure any bad mood. I've been plenty guilty of being a grump and a half but once I put on that fire engine hue, its game over. I'm on fi-ya and I know it.
Scenario: Red lipped beauty walks up to the bar and comes back with four free drinks for her posse. Boom. Don't hate the girl hate the lipstick.
2. Blankety = "I'm that natural beauty your mama warned you about."
Girls who rock this lip shade are maybe the most dangerous of the bunch. They fly solo and don't need an army of birds to get through life.
She is fiercely independent, knows what she wants and is completely okay with not standing out in a crowd because she is that confident of just how pretty she is. Think Angelina Jolie, that b*tch is literally perfect.
3. Candy Yum-Yum = "I'm kind of a big deal."
The name alone could be mistaken for a stripper, which says it all. She is an attention whore and not shy about it.
Nothing really intimidates her except for another boss b*tch femme, which she strongly believes are far and few between. To her, everyone is just basic. On the rare occasion, she gives credit where credit is due and takes zero bullshit.
The woman who walks into a room wearing this neon hue earns immediate respect while simultaneously turning heads. She most definitely gets gossiped about but mostly by some jealous broads who know they aren't ever gonna be as bad.
4. Rebel = "We're getting drunk tonight!"
Think Beyonce as Sasha Fierce. It's ladies night and time to get her game face on. If this lipstick was a song it would most def be "All the Single Ladies."
Something about this shade awakens the diva within. She could literally go out and tear up the d floor when just yesterday she swore to everyone at the bar she's "just not a dancer."
The ultimate party girl and everyone's favorite alcohol pusher, she might be the most fun of them all. She's not afraid to have a dance battle while doub fisting two Jameson Gingers.
Assuredly, we all have that one friend who came to mind. And if you don't, then you most definitely are her.
5. Please Me = "I get what I want."
The name says it all. For lack of a better analogy, this girl isn't afraid to step on a hoes toes.
She lives for getting her way and is damn near good at it. People can't quite figure it out and all the more power to her.
She's pretty, witty and is the ultimate girl's girl. Her fellow girl gang looks to her for the answers to everything. She's got a way about her.
6. Darkside = "Don't talk to me."
This is the be-all end-all lip shade. She really doesn't give a flying f. She could care less if someone talks to her doesn't talk to her or falls on their ass from staring so hard.
There's something so IDGAF about wearing this color out on the town. It's def not the lip one would wear to "meet the parents." That might be what's so badass about it.
7. Vegas Volt = "I've got my flirt face on."
In a nutshell, Vegas Volt equals I have my sh*t together.
For the mornings where you wake up late as hell and you are seriously struggling to get your life in order. Once you swipe on this color, you suddenly look like you got nine hours of beauty sleep and powered through hot yoga at 6am.
Side Note: This is easily the most flattering lip shade for every girl, skin color, lip pout, you name it. This shade is killer in the summer paired with a tan and the fact that it is universally flattering is bomb diggity.
You literally could have lips as thin as Justin Beiber's bicep, and once you apply this bad boy- Vavoom! The pout is so real and so are all the boys at the yard.
***
Does every girl wear MAC lipstick? Probably not, but they should.
And for the days when you really don't feel like getting ready, and lipstick sounds like a chore, go bare with it.
Embrace your natural beauty. Work that up-do. When it really comes down to it, sweatpants, hair tied, chillin with no make-up on, that's when you're the prettiest. I hope that you don't take it wrong.
Cause in the end Drake's opinion is the only one that really matters.