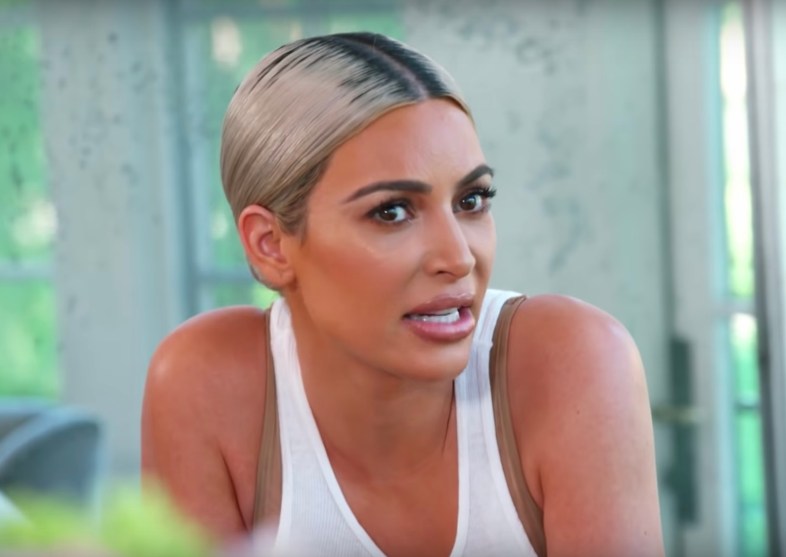 Kim Kardashian definitely doesn't have a great rep with the body positivity community. She was recently called out for promoting an appetite suppressing lollipop on her Instagram, and now she's under fire for a whole new reason: bragging about her weight.
In several Instagram stories featuring sisters Khloe Kardashian and Kendall Jenner on Sunday night, the three discussed Kim's new weight loss, with Kendall even joking, "I don't think you're eating. Like, you're so skinny."
When her sisters continued to joke that they could "literally see through" her, Kim argued that she was heavier than she seemed.
"I'm down to 119 lbs." Kim said. "I will say when I take out my hair extensions I am less."
There's… a lot of things that seem wrong with this conversation. First of all, is Kim implying that 119 lbs. is heavy??? On top of that, she seems pretty pleased that her sisters are saying she seems "anorexic" and that they're sure she isn't eating anything. Considering Kim's audience is full of young, impressionable women, it's a pretty toxic message to be spreading.
I'm obviously not the only one who thinks this. Several celebrities have spoken up about the Instagram stories, chastising Kardashian for her comments and the way she spoke about weight in the videos.
Shameless star Emmy Rossum responded with her own Instagram story, claiming that the only time she weighed so little was when she had Mono.
Her message gave a nod to Brooklyn Nine-Nine star Stephanie Beatriz's Instagram story, which also criticized the Kardashian clan's glamorization of weight loss. Beatriz claimed that the only time she had weighed 119 lbs, she had been in a toxic relationship and had suffered from an intense eating disorder.
The two stars were joined by The Good Place star Jameela Jamil, a known body positive activist who has criticized the Kardashians in the past. She shared an Instagram post reminding people that at the end of the day, people won't remember you for what you weighed, but for what you did for the world.
But before you start criticizing these ladies for shaming smaller women, Emmy Rossum had one last message on Twitter: "To be clear, someone's weight is between them and their health professionals. I have no opinion on this. My opinion is only the danger of praising — even in jest – anorexia."