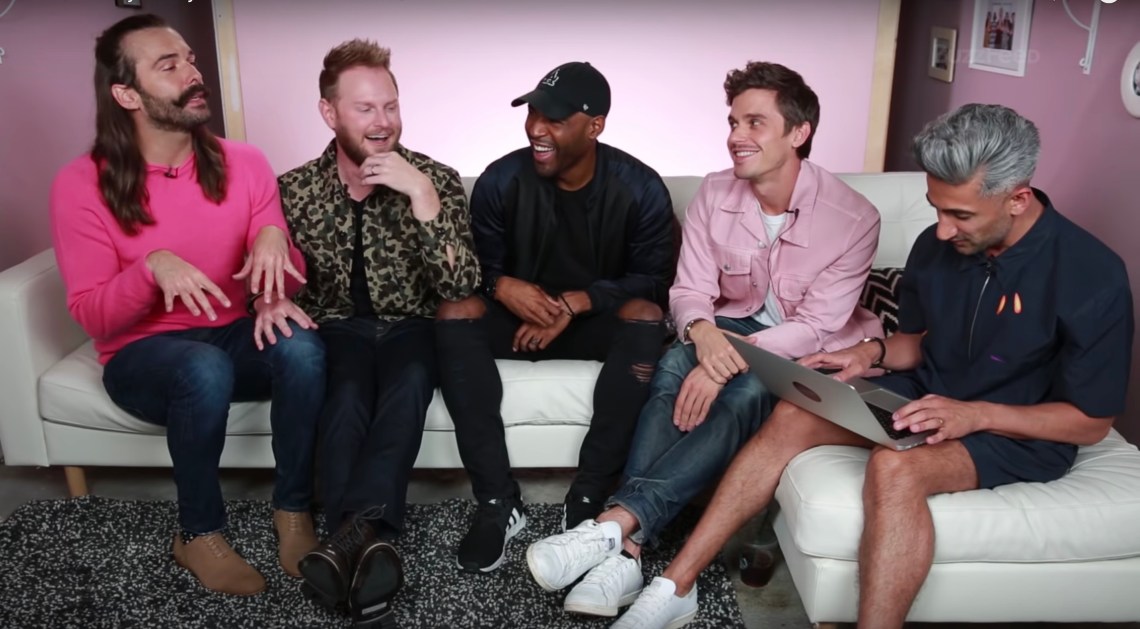 Happy Queer Eye day! Netflix just dropped season two, which means millions of people are about to tune in and cry their eyes out this weekend. But, you know, in a good way.
It only makes sense that Netflix would decide to drop the second season of their successful show about five gay men helping people improve their lives in the middle of Pride Month. After all, a big part of the show is about acceptance — of yourself and of others. The fab five break down the stereotypes surrounding gay men all the while breaking down toxic masculinity using empathy, acceptance, and love. The result is oftentimes a beautiful tribute to self-care and self-love that you won't help but smile — and probably tear up – at.
So, what are people saying about Queer Eye on this marvelous day? Here's just a taste:
1.
*whispers quietly* 'think I'm more excited about Queer Eye season two starting than the World Cup.'

— Jack Whitehall (@jackwhitehall) June 14, 2018
2.
i literally have not stopped crying the entire first episode of Queer Eye. Miss Tammye is the most beautiful person i've ever seen. like i've used so many tissues already

— kitten's turn??? 🥺👉🏼👈🏼?? (@kattfro12) June 15, 2018
3.
maybe we all need to stop waiting for someone to come along and Queer Eye us, and find the motivation and strength to Queer Eye OURSELVES

— lex croucher 💀 pre-order REPUTATION (@lexcanroar) June 15, 2018
4.
Paul Manafort is in jail.
'Incredibles 2' is out.
'Queer Eye' is back.

Keep going, 2018. We're almost there.

— Alex Goldschmidt (@alexandergold) June 15, 2018
5.
https://twitter.com/camilaronipizza/status/1007629503026352128
6.
https://twitter.com/notbyeanca/status/1007587939109494784
7.
Me: *gently crying on the couch*
Mum: what are you watching?
Me: … @QueerEye
Mum: oh honey, make sure you hydrate
Me: *through snotty tears* yep, will do

— ec lewis (@banlocan) June 15, 2018
8.
It's 7AM and I'm already crying my way through the first new episode of #QueerEye. pic.twitter.com/Z31TO41BGl

— Jason Carlos (@jaarlos) June 15, 2018
9.
Who told #QueerEye that they were allowed to just pop back up on my Netflix screen and make me cry less than halfway into the first episode without my permission? pic.twitter.com/XmYJh93iij

— Abraham Lim (@realabrahamlim) June 15, 2018
10.
Today self care = binge watching @QueerEye and ugly crying tears of happiness. pic.twitter.com/i09lDxAXmm

— Lauren (@lauchristinas) June 15, 2018
11.
If u need me I'll be binge watching @queereye all day pic.twitter.com/Zl4kDszumk

— Doug The Pug (@itsdougthepug) June 15, 2018
12.
https://twitter.com/anisvtay/status/1007681358901096448
13.
The new season of Queer Eye is on Netflix today if you're also planning on sobbing all day. I pressed play & when the theme song came on I just started automatically crying like some sort of pathetic Pavlov's Dog response to this show which breaks me down every time lol

— T REX (@trexinchicago) June 15, 2018
14.
new season of queer eye is on Netflix and I feel like I should watch it at half speed to postpone the inevitable depression that will come when I finish it

— kay (@kaydargs) June 15, 2018
15.
Happy #QueerEye Day everyone! May your guacamole be tasty, your hair be fierce, your shirts be printed, your confidence be boosted and your house be tastefully decorated in shades of blue and grey with some dark leather and airport posters and stuff.

— Lorna (@lornamcfindy) June 15, 2018
Okay, I'm gonna go cry now.