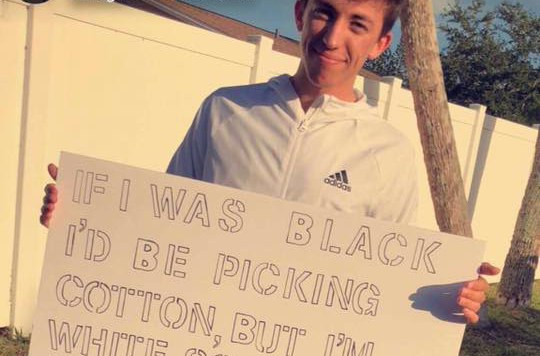 It's 2018 and racism is still rampant. I wish I could say I'm surprised, but… well… at this point, is anybody?
But now that it's prom season, not only do we have to deal with ridiculously terrible promposals, we also get to deal with terribly racist ones, too! One particularly awful one comes from Riverview High School in Florida, where student Nick Crowley thought it was a great idea to make a promposal sign that said "If I was black I'd be picking cotton, but I'm white so I'm picking U 4 Prom?"
Yeah. Really. Apparently he and his prom date thought it was so ingenious they posted it on Snapchat, where, unsurprisingly, people were pissed. But according to some students and acquaintances of the promposal pair, this is far from the only instance of racism in the area. In fact, one student described the high school's problems as a "race war."
i know these people personally (i worked with buddy's gf) & i just want to let everyone know this isnt an isolated incident or "just a joke" the two of them are known to make racist jokes and for their prejudices. yall come for them with everything u got!!!!

— life over property (@saraheminkus) April 23, 2018
The promposal has since gone viral on both Facebook and Twitter, with plenty of Internet users expressing their disgust at Crowley and the girl involved.
The fact no one told him this was wrong during the entire process of making it, INCLUDING the girl who said yes is a big issue and this makes me sick 😷

— Tris (@TristinMakaylaa) April 23, 2018
Why did she 😍😍 the photo, she's equally as bad for thinking this is cute and sweet. Ignorance

— Hoosier mama ❤ (@akearsing) April 24, 2018
https://twitter.com/Llehctimfavors/status/988506032543584256
Crowley has since apologized, claiming the sign was just a joke. Riverview acting principal Kathy Wilks said the school does not condone the message but did not say whether or not action would be taken against Crowley or other students involved.