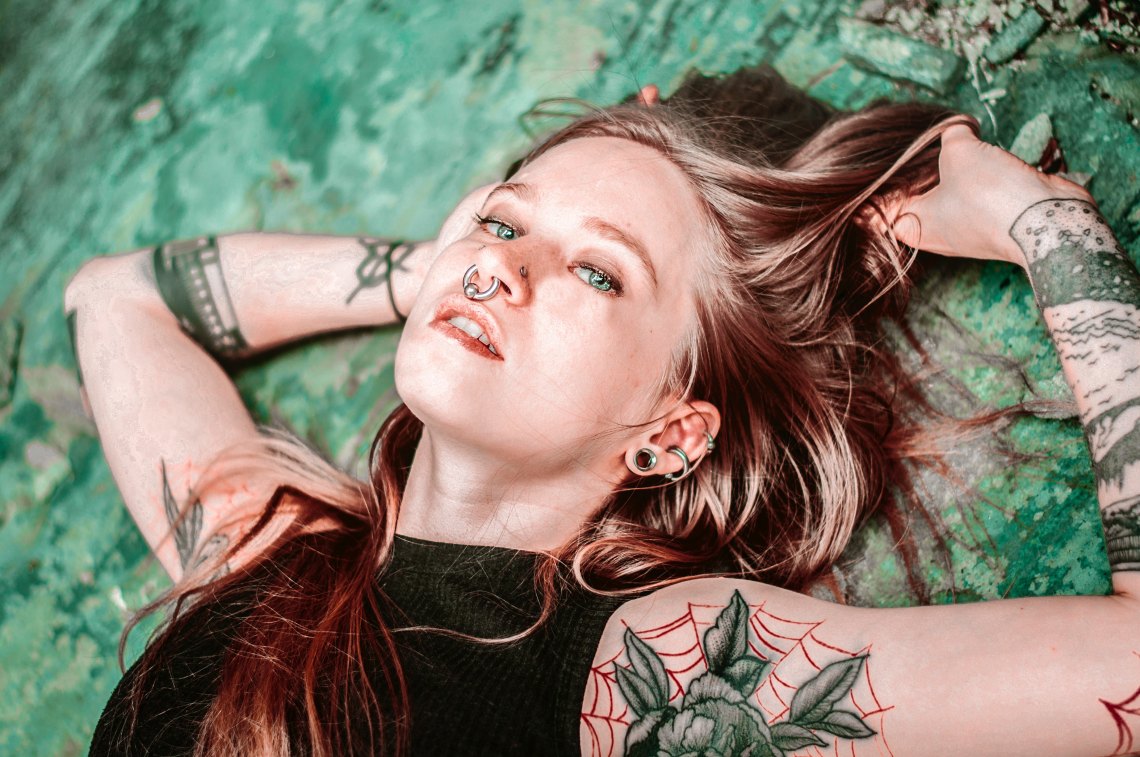 Johnny Depp once famously said, "My body is my journal, and my tattoos are my story." You could say the same thing about piercings, which are more customizable than you might think.
Conch piercings are the perforation of the cartilage of the ear, which can consist of the inner or outer part. You can pierce them with studs, rings, or even cute decals — seriously, you're going to want to check out these amazing looks.
1. You can go with a classy bejeweled look
2. Or a super minimalistic (but super badass) look
3. Seriously, try to tell me this isn't something a completely show-stopping look
4. This conch piercing looks so effortlessly cool
5. This super hip piercing set could make any outfit look boho chic
6. Now I want a piercing that matches my hair
https://www.instagram.com/p/BhHbppZgGOK/?tagged=conchpiercing
7. Or, you know, just a piercing that looks cool with my hair regardless
8. I'm personally obsessed with the simplicity of this look
9. And hey, conch piercings look great on guys, too
10. Get colorful and creative
11. I swear choosing the right piercings is an artform
https://www.instagram.com/p/Bg-fnHaFRwL/?tagged=conchpiercing
12. "Magical, magical, you are so magical"
https://www.instagram.com/p/Bg9c37Chnfs/?tagged=conchpiercing
13. Hey, conch piercings can be cutesy too!
https://www.instagram.com/p/BhCaoewhqZj/?tagged=conchpiercing
14. I'm seriously hypnotized
https://www.instagram.com/p/Bg__on1nkOl/?tagged=conchpiercing
15. Um, okay: 😍
16. Pretty badass, isn't it?
https://www.instagram.com/p/Bg9n9J7nszz/?tagged=conchpiercing
17. They're so subtle, yet so awesome
18. Am I the only one who's obsessed with the rings?
19. The moon and the stars
20. If you have multiple piercings, you can even get cool matching pieces like this
21. This dagger is cool af
https://www.instagram.com/p/Bg4DOKEDe19/?tagged=conchpiercing
22. But also, this heart is ADORABLE
23. It works with every aesthetic
https://www.instagram.com/p/Bg3_Yz3lIbG/?tagged=conchpiercing
24. Seriously, get as colorful and weird as you want
25. Express yo'self
26. Or keep it subtle, if that's what you prefer
27. Or better yet, personalize it
28. I'm obsessed with this teal look tbh
29. I mean, the spider is a bit much, but the piercings are dope
30. And don't be afraid to get a little extra
BRB, gotta go get some new piercings now.