If Loren Gray isn't a name you know now, it's going to be one you know soon. The burgeoning musician has been an Internet sensation since 2015 and now, three years later, she's finally taking the first few steps into stardom. Here's everything you need to know about her before she makes her way to the Top 40:
1. She started making a name for herself when she joined musical.ly in 2015
Loren was just 12 when she made her musical.ly account, and she became one of the first people on the app to really take off. She now has 24 million followers on that platform alone.
2. She grew big by making covers of popular songs
https://www.youtube.com/watch?v=d_rFjfAXsyc
She also became well-known for her lip sync videos, where she uses hand gestures to demonstrate the lyrics at the same time.
3. She's got some big name friends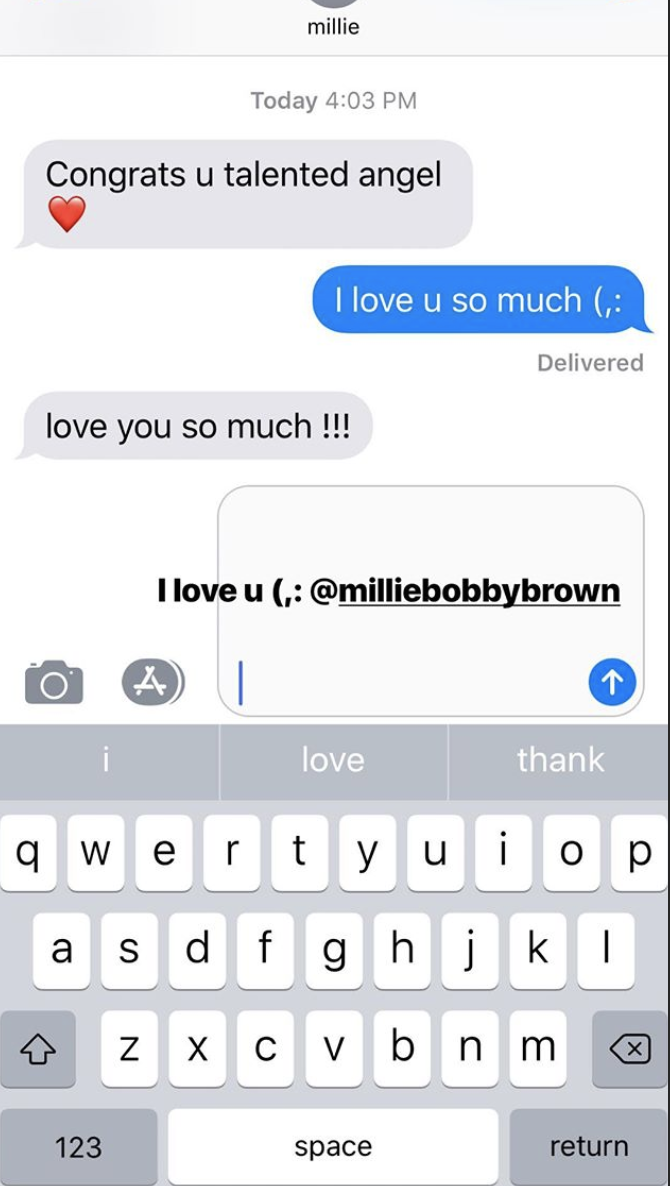 Like Millie Bobbie Brown (aka Eleven from Stranger Things), who sent her these messages, which Loren posted on Instagram .Maybe it's because the Internet lets you become friends with just about anyone, or maybe it's just because famous people have to stick together.
4. On March 20, 2018, she signed with Virgin Records
That's right, Loren just signed her first record deal, which means it won't be long before her releases her debut album — and you know her fans are going to push it straight to the top of the charts.
5. And she's only 15-years-old
That's right — this queen is still just a teen. That gives her plenty of time to make a name for herself and secure herself a spot in the industry.
6. She's already Instagram famous
Just because you haven't heard of her doesn't mean the rest of the world hasn't. Loren already has 9.6 million Instagram followers and 815,000 Twitter followers. Yeah, she's kind of a big deal.
 7. She uses her platform to speak out about important issues
just passed a walkout and I am so proud.

— loren gray (@iamlorengray) March 14, 2018
Last week, she tweeted in support of the students protesting gun laws during #NationalWalkoutDay. She also encouraged her fans to donate food to a homeless shelter in Los Angeles on Valentine's Day.
8. She was featured on HRVY's "Personal" music video
If you suspected it was her, then you were absolutely right.
9. She dated Musical.ly star Joey Kisluk (aka @WHYNOT_JOEY)
https://www.instagram.com/p/BetsmJ5lJdW/?hl=en&taken-by=whynot_joey
Despite meeting when Loren was 12 and their three year age difference, the couple dated for two years. They even had a shared Instagram account, but they deleted it when they broke up in 2016.
10. She's unapologetically herself (even when it's kind of embarrassing)
hi my top eyelid just got stuck in my bottom eyelid for like 30 seconds and i'm still shook pic.twitter.com/0HyQ1yj2Xm

— loren gray (@iamlorengray) March 11, 2018
Part of Loren's appeal to her fans is that in a lot of ways, she's just like them — funny, sweet, and unafraid to show she isn't perfect. It's really no surprise her fans are ride or die for her.
Check out Loren's new video celebrating her new record deal — you might get a better sense of who Loren is and who she's about to become.