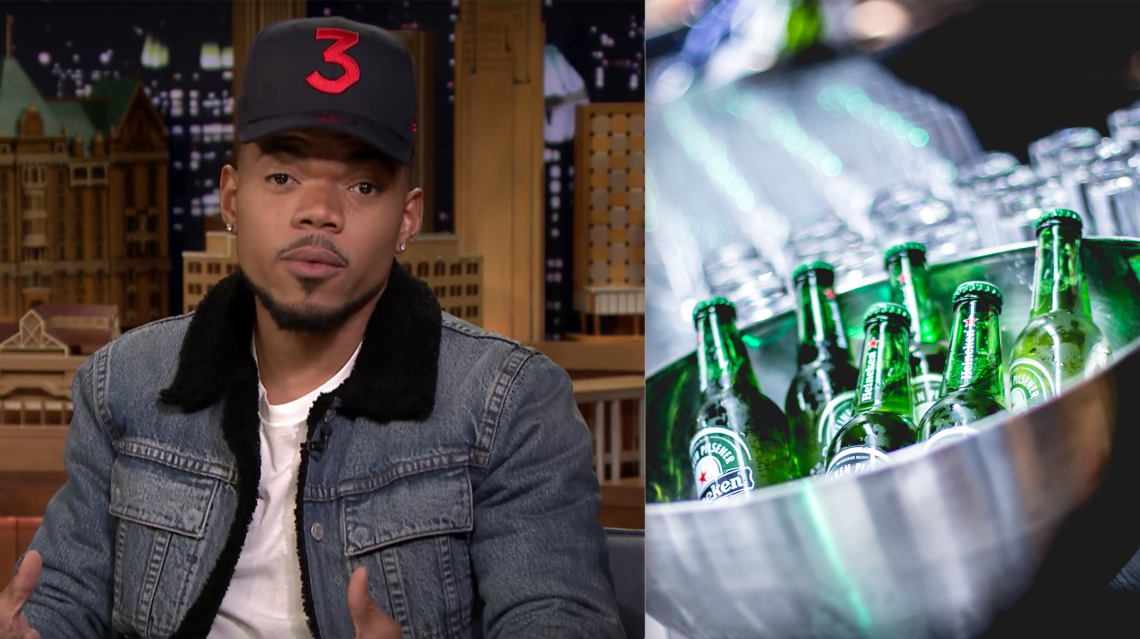 Over the past year, more than a few companies have faced backlash for advertisements deemed racist, sexist, and even homophobic. Heineken is the most recent company in the midst of an advertising controversy, which came to light when one very famous musician called them out via Twitter.
Chance the Rapper, aka the man who's changing the world one step at a time, made headlines this week when he criticized Heineken for an advertisement that was "purposefully putting out noticeably racist ads so they can get more views." The ad's questionable tagline was "Sometimes lighter is better."
Before you say Chance is reaching (because yes, we know that Heineken is light beer and that it's totally possible it's not talking about skin color), you might want to actually watch the ad. In the 30-second clip, a bartender slides a Heineken across the bar past three black people to a lighter skinned woman who's surrounded by white men.
Look, I understand we shouldn't be twisting messages and trying to find racist messages where they don't exist, but the ad isn't exactly subtle about it, especially when the ad features so many people of color (which is pretty unusual for beer advertisements, honestly). Let's just say that people on Twitter definitely aren't cool with it.
Heineken has since removed the ad, and their spokesperson reached out to NBC News with a statement:
"For decades, Heineken has developed diverse marketing that shows there's more that unites us than divides us. While we feel the ad is referencing our Heineken Light beer—we missed the mark, are taking the feedback to heart and will use this to influence future campaigns."
Whether or not Heineken was using racism to get people to talk about their product, it still seems odd that this ad was able to make it past the testing phase, especially during a time when company advertisements are being put under a microscope and being held accountable for political correctness. Just ask Dove or Pepsi — how you put out your message matters, even if people are just reading between the lines. And if you're purposefully straddling that line in hopes that people will start talking about your product, well, that's an all time marketing low.