Spoiler Alert: This piece is all about the season finale of 'The Bachelor'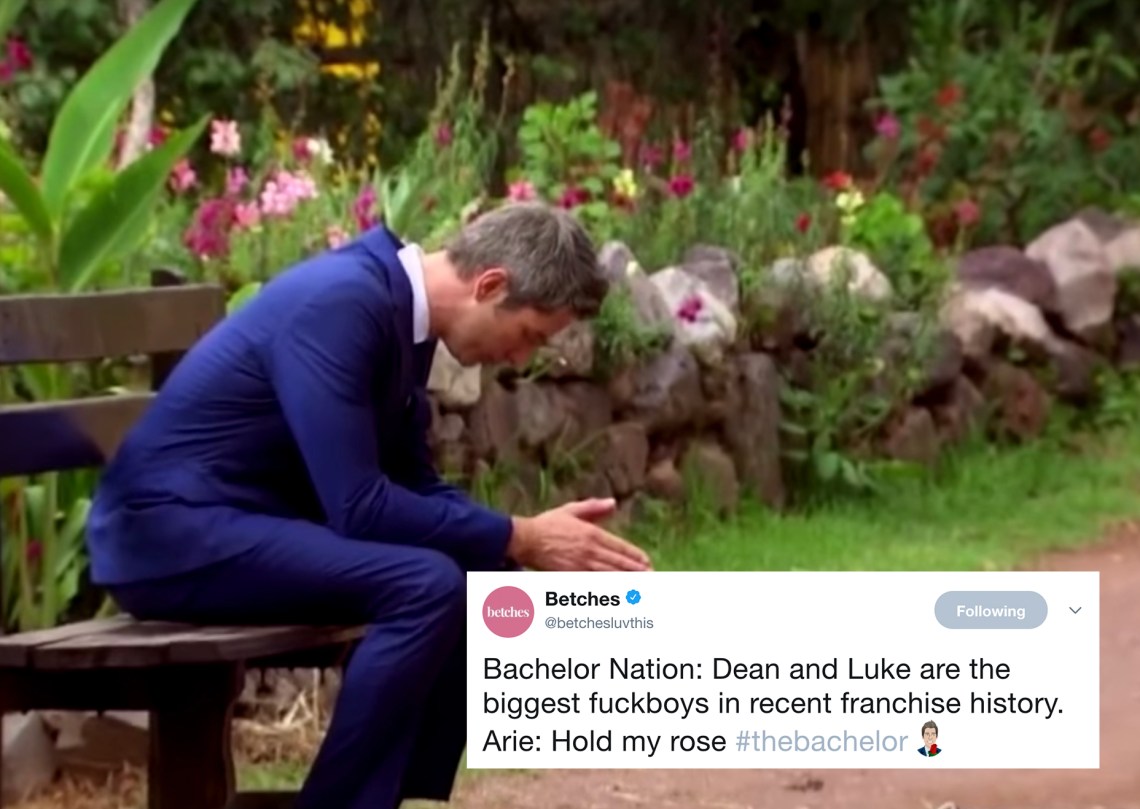 Well, whoever thought Arie Luyendyk Jr.'s season of The Bachelor would be completely boring is, in fact, wrong. Arie might not be a particularly interesting candidate for the show, but he did prove to be one of the worst Bachelors in the show's history after he broke up with the show's winner on live TV so he could pursue the runner-up. Yep, it was as awful as it sounds, and definitely not something we all needed to see.
The world has shown its sympathy for Becca, who remained surprisingly strong during the breakup, and its disdain for Arie, who is sort of not helping the male population look any better right now. It's been called "the worst finale ever" (no, seriously) and has even prompted many to wonder whether they should stop watching the Bachelor franchise altogether.
But there was one good thing that came from last night's finale: some fire tweets from some fired-up fans. Here are our absolute favorites from the night:
1.
https://twitter.com/MelissaStetten/status/970911914652975105
2.
#thebachelor Arie outside of Becca's room 4 hours after she asked him to leave pic.twitter.com/81KCwmJwOF

— Shock&Roll (@SHOCKundROLL) March 6, 2018
3.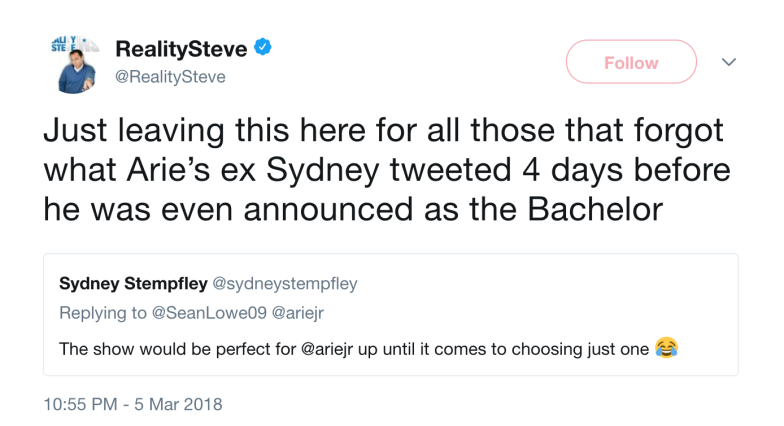 4.
I fully support everyone who is Venmo(ing) Becca 💰 for 🍷 #thebachelor 🌹 #dodgedabullet pic.twitter.com/Ma0t00wjXL

— Brittany (@BrittanyLynn721) March 6, 2018
5.
Bachelor Nation: Dean and Luke are the biggest fuckboys in recent franchise history.
Arie: Hold my rose #thebachelor

— Betches (@betchesluvthis) March 6, 2018
6.
Somewhere Juan Pablo knows he's no longer the most hated #bachelor #thebachelor @BachelorABC and is whispering softly to himself "esss okay"

— Alyssa Cannon (@MissAlyssaC88) March 6, 2018
7.
https://twitter.com/whats_ur_sign_/status/970879871982317568?ref_src=twsrc%5Etfw&ref_url=http%3A%2F%2Fwww.eonline.com%2Fnews%2F918691%2Fbekah-martinez-calls-out-arie-luyendyk-jr-for-dm-ing-her-after-the-bachelor
8.
Producers: Can we film your breakup?
Arie: #TheBachelor pic.twitter.com/DcbwEJfaft

— derek peth (@PethDerek) March 6, 2018
9.
If only Arie was as decisive in relationships as he is in racing… but then again, when was his last win? #TheBachelor

— Kristina Schulman (@kristinaschulma) March 6, 2018
10.
https://twitter.com/SplitLifeLvin/status/970895039470690304
11.
Last night, Arie from #TheBachelor had a few additions to his wikipedia page. (They've since been 'corrected') pic.twitter.com/XwJo4At9tq

— Hawkeye (@HawkeyeOnAir) March 6, 2018
12.
Becca : please just go
Arie for the last 40 minutes : #thebachelor pic.twitter.com/sZbXl7GwJ3

— Kailyn Redding (@kayyreddingg) March 6, 2018
13.
Me when Arie is just sitting there after Becca tells him to leave #TheBachelorFinale #thebachelor pic.twitter.com/lHt8MQyT1r

— JJBeats (@jjbeats_) March 6, 2018
14.
How many times I would have slapped Arie during this episode of #TheBachelor pic.twitter.com/pOhSiD7IG8

— Kaitlan V (@kaitlan_v) March 6, 2018
15.
Arie is the guy who won't leave until you tell him you forgive him for cheating on you. #thebachelorfinale

— Amanda Smith (@AmandaRTubbs) March 6, 2018
Arie still seems to have no idea why the world hates him now, which you can just add to the list of reasons why he ain't shit. Boy, bye.