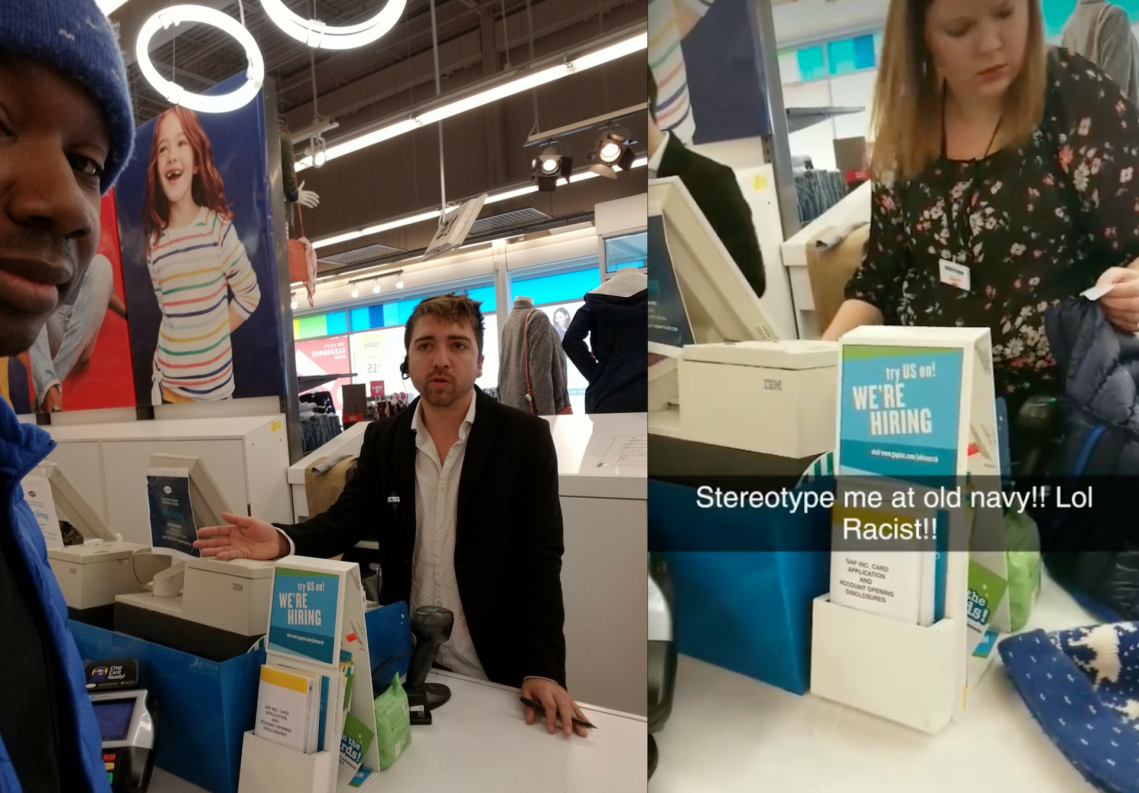 Three employees in a Des Moines Old Navy were recently fired for wrongly accusing one of their customers of theft. Why? Because the employees were convinced the black customer was trying to steal their merchandise.
James Conley III was just trying to buy some clothes from Old Navy when of its employees asked him if he wanted to buy his jacket, too. They accused him of trying to steal it, but here's the thing — it was actually his jacket, the same one he'd entered the store in.
James wrote about the incident on Facebook with this post:
Today I was racially profiled by the Old Navy store in West Des Moines, Iowa in Jordan creek. I was accused that I didn't pay for my blue bubble jacket that I got for Christmas that I wore into the store. As I was checking out to purchase some hoodies, I was asked if I wanted to also purchase the jacket that I was wearing. First, I started laughing because I didnt believe what I was hearing. The store manager Beau Carter was very unprofessional and stereotyped me because I was a Black male. He says "anytime someone wears Old Navy clothing they have to always scan that customers clothing to insure that it was previously purchased". (Where do they do that at?) Every time I go to this store I have on my same exact winter blue jacket and have never been asked to scan my clothing and the previous "non-black" customers had on identical apparel as me from old navy but was never asked to scan their clothing. Then after they scan my jacket they try to make me repay for it?? Finally the District Manager Shannon (who refused to give out her last name) came out and I made her check the surveillance tape to prove that her and her fellow employees were in the wrong for racially profiling me because of the color of my skin. Once she confirmed that I was telling the truth (after watching the tape) she never came back out to apologize to me nor did the store manager Beau Carter as you can see in my videos below.
You have to admit, that's a pretty terrible way to handle the situation. Not only did they racially profile James, but they didn't even apologize to him afterward. What kind of shitty customer service is that? James has pretty solid proof, too. He took several videos of the incident and uploaded them to Facebook, and they have since gone viral.
James is reportedly filing civil rights complaint and then a civil damages lawsuit. After garnering such a strong response from his post, he realized just how important it was that he speak up and condemn the employees who wrongfully accused him based off his race, and that it was his job to help put an end to racial profiling in stores and elsewhere.
"It's just a blessing to see this nationwide and hearing my story out, to see them in the wrong and accusing me of something that I have never done in my life," James told KCCI Des Moines.