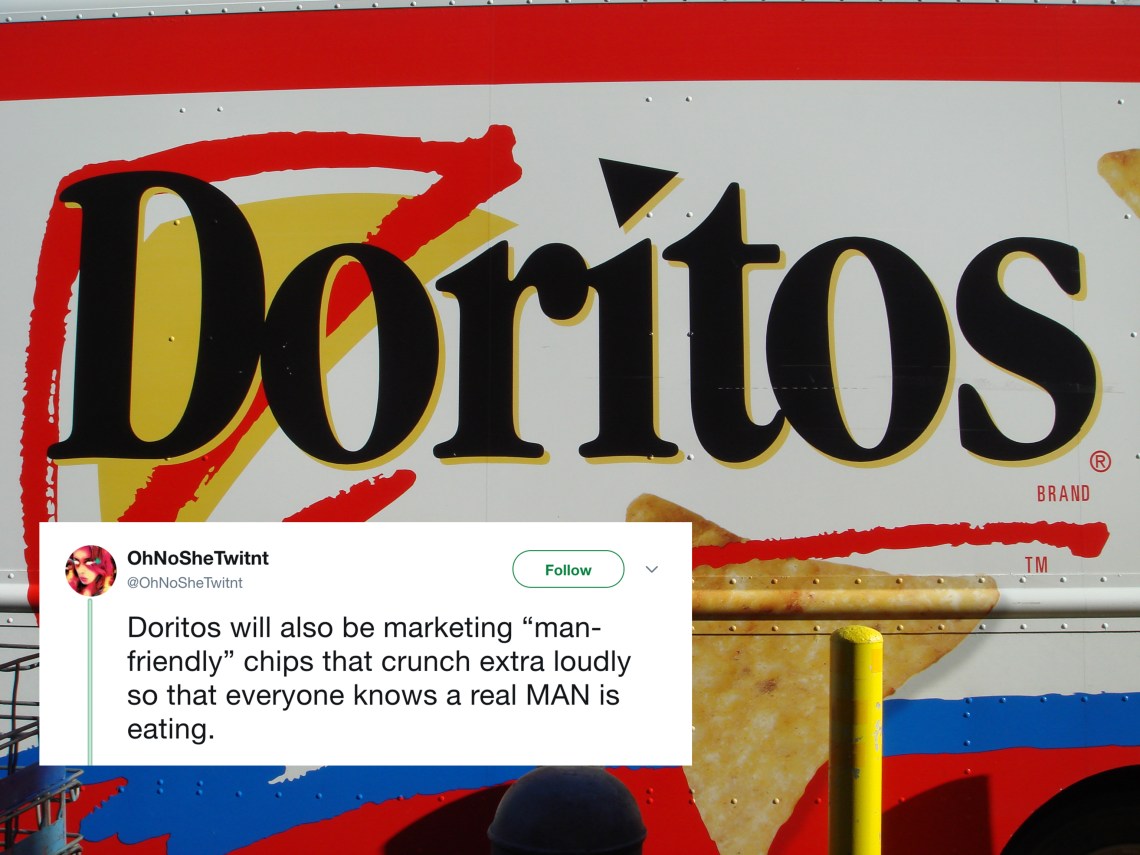 It's 2018. Feminism is all the rage. Discussions surrounding equal pay, sexual harassment, and privilege are at an all time high. But none of that fucking matters, because guess what? Doritos is now making chips just for you, ladies!
The company announced it's new "lady-friendly" chips earlier this week, which are reportedly quieter to eat and less messy. Why? Supposedly the research shows that women prefer to eat quietly and don't like licking their fingers, unlike manly men of today. Yes, we have truly reached peak feminism. There is no going up from here.
THANK GOD. My fellow feminists, we can end our fight. We have won.

— Chelsey Engel (@femmewithapen) February 5, 2018
Let's just say people were a little confused when they realized the reports weren't satire.
https://twitter.com/quintabrunson/status/960555281380880384
How is this *not* from The Onion? HOW?

— Bitter Bean (@VengefulYankee) February 5, 2018
But you know, since we're talking lady chips, we have some ideas…
.@Doritos If you're doing "lady-chips," I would love some Cool Ranch infused with Plan B

— Lauren Duca (@laurenduca) February 5, 2018
Doritos will also be marketing "man-friendly" chips that crunch extra loudly so that everyone knows a real MAN is eating. https://t.co/rg7ONYMgOK

— The Volatile Mermaid (@OhNoSheTwitnt) February 5, 2018
I don't feel masculine enough when I eat my chips anymore, please make ones that explode in my mouth like cellphone batteries @Doritos https://t.co/QE1DgsdFkB

— BUM CHILLUPS AKA SPENCER HALL (@edsbs) February 5, 2018
Honestly, Doritos are doing us a service. Women can finally equally enjoy chips, which is what the Suffragettes were truly fighting for.
DORITOS THANK YOU FOR PROTECTING ME FROM THE BIG BAD CRUNCH I WAS SO SCARED

— Kendra Alvey 👻 (@Kendragarden) February 5, 2018
https://twitter.com/notdestany/status/960516489739685888
How about you work on making a bag that doesn't open so loudly, Doritos? I don't care who hears me crunch, but if I have to deal with the embarrassment of trying to quietly open a snack size bag of chips in a silent movie theater ever again, I might die.