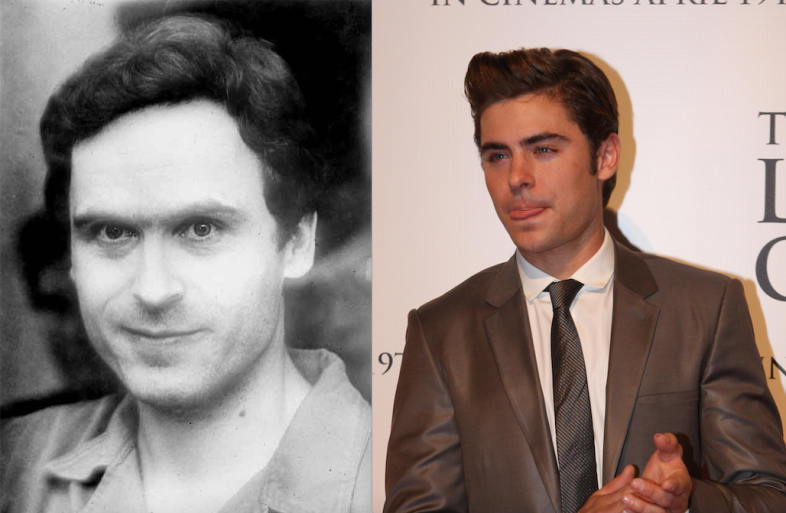 Zac Efron has had a pretty good year, as far as his work is concerned. His last two films, The Greatest Showman and The Disaster Artist, are both making rounds at awards shows and have gained huge fan followings in the process, and it's nice to see the actor getting the recognition he deserves. His next project, however, is grittier than anything he's ever done before.
That's right — Efron is taking on notorious serial killer Ted Bundy in a biopic about his life called Extremely Wicked, Shockingly Evil and Vile, which is set in the 1970s and will be told from the perspective of Bundy's 7-year girlfriend Elizabeth Kloepfer (who will be portrayed by Lily Collins).
Though there hasn't been much information released about the movie as of yet, Efron did tweet this picture with the caption, "Meet Ted."
Meet Ted. #BehindTheScenes 🎬 pic.twitter.com/42IREG2kX6

— Zac Efron (@ZacEfron) January 17, 2018
Though the shot is pretty far away, we're already getting creepy vibes from Efron. The photo is even more uncanny if you zoom in. Just look at this side-by-side comparison:
IM SCAREDDDD 😱 ASDFGHJKL pic.twitter.com/Z5eLnZeQgf

— Madelaine Kimmie Ho (@iamKimmieHo) January 17, 2018
Don't tell me there's no resemblance there.
It's definitely… weird. Most of us are used to Zac's roles as the brainless pretty boy (think Neighbors), but I have a feeling we're going to see a completely different and probably terrifying side to the actor in this movie.
I never thought of Zac Efron as Ted Bundy, but now he's the only actor who fits https://t.co/jsxLuB1G1C

— Jason "Delenda est Carthago" Hammond (@jasonhmmnd) January 17, 2018
Zac Efron playing Ted Bundy in his next film… I'm actually looking forward to that.

— Sal (@RegularSalman) January 17, 2018
I'm genuinely shocked by @ZacEfron and his versatility and time commitment as an actor. From The Greatest Showman to The Disaster Artist and now onto the Ted Bundy biopic, his projects never end.

— heran mamo / ሄራን ማሞ (@heranmamo) January 17, 2018
Let's just hope Efron's masses of adoring fans don't start to weirdly romanticize Ted Bundy after this. Remember: he was a serial killer.
https://twitter.com/tomhstyles/status/953721129650311168
While the biopic doesn't yet have a release date, we can assume it'll be sometime in 2018, since filming was rumored to begin last October. And with stills finally making their way to the public, it's only a matter of time before we get the first trailer. Here's to hoping that the film lives up to its name.