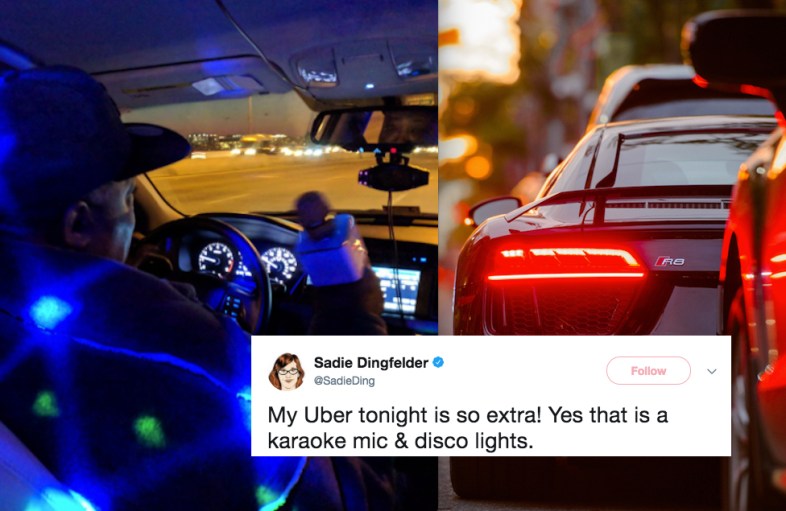 Uber drivers, beware. Once your passengers take a ride in this car, it's gonna be hard for you to get that five-star rating ever again.
Once upon a time, I was floored when my Uber driver offered me water and a snack. But not anymore. It's going to take a lot more to impress me now that I've seen the Nirvana of all Ubers, aka this car that turns into a dope ass club at night.
https://twitter.com/ameliargh/status/954439671647522821
https://twitter.com/isilmerel/status/951667549988630530
Seriously, I cannot get over this. Why aren't all Ubers party cars? (Okay, I get it — if I were trying to drive with all that going on at once, I would 100% crash. But still!)
My life will now not be complete until I've been in a similar vehicle. I thought I'd aced life the day I got into a Metallica themed black cab, complete with stickers and heavy metal music. https://t.co/o4ySBdf4UY

— Unicorn Nebula (@UnicornNebula) January 19, 2018
My uber last night had a smoke machine……. A SMOKE MACHINE

— L (@linkeraura) December 16, 2017
Big up pic.twitter.com/G8Q1uSS5HU

— Es (@ellenssselley) January 17, 2018
This car legitimately comes with a karaoke mic. A KARAOKE MIC!!! If I could just sing during the entire drive to the airport, my life would officially be complete.
My Uber tonight is so extra! Yes that is a karaoke mic & disco lights. pic.twitter.com/04DqAQyl2y

— Sadie Dingfelder (@SadieDing) January 17, 2018
My Uber driver legit had a karaoke station in his car. Mics and iPad mini for lyrics + neon lights #partay pic.twitter.com/YuufH74SMc

— Michelle (@michellechanme) December 29, 2017
Okay so maybe it's all a little extra, but can you blame him? The dude's just trying to make a living and keep his customers happy, and he seems to be doing a pretty great job.
I Cannot Lol. My Uber Has Disco Lights In This MF pic.twitter.com/BEaq7QD2Ys

— Tye ✨ (@TylerGenise_) December 14, 2017
Honestly, I wish club Ubers were a thing everywhere. It would make coming home from the bars actually feel worth it.