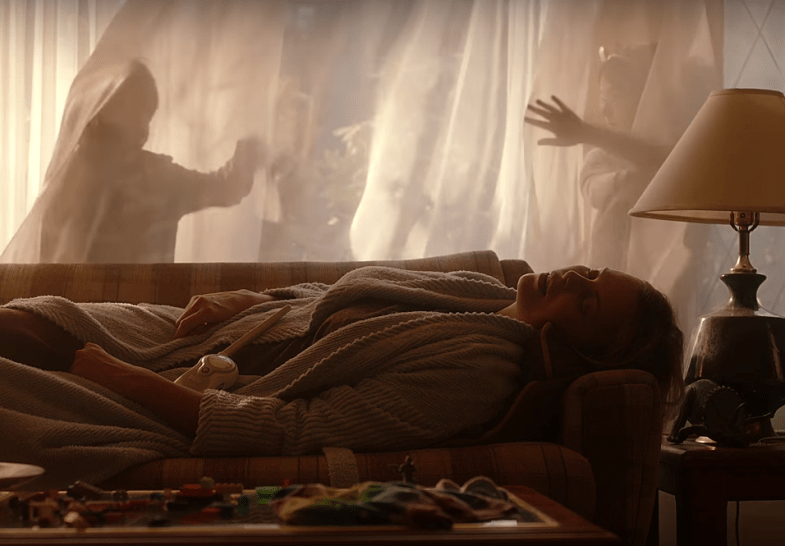 It looks like 2018 is going to be all about women — and after this past year, we need it.
This year's movie awards are already being swept away by films about strong women, most notably Three Billboards Outside Ebbing, Missouri and Greta Gerwig's Lady Bird, and it looks like filmmakers are angling for this next year to follow suit. Just look at Tully, a depiction of modern womanhood and what it means to be a mother in today's society.
Tully is, on its surface, the journey of Marlo (played by Charlize Theron), a mother of three who seems to have lost herself in the role. She's constantly tired from taking care of her newborn baby and can't seem to catch a break from anyone, even her husband, who delivers a jab at her for serving frozen pizza for dinner. Mothers are expected to be able to do it all (and do it well), and Marlo isn't an exception. Except, well, it's kind of unrealistic when you think about it.
This isn't lost on the filmmakers, who focus on Marlo's journey as an overworked mother who seems to have lost herself in the role. In an exclusive interview with People magazine, Theron explained that Marlo is just one of the many women who struggle with self-identity and motherhood:
"Marlo is a woman who tries her best to keep up with the demands of being an attentive mother, a loving wife, and maintaining at least some self-identity through it all. But at the end of the day, she's human, and she drops the ball a little. Or a lot."
Yeah, you could say that. The trailer shows Marlo quite literally dropping her phone on her baby's face while it sleeps. And while you can't help but cringe at the scene, it's 100% relatable to a lot of moms out there. Who hasn't dropped the ball (or their phone) at least once as a parent? Sure, Marlo is a mom, but she's also just a person who's figuring things out by herself as she goes.
That is, until her brother hires her a night nanny named Tully (played by Mackenzie Davis, who Black Mirror fans will recognize from its acclaimed episode "San Junipero"). While the trailer doesn't go into how Tully will change Marlo's life (her only line in the trailer is "I'm here to take care of you," words that could bring any new mom to tears), IMDb does disclose that the pair will form a "unique bond." Considering the script was written by Diablo Cody, the mastermind behind cult classic Juno and Young Adult, that's pretty believable — Cody is a pro when it comes to writing movies that are equal parts witty and touching. Get ready to laugh out loud and then cry once the climax hits you like a ton of bricks.
Tully is scheduled to come out in theaters on April 20, so mark your calendars now — I have a feeling it's going to make a pretty big splash this year.