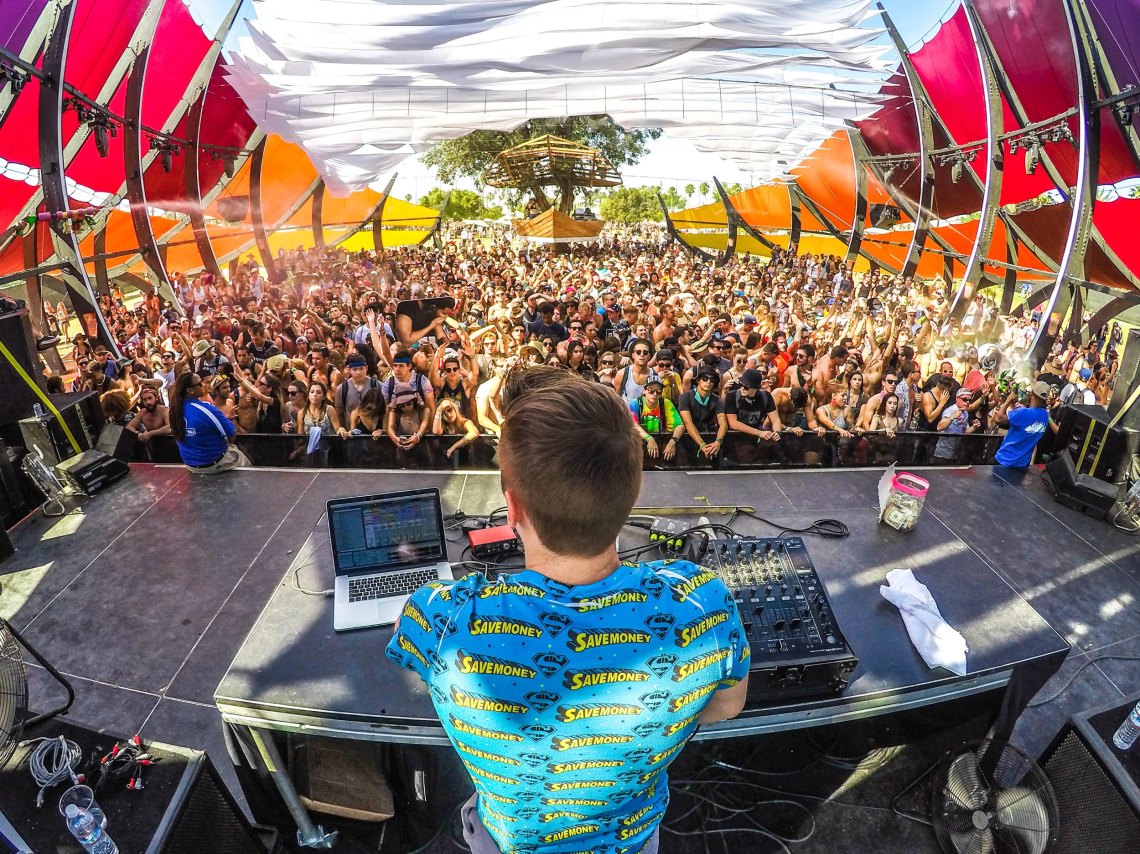 Oh, to be young and hot (at least I have one going for me???). If you're a woman between the ages of 21-24 and beautiful enough that this dude bro's best friends would definitely consider banging you, you might just get into Coachella for free — I mean, as long as you're willing to put up with the insufferable douchebag who's offering to take you.
This guy (who claims to be an electronic music producer whose brand will "change mainstream electronic music forever") really isn't asking for much. Along with being young and bangable (not that he wants to bang you, he swears), you just have to promise to hang out with him for the whole festival and also really, really hate Diplo. In fact, you have to hate Diplo so much that you treat him like shit if you see that. But if you can follow those simple rules, you're in the clear!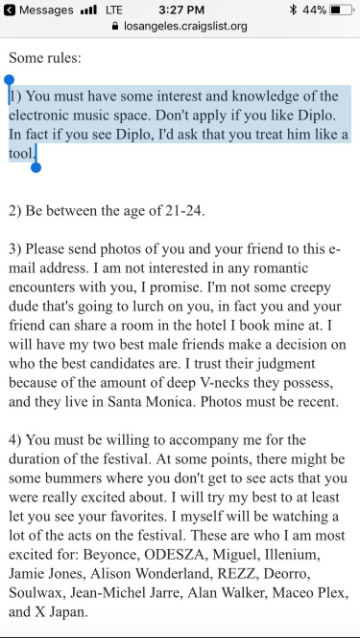 But he swears he's not creepy. Seriously, not at all. He's just going to have his two best friends judge every picture you send to him, but they're bros who know how to rock a V-neck, so no worries!!!
"I'm not some creepy dude"

Nice try, creepy dude.

— sleep is shadowbanned 😥 (@shadowbansleep) January 3, 2018
"i will have my two best male friends make a decision on who the best candidates are. i trust their judgment because of the amount of deep v-necks they possess"

this has to be a fucking parody

— in love with a ghost (@LVGHST) January 3, 2018
But like, real talk: what would this dude do if he did find a date and she ended up ditching him for Diplo? Then what???
coachella is 4 months away and this dude is already afraid im gunna steal the girls he doesnt have yet pic.twitter.com/EsEQXbNTiJ

— Diplo (@_diplo_) January 3, 2018
Anyway, if you're willing to put up with this fuckboy who obviously just wants to use you as a tool for his own betterment, then by all means, get your free ticket, girl. Just be sure to tweet about it so I can find out how the whole thing goes down.