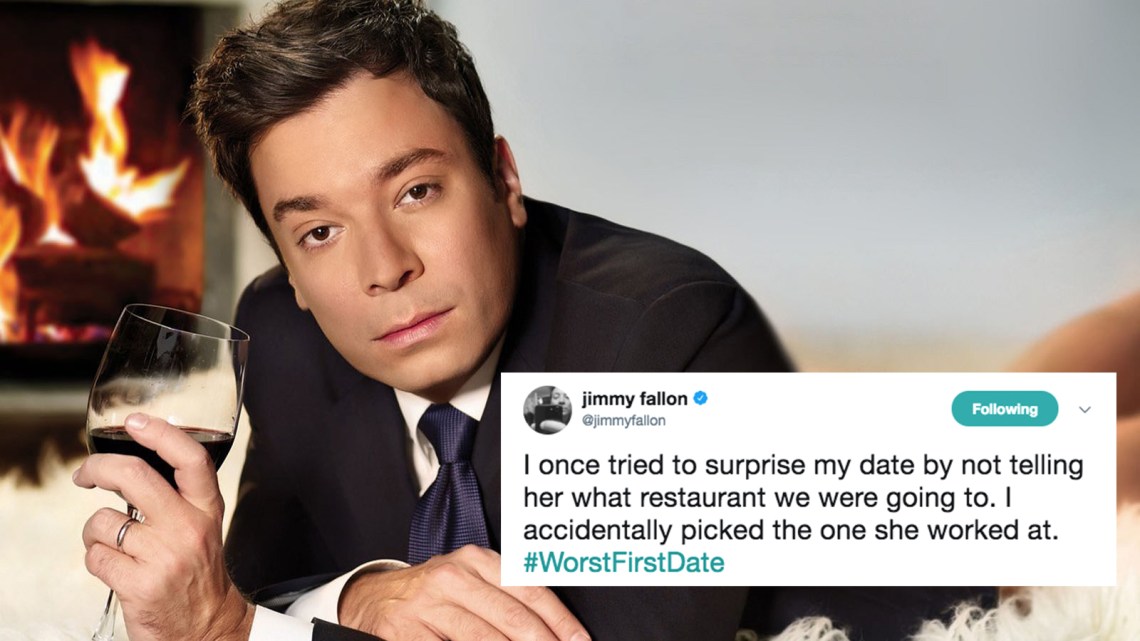 Almost everyone has a first date horror story. For instance: I once went on a date with a friend without realizing it was actually a date and ended up bringing along my best friend, successfully ruining any chance of ever having a date with that person again. At the time, I felt horrible, but looking back it's pretty hilarious. Maybe everything's funnier in hindsight?
Jimmy Fallon asked his fans to tweet their own stories with #WorstFirstDates for the hashtag segment of his show.
It's Hashtags time! Tweet out your funny or embarrassing first date story and tag it with #WorstFirstDate. Could be on the show!

— jimmy fallon (@jimmyfallon) January 10, 2018
He started out with his own worst first date, which, to be fair, seemed less his fault and more like the universe just wanted to punish him.
I once tried to surprise my date by not telling her what restaurant we were going to. I accidentally picked the one she worked at. #WorstFirstDate

— jimmy fallon (@jimmyfallon) January 10, 2018
Others joined in and started tweeting about their own terrible first dates, which are honestly pretty hilarious. Seriously, some of these things are straight out of a sitcom.
I was really into this guy but i was so nervous, well this is our first conversation:
Guy: you smell good
Me: thanks I use both of my nostrils #WorstFirstDate

— 𝚓𝚘𝚛𝚍𝚊𝚗 (@jordanpaulsonn) January 10, 2018
#WorstFirstDate this guy spent the whole time talking about his bunny and how he believes in "bunnies before hunnies". After the date, he told me he had his bunny in his car for me to see. Sure enough, there's a goddamn bunny in his car with a yamaka on.

— Kayla McCaffrey (@kaylammccaffrey) January 10, 2018
I met a girl for a blind date once. She didn't say a single word throughout dinner, finished her meal and walked out. I then checked my phone and there was a msg from the girl saying she couldn't make it tonight… Who the hell did I eat with!? #WorstFirstDate @jimmyfallon

— Scott Sedore (@sedore93) January 10, 2018
He took me to a restaurant and went to the bathroom a lot and stepped out often to take calls. I thought it was weird, and then the waiter said "you know he's at another table with a blonde woman right?". he had 2 first dates at once #worstfirstdate

— Kels (@see_kel) January 10, 2018
The guy accidentally texted me instead of his mate about how the date was going, saying he regretted asking me out. We both checked our phones at the same time. There was an awkward silence for the rest of the ride. #WorstFirstDate

— Maïté Lombard (@MaiteLombard) January 10, 2018
He took me to Applebee's. Where his ex-wife was a waitress. #WorstFirstDate

— ouija (@ouijadorelire) January 10, 2018
#WorstFirstDate My first date, and my first time at a sushi place, I decided to order thirteen rolls…I thought rolls meant individual pieces of sushi. Let's just say I was embarrassed when we had to have two tables pushed together just to hold them all.

— Spense (@50Spense) January 10, 2018
There were plenty of incredibly awkward stories involving family, which just got weirder and weirder…
Halfway through dinner he said, "Not gonna lie, I thought you were your sister." #WorstFirstDate

— Becca Delp (@BeccaDelphia) January 10, 2018
Me and my date were at the movie theatre, and popcorn kept flying out of nowhere and hitting my date on the back of her head. Turns out my younger sister had bought a ticket to the same movie and sat behind us just to throw popcorn at my date. #WorstFirstDate

— Justin Blankenship (@Padfoot93) January 10, 2018
One time, I took a girl to the movies. During the movie, she kept looking at the person behind her. Turns out, her Dad was sitting behind us the ENTIRE time. #WorstFirstDate

— Overpriced Kyle Mooney (@BusyWillyBoi69) January 10, 2018
My date said he'd pick me up but didn't mention that his Mom would be the one driving the car. #WorstFirstDate

— Annie Jackson (@Annie_Jackson7) January 10, 2018
We stopped by his family's barbecue on the way to our date and found out we were third cousins. #worstfirstdate @jimmyfallon

— lici kanan lopez (@lici_lopez) January 10, 2018
And then there were the terrible dates that had genuinely amazing endings.
as we were saying goodbye, she thanked me for taking her to the movies and I said something like, "yeah, I didn't have anything else to do." next month will be our 3rd wedding anniversary. #WorstFirstDate

— Robert (@notthefakeRKT) January 10, 2018
https://twitter.com/mfonda/status/951170014425550848
In college got invited to a girls house for a "home cooked' meal . Recipe called for 2 cloves of garlic, she used 2 HEADS of garlic…sweated out garlic for a month…all's well that ends well…married almost 30 years…still can't cook though! #WorstFirstDate

— Gerry Carlin (@GerryCarlin) January 10, 2018
On my first date with my now wife, she walked into the restaurant and proceeded to walk around the whole place because she had forgotten what I looked like. I eventually waved her down after letting her walk and look around for 5 minutes #WorstFirstDate

— Cass (@_Cx2_) January 10, 2018
They're all pretty hilarious (and terrible, and traumatizing), but if you ask me, this one is the winner:
In college, a friend set me up on a blind date. I wasn't in a great mood because I had received a traffic ticket a few hours before. My day got worse when my blind date turned out to be the cop who gave me the ticket. #WorstFirstDate @jimmyfallon

— Linda Childers (@lindarchilders) January 10, 2018
If you have your own terrible first date stories, please share them with me. I LIVE for this.