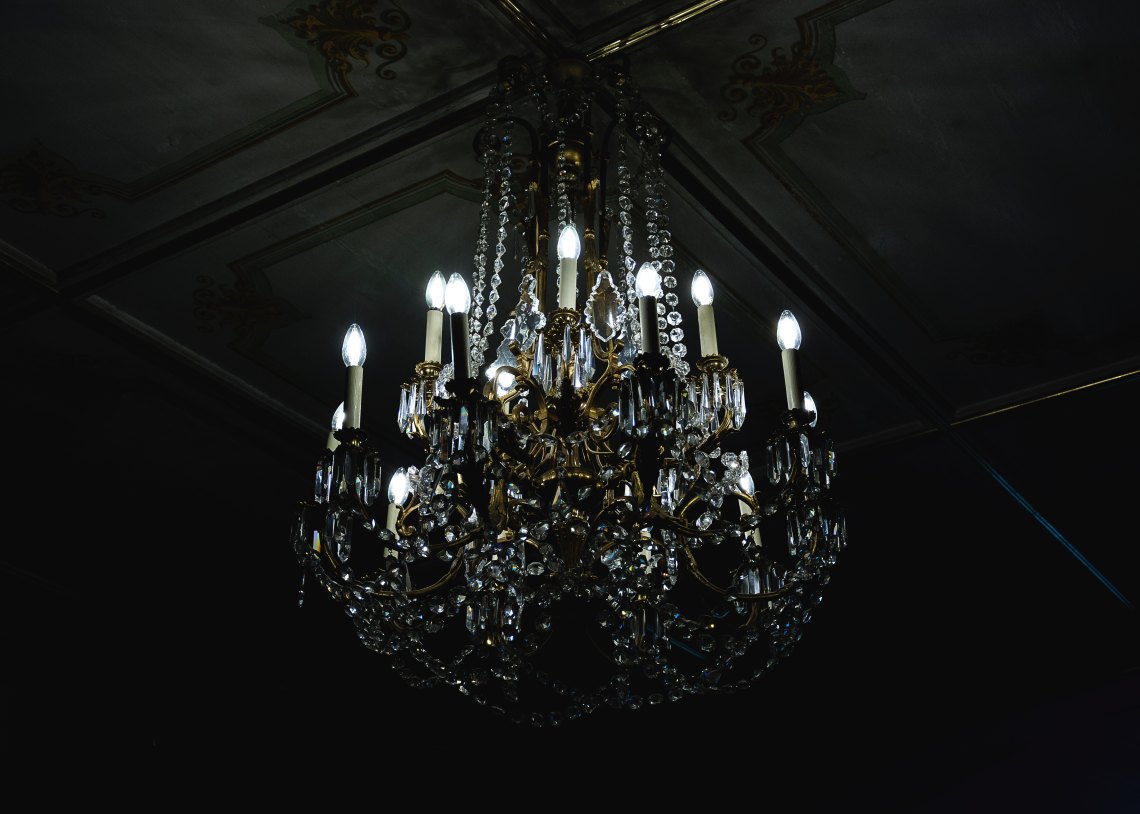 You know, I'd like to think I'm pretty open-minded when it comes to relationships and who people choose to spend their lives with, but I guess that maybe I'm a lot less tolerant than I thought. Mostly because when I heard the story about the lady who was dating several lamps all at one time, all I could think was, "What the fuck???"
Amanda is a 33-year-old from Leeds, England who is in love (quite literally) with light fixtures. While she likes to spread her love to all her lamps (at the moment, there are 25 in all) and cycles between sleeping with a different one each night, there's one in particular she's got her sights on staying with forever — and she actually proposed to it.
Yep, that's right. Not only is Amanda quite literally sexually attracted to lamps, but she plans to walk down the aisle with one soon.
According to Inside Edition, it was love at first sight — she knew immediately she needed to have that chandelier, who she named Lumiere after the Beauty and the Beast character. She told the magazine:
"I couldn't stop thinking about her and how beautiful she was — she has such a beautiful shape, and I could feel really amazing energy coming from her. Although I knew it would be tricky to get her home, I knew I needed to find a way to make her mine."
Honestly, that's more romantic than anything I've ever said about anyone in the entirety of my life, so maybe it's a bit harsh to judge her for her sexual preferences. Amanda, for one, is not embarrassed about her love life and is proud of her uniqueness: "If we were all the same, the world would be a very boring place."
Amanda's story is definitely bizarre, which led to a lot of mixed reactions (and honestly, we still have a LOT of questions.
I sometimes wonder if im going insane when i read rubbish like this.

— patybutler (@patybutler1) December 5, 2017
What happens when the chandeliers break? Also does it know that it's engaged to her? And is it chandelierphobic to ask if it has a gender? https://t.co/0taqt6zF1y

— leah (@leah699) December 7, 2017
Well, stated. She publicly identifies as objectum sexual – I give her major props for sharing her story. I also give her props for cuddling with a lamp – seems MOST uncomfortable. I can't even spoon w/my hubby on a reg basis🙅

— MARISSA TORRES PIX11 (@MarissaTorresTV) December 6, 2017
Not too weird. Have you seen the choices on tinder?

— PeachyGrits🍑 (@heatheroverhere) December 8, 2017
Honestly, at this point, it seems safer than dating a man https://t.co/h3hsEI75p0

— large marge sent me (@_LLRobertson) December 6, 2017
You can watch the video of Amanda's interview here:

Love is love, I guess.