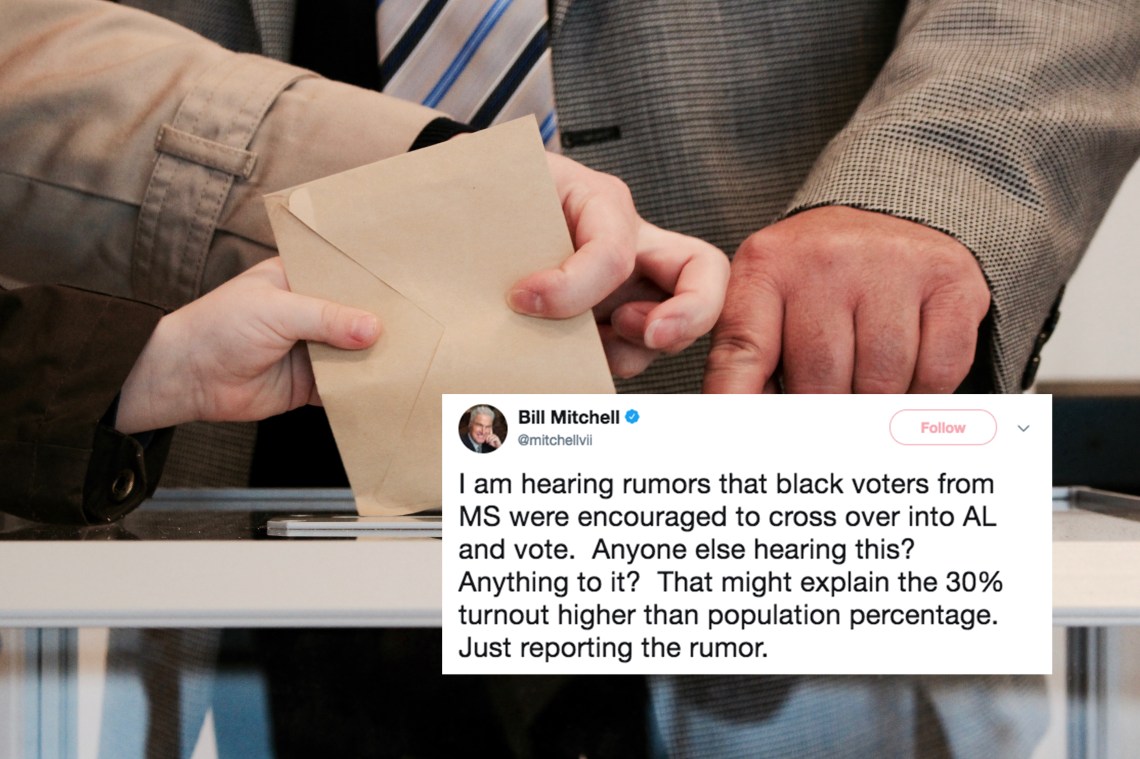 You know what I love? A good conspiracy theory. Do you know what I love a lot less? A racist conspiracy theory. But it's 2017 and here we are.
As most of you know, Doug Jones won the election this week over Roy Moore, an upset that's been making rounds through the news cycle. According to the stats, Jones's victory is thanks to black voters, especially black women, who overwhelmingly overwhelmingly for him.
Bill Mitchell, a famously outspoken Trump supporter, had some words about Jones's victory. Words he probably should have kept to himself, honestly, because when strung together in a coherent sentence, it became one wild, idiotic conspiracy theory about black voters.
https://twitter.com/mitchellvii/status/941045103673606144
Okay, dumbass. Do you really think people can just walk across the state line and vote despite, I don't know, not having Alabama I.D.s and not being registered in Alabama? Does that sound a little stupid, Bill? Huh??
Apparently it's much more likely that PoC "cheated" in the election than that they were, I don't know, pissed that people wanted to vote in an alleged pedophile who said things were much better in a time when slavery existed. Luckily, the great people of Twitter know how to run with a tweet and turn it into a total joke, which is what they did — by "comfirming" Bill's fears.
Can confirm that I and about 2500 others were bussed in from Wakanda

— ✨ yes ✨ (@_p3rs3ph0n3) December 14, 2017
Everybody knows Wakandan IDs are easily mistaken for Alabama's mandatory voter identification cards.

— KeepItReal (@nawlins24) December 15, 2017
And it just gets crazier (and funnier) from there.
https://twitter.com/orbis_quintus/status/941098792593567746
I, a Black, was bussed from D.C. with a convoy of 739 buses holding more than 35,000 BLACKITTY BLACKS, on Monday night. We were personally escorted by Barack Obama, Megatron and Black Panther. We all voted 19 times each. Happy Kwanzaa!

— Pfizer Floozy (@AsiaChloeBrown) December 14, 2017
https://twitter.com/trebienbeauty/status/941374855257214978
Even Oprah was involved.
Right. I don't do buses either. But the commercial flight from LA was poppin. Oprah led praise and worship. We sang Lift Every Voice and Sing the whole way. 27 votes a piece.

— Vacation Stanley (@dontcallmeJJ) December 14, 2017
You're lucky, Pennsylvania here. While the chartered buses were nice, the movie selection was poor. Hoping the check arrives quicker than the one for the pink yarn. Those million hats don't knit themselves.

— bp 🧶 (@allbaipage) December 14, 2017
And Harriet Tubman is back!
Yes, I can confirm these rumors. It was I, the reincarnated ancestor of Harriet Tubman, with rifle in hand, who brought a fleet of Mississippi Negroes across the border on the Underground Railroad, which was made of engines, boxcars, tracks and good, liberty-loving white people!

— Stacey Patton (@DrStaceyPatton) December 14, 2017
Can confirm!
I was sent this secret footage of Black women sneaking into Alabama to vote for Doug Jones. 🤫 pic.twitter.com/umdByzippP

— K.R. Whalen (@KR_Whalen) December 14, 2017
I invented a time machine, went back to 2016, moved to Alabama, voted for Jones, then used my time machine to vote for Jones 500 more times before realizing I could just go back to 1885 & push Trump's grandpa overboard before he made it to America. Hillary is POTUS now

— Elizabeth Kuster 🌊 (@bethmonster) December 14, 2017
If Bill wants to report rumors, then so will we.
I heard about the black helicopter flying away with boxes of Moore ballots. Hillary was the pilot and it was full of pizza slices and kidnapped children.

— Carson Stanwood (@carsonstanwood) December 13, 2017
Just reporting the rumor.

— Carson Stanwood (@carsonstanwood) December 13, 2017
God, I love the Internet.