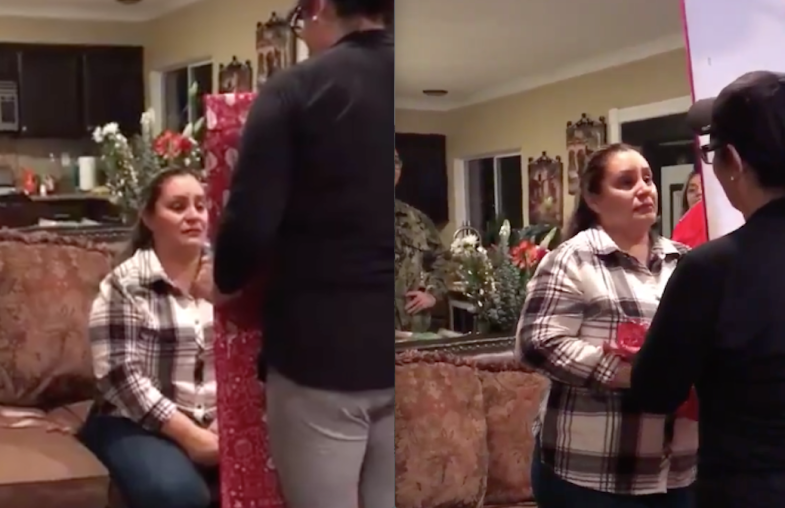 Nothing makes me happier than heartwarming, feel-good holiday stories. After all, isn't that what the Christmas season is for? Sure, some may argue it's a capitalist venture, but I'm an optimist. For me, it's all about miracles.
Let's just say this mom got a big one the other day when she was unwrapping her seemingly normal present. It turned out to be a giant mirror, which she seemed pretty "meh" about at first, but then she noticed the reflection.
Suprised my mom for Christmas, she looked in the mirror and saw her present ❤️❤️ pic.twitter.com/goY4Cf4vjp

— chєy$ (@cheeyannahh) December 25, 2017
Standing beside her was her daughter, who was in the military but came home to surprise her mom for Christmas. Am I the only one who cried at the mom's reaction when she noticed her?
(Lol of course not, only a fool wouldn't cry after seeing this.)
You have me in tears 😩😩😩 merry Christmas !! ❣️

— brenna marie . (@BrennaRayy) December 25, 2017
This is so awesome chey❤️

— Dan Man (@lozoya_daniel) December 25, 2017
What a great way to surprise Mom! Such a great job by this awesome family! Brought a tear to my eye!

— John Palmer (@Turwinkle) December 25, 2017
I cried tears of joy!

— VOTE. (@Grooms6) December 25, 2017
At least, it's cute if you actually know what's going on.
https://twitter.com/termodynamika/status/945388277087047680
What a beautiful present, for both the mom and the Internet — we all needed something like this, too.