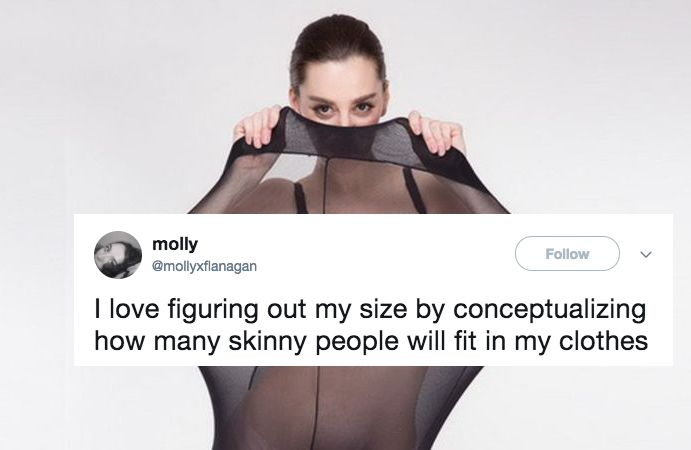 Wanna piss off your customers so much that you become a trending topic on Twitter? Easy — just advertise your products as tastelessly and offensively as possible.
Wish.com definitely did that, that's for sure. The online retailer, which is similar to Amazon, is selling their plus-size tights in the worst way: by having non-plus size models posing in the tights to show how big they actually are.
People aren't happy with how this website is advertising its plus-size tights https://t.co/7Z1ACHYTQ3 pic.twitter.com/vacBkxxyZJ

— TODAY (@TODAYshow) December 8, 2017
Some of the photos showed models fitting their entire bodies into one leg of the tights.
Really, Wish.com? Instead of just choosing picture of plus-size models wearing your product, you're going to make women feel shitty about themselves by showing how those same tights look on smaller models?
People certainly weren't pleased with the way the company decided to handle it, and they were quick to use all 280 Twitter characters to explain just why.
it would have been so much easier to hire plus size models for this. it's an unrealistic advertisement as well because there is no indicator of how it looks on a plus size body. it's inefficient as well as distasteful.

— emily angelica (@existentiaIly) December 9, 2017
very helpful to know that tights that might fit me completely engulf thin women, I definitely understand how these might fit my body https://t.co/8uVJy80AZm

— Charlie They Jepsen (@PublicStilli) December 10, 2017
Website: we need to be more inclusive to plus sized women and showcase plus sized tights.

Also website: let's put really thin women in plus sized tights. https://t.co/UGs1qqRTND

— Po 🇭🇹🇮🇱 (@AndImPo) December 10, 2017
All I wanna know is who designed this advertisement and thought yeah this is okay. Better yet who approved this advertisement and thought yeah this is okay. Why not just get plus sized models to advertise their plus sized tights 🤯 https://t.co/KhxLyi7lI7

— Shae-Lynn Luedée🥀 (@ShaeLynnLuedee) December 10, 2017
https://twitter.com/mollyxflanagan/status/939942188838014976
Some people claimed the website is actually notorious for stealing product images from other sites, and that the pictures aren't actually of plus-size tights at all — they're actually super flexible magical stockings from Amazon, and the models are showing how far they can stretch the tights without them tearing.
https://twitter.com/moonIightdrews/status/940017926224068609
https://twitter.com/moonIightdrews/status/939938204647440384
https://twitter.com/xo_victoria_xx/status/939958076068777989
See, here's the thing: it doesn't matter if they just stole the photos. The fact that the company is still using them to sell plus-size tights is pretty shitty. Instead, they should have found something that would accurately represent their product and customers, not something that's straight up insensitive and insulting.
https://twitter.com/CassieValor/status/940098521767612416
Basically, if you want to sell a product, don't piss off your fanbase. Wish.com may have gotten a ton of press over this, but I doubt anyone's going to be buying those tights anytime soon.