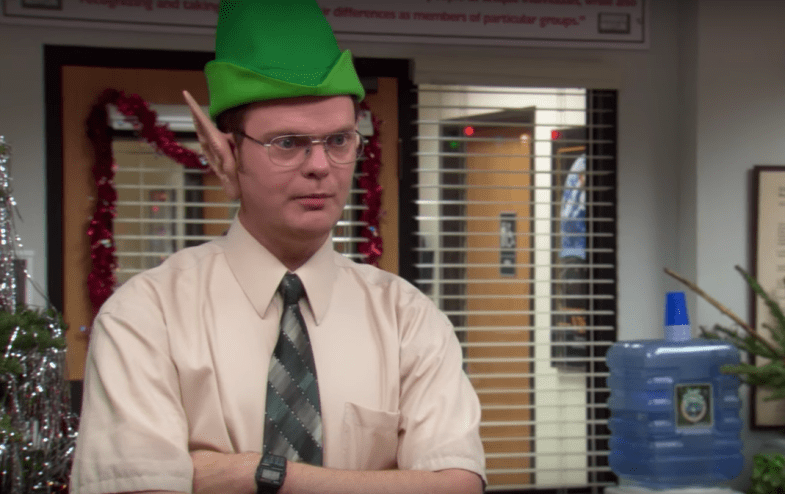 If you're as obsessed with the holiday season as I am, you're probably already streaming all the Christmas- and Hanukkah-themed episodes of your favorite shows. Trust me, I'm right there with you. That's why I've decided to compile this definitive list of the best holiday TV specials to watch this December.
https://www.youtube.com/watch?v=B6jCMaiTqG0
The best thing about The Office is that it's FULL of holiday episodes, but their first is by far the best. Dunder Mifflin's "Secret Santa" party goes awry when Michael pulls a classic, well, Michael move and switches up the entire gift-giving process, leading the entire office into mayhem as they compete over an iPod. What's best about this episode is that it has all the magic of the early Office seasons — Michael's tone-deaf actions, Jim and Pam's addictive will-they-or-won't-they chemistry, and, of course, Dwight's outrageous one-liners. This is definitely the episode I'll be playing on repeat this year.
I'm honestly obsessed with the holiday-themed Bob's Burgers episodes, mostly because they really focus on the spirit of the season. In this episode, Bob finds a squatter named Chet in a storage unit he inherited and the Belchers decide to take him in for the holiday season. But there are two distinctly unique things about Chet: he's great at creating window displays and he claims he used to be a store mannequin. As Chet becomes increasingly unstable, he threatens to ruin Christmas if the Belchers don't reunite him with his past love. This episode is as weird as it sounds, but it manages to be quirky and sweet all at once.
https://www.youtube.com/watch?v=k4RlViJkq40
If you're a fan of It's Always Sunny, this episode is classic. Mac and Charlie are gearing up for Christmas when they make some rather unpleasant realizations about their childhood holiday traditions, leading to a rather violent fallout as they attempt to confront the past. Dennis and Dee, on the other hand, try to get back at Frank for years of shitty Christmases with a plan a la A Christmas Carol, but that backfires when Frank realizes they still haven't learned the lessons he's been trying to teach them all along. The whole gang comes together at the end when Frank has a change of heart, but because this is It's Always Sunny, it doesn't have the heartwarming ending that you'd expect.
Community's first-ever Christmas episode is a huge nod to Christmas classics like Rudolph the Red-Nosed Reindeer, considering the whole thing is in claymation. Abed is stoked for Christmas, but his friends start to get concerned when he tells he views the world is stop-motion animation. The gang decides to indulge in his fantasy in hopes of controlling it, attempting to turn the day into a much-needed therapy session, but Abed has other plans: he's going to find the meaning of Christmas, whether his friends plan on helping him or not. It ends up being a sweet episode with a great meaning, and I, for one, can say that it definitely helped me get over my fear of terrible claymation.
When Ross's son Ben stays with him for the holidays, Ross is bent on honoring their Jewish heritage and teaching him about Hanukkah. But instead of being excited, Ben is upset that Santa won't be visiting him this year, prompting Ross to figure out how to mix both Christmas and Hanukkah into one succinct holiday. The whole debacle ends with Santa Claus, Superman, and "The Holiday Armadillo" all banding together to teach Ben the meaning of Hanukkah. Elsewhere, Phoebe tries to sabotage Rachel and Joey's living situation when she worries Rachel doesn't want to be roommates with her anymore.
It may not be part of the actual television series, but Bojack Horseman's Christmas special definitely could fit nearly anywhere in the storyline. Bojack doesn't plan on celebrating Christmas, but Todd manages to convince him to watch the special holiday episode of Bojack's old show Horsin' Around. The entire episode is a show within a show as we watch the youngest daughter on Horsin' Around discover Santa for the first time, but she has a big wish for him: she wants him to bring her dead parents back. Horsin' Around brings us the normal Christmas sentiments we're conditioned to look for in holiday specials while Bojack Horseman delivers the strained, somewhat sad satisfaction we've learned to expect from such a dark, funny show.
The OC introduced me to the idea of "Christmukkah," the merging of Christmas and Hanukkah into one beautiful, festive holiday. At least, that's what they celebrate in the Cohen household, where half the family is Jewish and the other half Christian. It's Ryan's first year with the Cohens, which means he's along for the ride. But because this is the OC, there's still plenty of drama between festivities: there's a lavish party, Sandy and Caleb have a showdown, Marissa gets drunk (lol are we surprised?), and Anna and Summer compete for Seth's confession. Let's not forget Summer's Wonder Woman surprise, which is definitely one of the best OC moments of all time.
You wouldn't expect SNL to be high up on the Christmas special list, but boy, did this one hit all the right notes. In his opening monologue, Alec Baldwin is visited by the ghost of Christmas present and future (John Goodman and Jimmy Fallon, respectively), though not past, who happened to drink just a little too much the night before. This episode also introduced us to "Schweddy Balls," which is hands-down SNL's best holiday-themed skit (and yes, it's about almost exactly what you think. Almost.)
When the family realizes they won't be able to be together on Christmas day, they make a plan to celebrate early — only to realize that the only day they'd all be free to spend together before New Year's is actually that very day. They decide to throw together a last-minute holiday get together, meaning they have only a few hours to get a tree, decorate the house, buy gifts and make a special Christmas dinner. The episode is full of all the gags and witty one-liners that you'd expect from Modern Family, as well as one parting Christmas message: even when everything goes wrong, you still have family.
10. New Girl, "Santa"
https://www.youtube.com/watch?v=7YSpv0u7eY0
The gang decides to spend the holidays jumping from Christmas part to Christmas party, but they don't expect the drama that comes with it. Jess is revisited by an ex who hopes to make things right, Schmidt must deal with Cece's rejection, and Nick has to come to terms with the fact that his girlfriend is a bit of a wild child – and that she definitely wants to have sex with him in public. It's a cute episode that's all about love and friendship, and I'm here for it if only because of Nick's terrible attempt at a lap dance.
It's Christmas in New York and the TGS cast is getting ready for their annual Ludachristmas party, but the whole thing is ruined when Kenneth locks everyone in a room and forces them to focus on the true meaning of Christmas (with a little help from a reverend, of course). Elsewhere in the city, Liz's family and Jack's mother have all come up to visit. Liz's seemingly perfect and oversupportive family gets to Jack, whose mother, Colleen, is as critical and bitter as ever. As both storylines head toward disaster, the show reminds us of two critical things: Christmas isn't just about the gifts and every family is, at its core, dysfunctional.
12. Parks and Recreation, "Citizen Knope"
https://www.youtube.com/watch?v=71_bSCzLjrg
During her two-week suspension, Leslie decides to use her extra time to focus on her campaign and forms a citizens action committee to continue involvement in the local government. She also surprises her friends at the Parks and Rec department with incredibly thoughtful and meaningful gifts, which prompts her co-workers to build her a miniature version of City Hall made of gingerbread — and another present that's far more meaningful.
When Rebecca's critical mother Naomi visits West Covina for Hanukkah, Rebecca finds herself bending over backwards to please her — and even going so far as to lie about her life. Rebecca hopes that if Naomi is proud of her new life, she'll finally give Rebecca a precious heirloom she's been waiting her whole life to inherit. But when Naomi discovers the true reason she came to California, it threatens to ruin their entire relationship. Meanwhile, Greg visits his mother for Christmas, though he's still bitter about how she left him as a child. To cope with the situation (and to finally have a witness to how horrible his mother is), he invites an unexpected guest along for the ride. If you haven't seen Crazy Ex-Girlfriend before, this episode might be lost on you — but if you have, it's an absolute staple.
The Bluth family is quite literally incapable of having a normal family gathering, and Christmas isn't any different. Everyone's getting read for the Bluth Company Christmas party, but naturally, there's plenty of drama. When George Michael ditches the party for his girlfriend, Michael teams up with Maeby, who wants to get back at her parents. This prompts Lindsay and George Michael to unite after both feel abandoned. The writers rely on their usual hijinx, from ridiculous incest gags (watching Michael and Maeby accidentally perform "Afternoon Delight" together never gets less awkward) to Tobias, once again, being completely disregarded by the entire family, despite being hit my a car. It's a pretty standard episode for the series, but hey, it's still about Christmas. Who needs Santa Claus when you've got G.O.B. running around in a banana suit?
https://www.youtube.com/watch?v=P3RHYNZplWg
Black Mirror is a strange show to be on this list, but they DO have a Christmas episode, and it's actually a pretty interesting one. The episode revolves around two men who are stationed at a remote outpost who finally decide to open up about their lives while sharing breakfast on Christmas morning. The episode consists of three different storylines, but the most heartbreaking (and Christmas-themed) one is about how one of the men was "blocked" from seeing his ex-girlfriend and child, but how he visited him every Christmas regardless to leave his daughter gifts. Like most Black Mirror episodes, the whole thing has creepy (and quite frankly sad) undertones, but if you're looking for something holiday-themed, this one still fits the bill.