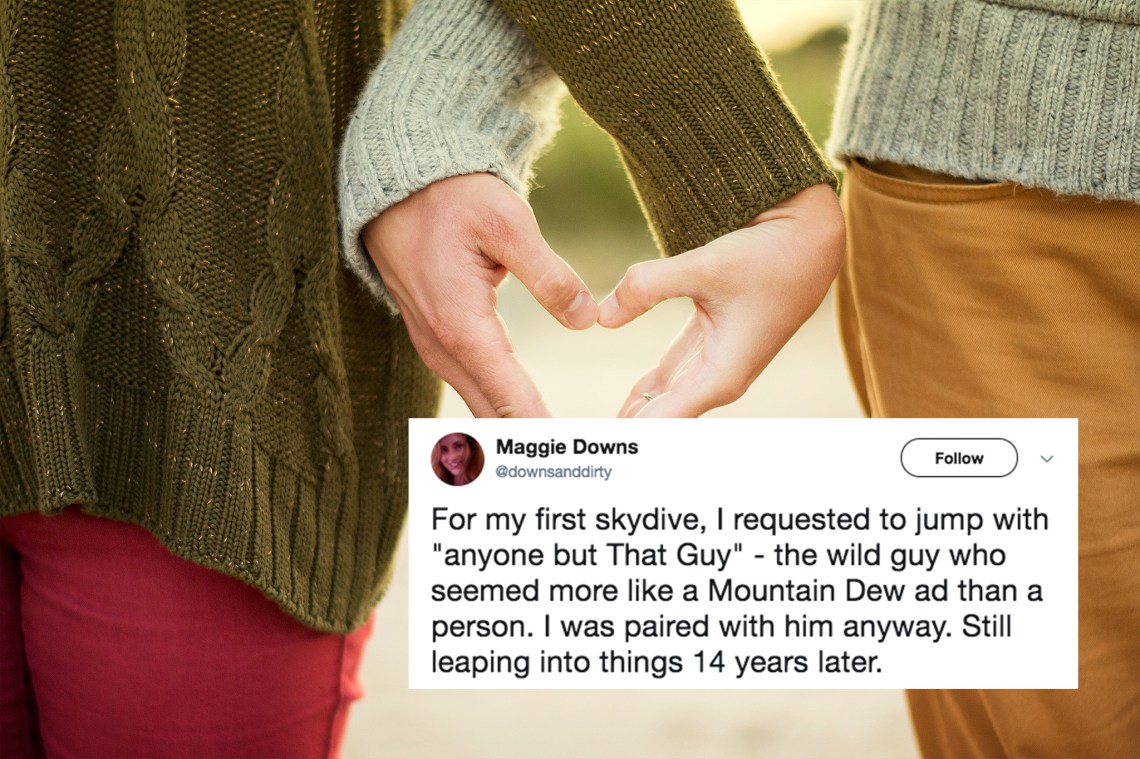 Everyone loves a good meet cute, but we usually see them in the movies — you know, like the two lovers who meet by accidentally running into each other in a crowded airport and apologize profusely when the impact knocks everything out of their hands. Things like that can't happen in real life, right?
https://twitter.com/bookavid/status/938106347693985794
Wrong. Apparently meet cutes are a real thing, and they're just as cute irl as they are in movies and TV shows. Twitter user @bookavid asked her followers for their meet cute stories and honestly, they're all so surreal they'll make you believe in fate.
https://twitter.com/bookavid/status/938108508347789313
He was outside her window like a literal Romeo
https://twitter.com/TristinaWright/status/938137283185823744
2. It was love at first sight
https://twitter.com/JoEatsFood/status/938107043973685249
3. They were sweethearts
Met my partner b/c grandma forced me to 'socialize' with kids in the park (I'm an introvert). We were 4. 24 years later, we're married.

— Krys Roy (@Roy_Writes) December 5, 2017
4. She took their wedding photos the day after they met
https://twitter.com/heidiheilig/status/938461917848498177
5. They hopped on one foot together for a minute
We got paired up for an orientation icebreaker first week of college and hopped on one foot together for like, a minute. Started dating three weeks later, and now it's been… two years? https://t.co/N9oZT4dPga

— S ✨ (@sahanabooks) December 6, 2017
6. Her dad fell off a horse and her mom rescued him
My friend's parents met when her dad fell off a horse into a bunch of cacti and her mom found and rescued him. A full Old West style meet cute. https://t.co/4RTZKEhfMq

— harley ⁷ (@diorhoyas) December 5, 2017
7. Her parents were dance partners
My parents met in a ballroom dancing class in the 80s. They were practice partners and my dad drove my mom to and from class bc she lived a little far. 😂 https://t.co/9v1VjCvqlm

— need a vacaShen (they/them) 緊張軒瑋 (@theshenners) December 5, 2017
8. She yelled at her husband the first time she met him
Apparently my first interaction with my husband was yelling at him about a band room door and he decided "yes this is the person I want to spend the rest of my life with" 🤷🏻‍♀️🤷🏻‍♀️ https://t.co/afhb6CMXgd

— Jess Rubinkowski (@JessRubinkowski) December 5, 2017
9. They locked eyes from across the gym
saw him across the gym. i was a freshmen, he was a sophomore. a few weeks later, his friend asked me for my number "for a friend." i requested he give me a dollar so i could get a cookie. he called and we started eating lunch together and now we've been together 12 years https://t.co/eBqg0iOjQ8

— allie | tarot at twilight (@hexenlibrarian) December 5, 2017
10. She was his French tutor
https://twitter.com/samthestewart/status/938140971321176064
11. They played a duet together
I met my spouse because we had a duet for our marching band halftime show. He played trumpet & I played trombone. https://t.co/MROEhrX6fP

— KR (@KaylaRayne_) December 6, 2017
12. They met at a party (where they were two of four people there)
https://twitter.com/exrpan/status/938175164436529152
13. He was her skydiving instructor
For my first skydive, I requested to jump with "anyone but That Guy" – the wild guy who seemed more like a Mountain Dew ad than a person. I was paired with him anyway. Still leaping into things 14 years later. https://t.co/Ki8cLvz34n

— Maggie Downs (@downsanddirty) December 6, 2017
14. They sat next to each other on a Christmas Eve flight
I met a guy on a late night Christmas Eve flight. We were seated next to each other. We got dinner during our layover, and I gave him my number before we parted ways on different 2nd flights. We dated for 2 years, but it's still a hell of a story. https://t.co/sLItR947mL

— Sky Brooks (@ceruleansky) December 5, 2017
15. They were in a sleep study together
I signed up to be a subject for a sleep study in grad school. This very nice guy was assigned the same night; we spent three consecutive Sat nights having our sleep studied. (No, we didn't sleep in the same bed, jeez.) Netted $200, a free mattress, and a husband. https://t.co/VdrAODB78O

— Misa Sugiura (@misallaneous1) December 6, 2017
16. Her parents met at a country club ball
https://twitter.com/pansexualness/status/938148322476355584
17. She worked at a gym he was a member of
I worked at a gym behind the front desk, and my husband was a member.

My first week on the job, the first time I saw him, we literally locked eyes and that was IT. Game over. https://t.co/Is95sAkAyS

— Anna Birch // on hiatus (@Almost_Anna) December 6, 2017
18. She flirted with him to make him feel better
1/2 I've had several! One bf was a pax I flirted w just to make him less unhappy abt getting an extra body search before a flight (after 9/11). One was a waiter in Mexico who put flowers on my plate to tell me he liked me. https://t.co/atHw0QPA6p

— Sarah Steegar (@FATravelWriter) December 5, 2017
19. Her mom gave him permission to marry him before they dated
Ten years ago Mom met a boy at his grandfather's funeral and told me, "I give you permission to marry him one day."

Two years ago, we re-met, and my family hired him.

We're getting married next month. https://t.co/0tL5o6wyPt

— Brett Jonas (@BrettJonasWerst) December 6, 2017
20. She interviewed him for her YA novel
We met when I was writing a YA novel and asked to interview him about being mayor of his hometown and now we've been engaged THREE WHOLE DAYS sorry I'm v excited and love our story

— Blair Thornburgh (@ATallOrder) December 6, 2017
21. She asked a stranger at a bar if he'd go out with her
At a bar full of self-pity, told my BFF no one wld date me. She bet me $20 anyone I asked out wld say yes. I let her pick the guy.

So I walked up to the stranger & said "Do you want to go out w/me?"
He said "I don't know u but I guess".

Married almost 12 years. Together 16.

— Mrs. N (@BtwnThesePages) December 6, 2017
22. He offered to carry her luggage at the airport
Airport, 3am. Stranger offered to carry my luggage.
Me: NO THANKS SCARY GIANT
Turns out he was my friend's brother and now he's my husband.

— One Last Petal (@Belledenne) December 5, 2017
23. They met at college orientation
My husband and I made eye contact in a crowd of people at college orientation. I smiled at him, he held the door open for me a few minutes later. Our first conversation was comparing AP test scores. It's been 11.5 years since then, and we've been married for six!

— Jenny Perinovic (@JennyPerinovic) December 5, 2017